Digitization has come to stay. You can now use software and tools for all business activities, tasks, and operations. Look around your office, is there any task that computer use and machines have not replaced? You no longer have to check in to carry out your functions, even in your office.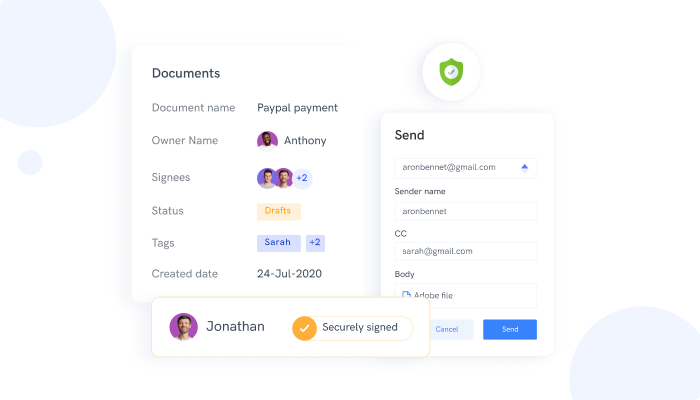 What is secure signature software?
A secure signature software is a digital equivalent of your pen and paper signature. The signature software has several tools and pre-designed templates. The software helps you access electronic document signing online, go through them and append your signature.
In every organization and among individuals, you carry out business transactions, agreements and contracts daily. With digital signatures, you are assured that signatures are authentic and have legal backing. The trust you have in physical signatures is equivalent to software signatures. However, software signatures have more security measures than pen and paper signatures.
One of the tasks that software has come to replace is signing documents. Hitherto, you must be physically present to go through the document and ensure you sign the right paper. Most times, people do not take chances when appending their signature on financial-related reports, contract agreements, and transfer of property ownership. Instead, they ensure they are physically present to avoid compromise or being shortchanged.
These days, you have to worry less about being shortchanged. The secure signature software has come to stay. Wherever you are, you can append your signature to any document as long as you are connected to the internet and granted access.
The software to use for obtaining secure signatures online
While numerous secure signature software varies in capability and features, some are still functional and serve multiple purposes. They include;
Sign.cc
If you start comparing all the available signature software online, you will eventually settle for Sign.cc. This digital signature creator is unarguably the best. Numerous features and tools are available to suit your signature type and business needs.
One exceptional feature of the sign.cc is the ease of use. You do not require any IT expert or programmer to use the software. You can sign any document from the comfort of your home.
The advanced security feature of the sign.cc makes it very difficult to forge the signatures. The software has a permanence feature whereby the document retains the signature for life. Suppose you sign your document via Sign.cc app, no matter how long the document has been signed, the signature will remain authentic.
You can form a new and unique signature with this software. Sometimes, your signature might be easy to dub or look plain. Do not worry; you can use the Sign. cc app to create a new signature by suggesting your initials.
The software allows you to simplify your workflow. You do not have to move files from one table to another to get people's signatures. All you need to do is upload the document, send it to the parties involved and wait for their signature.
The software has the notification and email reminder feature. You can inform your team members that they have a document that needs their attention. Then, when they send it back to you for final approval, you get a notification.
Docusign
DocuSign is another exceptional secure signature app. With the free trial plan, you can upload your document and send it to the recipient for their signature.
This software has a management dashboard that allows you to keep track of your document at various stages. You can easily track where the document is at the moment. You can identify who is yet to open the paper and do the needful.
Docusign has an intuitive interface just like Sign.cc. You can be notified to view your inbox and check for new documents that need your signature. In addition, you have the "sent box" that stores all documents you have sent out in the past.
Those who work with the same team or have a frequent business partner can save the signatures of these team members. Then, whenever they need to append their signature, they easily copy it from the database and paste it into the signature box.
HelloSign
Hellosign has similar features and functions with Sign.cc and Docusign. Once you download the software and log in, it will display two options; send or sign your document.
Hellosign is easy to use and the most accessible tool for integrating cloud storage platforms. You can import files from cloud or external storage devices. The software allows you to download the files, go through them and append your signature. Then, you can store the signed copy and retain the original document.
Hellosign has a free plan that allows you to sign three documents in a month per user. The paid plan goes for $20.
Conclusion
Getting a functional electronic signature software is not a big problem; getting the one that will not breach the security of your contract is the big problem. There is numerous software online. Unfortunately, most of the software is from unreliable developers. Some of them are easy to hack and gain unauthorized access to saved documents.
Most of these documents you sign with electronic signature apps contain vital information such as financial transactions, health records, military and diplomatic communication. Therefore, you have to ensure that the software has strong firewalls.
You should purchase software made by reliable developers. That is why we regard Sign.cc as the best software to Use For Obtaining Secure Signatures Online.
For as low as $14.99, you have unlimited access to the software and all the available signature templates. In addition, you can integrate Sign.cc with third-party apps and external storage systems. You should check out the software for other features at https://sign.cc.