What Is the Importance of Electronic Signature for the Education Sector?
Let's find in detail what is the importance of electronic signature for the education sector
Importance of Electronic Signature for the Education Sector
The electronic signature maker provides a variety of advantages for many companies and sectors. Here is why electronic signatures are important in the education industry. Educational institutions are continuously increasing their embrace of new technology in order to increase their academic and administrative effectiveness. Students, parents, and instructors are all becoming increasingly aware of new technology. Furthermore, they are well-versed in online communications using various devices such as computers, mobile phones, and tablets. So, in the following discussion, let us look at some of the other probable grounds for addressing the question, why to implement electronic signature for the education industry?
Streamlining the Application Process
The application procedure is the most essential location where you may observe an important portion of the paperwork in the education sector. Traditional pencil and paper signatures are used for student requests, which causes significant delays for students and staff while also disrupting the flow of the process. You may submit critical student papers and sign them in seconds by becoming paperless with the aid of electronic signature technology.
The use of an electronic signature in the education industry might help assure effective application form follow-up. If a form or document is not signed, the electronic signature service may immediately alert parents and students that it needs to be signed. Furthermore, electronic signature systems can provide effective and easier real-time document tracking services to minimize disruptions in the application process. As a result, educational institutions will benefit from increased exposure and speed, as well as a streamlined application procedure.
Process Automation for Reducing Risks
The automation of procedures is the most prominent entry among the benefits of electronic signatures for the educational business. Several educational institutions seek to begin automating workflows in order to assure dependable administrative operations. Paper transactions are eliminated via electronic signature platforms, decreasing the possibility of mistakes. Paper and ink, shipping and postage, and printer maintenance are all costs associated with traditional paper-based procedures.
The majority of the expenditures are associated with manual approval processes, which may be readily reduced by employing electronic signature solutions. You can also identify additional indirect savings possibilities, such as the time it takes to manually finish each document, repetitive data entry, and tracking of missing papers.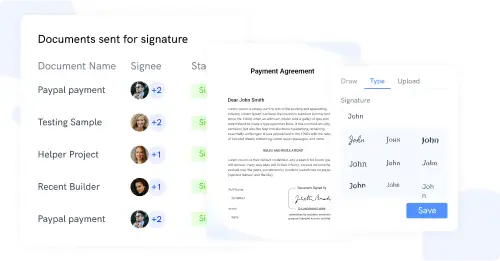 Secure Communication and Verification of Documents
The second key factor that supports the necessity for electronic signatures in the education industry is security. Student and staff data, as well as other critical documents, are stored in educational institution systems and must be safeguarded from theft. When appropriate, electronic signature systems enable institutions to communicate essential papers with parents.
Most importantly, the audit trail function in electronic signatures allows you to keep track of all the critical information of a signature. Users of electronic signature systems may locate the signers on a document, as well as the time and location of the signature. Electronic signature solutions' increased security capability provides stronger protection against significant risks such as lost or missing papers and handling. You should also be aware that electronic signatures decrease the possibility of document loss or manipulation when submitting a document for offline signing.
Comprehensive Integration with Institutional Processes
In educational institutions, modern electronic signature systems provide dependable assistance for integration with diverse technologies. Various educational institutions have departments that make use of various technologies and systems. The electronic signature for the education sector offers potential benefits for the integration of various solutions in the large-scale deployment of various departments' operations.
Document management systems, corporate content management, student records management, and sales automation are examples of important solutions that may be efficiently linked with different administrative operations of an educational school. You don't have to be concerned about integrating the most advanced electronic signature systems. As a consequence, educational institutions may assure a complete digital transition that includes all administrative and pedagogical activities.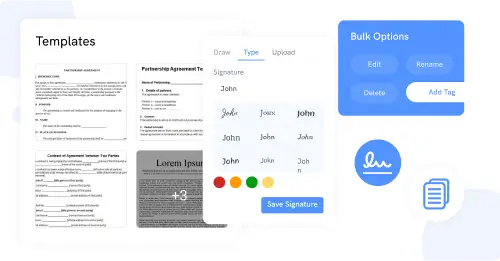 Faster Approvals for Research Proposals
Many academic institutions require financing for their research proposals. However, the amount of inspections is rising rapidly, in tandem with a growing trend of budget cuts for educational institutions. As a result, researchers want promising ways to get their findings to important parties sooner. It can aid in the early identification of any conditions that have not been satisfied. As a consequence, you may submit research proposals with improved correctness and speed. As a result, the significance of electronic signatures in the educational sector is clearly demonstrated by the best delivery of research proposals. In the long run, timely delivery of research ideas may result in significant discoveries and inventions.
Driving Better Mobile Accessibility
Students, parents, and instructors are embracing the digital revolution by maximizing the use of mobile devices. They can utilize digital devices to complete crucial educational activities including applications, fees, and registrations. Administrative employees in educational institutions might benefit from mobile enablement as well. The simplicity of use of mobile applications enabled by outstanding digital signature online facilitates the execution of critical operations in the education sector. Students can effectively interact with an educational institution's management in a variety of ways.
Better Reputation of Institution's Brand
Finally, the requirement for an electronic signature in the education sector is quite obvious in order to improve an educational institution's image. The adoption of electronic signature systems provides genuine benefits for establishing a company as a leader in digital transformation. As a consequence, educational institutions may express values that are relevant to students' and parents' interests. Maintaining a digital platform for operations emphasizes your environmental responsibility, reinforcing the significance of the electronic signature.
Summary
The significance of electronic signatures in the educational sector is now evident. The exceptional benefits of electronic signatures outlined above demonstrate that electronic signatures provide dependable assistance for educational institutions' digital transformation. The broad range of electronic signature applications in the education sector serves as the fundamental foundation for electronic signature adoption. Furthermore, the safety guarantee would give dependable support to students, parents, and institutions. Educational institutions can reap significant benefits, such as improved financial performance, lower operational expenses, and increased student programs. Electronic signature systems also provide greater transparency into educational sector procedures. Students, on the other hand, may have more opportunities to connect with the institution's management while also focusing more on their academics. Begin researching electronic signatures right away for long-term benefits.