There are many tools available that will perform the job, but they are not all created equal. The greatest apps will go beyond simply allowing you to type, draw, or otherwise electronic document signing. They'll also help encrypt and safeguard the crucial papers you transmit and receive by ensuring your signatures are legally binding. Some will even include extra information when you sign to assist generate a strong audit trail that will stand up in court if the need arises. Our Review Of The Top Online Signing Apps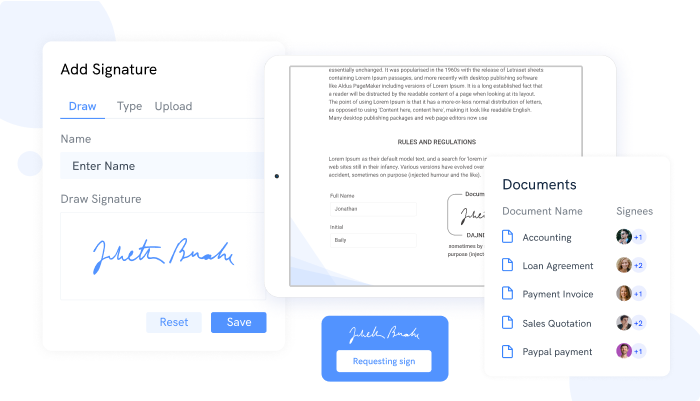 There is a plethora of software and solutions available for digital signatures. To guarantee that you end up with the greatest tool that will serve several purposes is simple to use, and is multi-functional, you must examine particular factors. Don't worry, I've done the legwork for you and produced the best online signature programs that check all the criteria. They are:
1.Sign.cc
You might be wondering why Sign.cc is the finest digital signature app. When compared to other digital signing software, it is the easiest to use, has extensive features, and is versatile.
Sign.cc makes it easier for a small or large team to work together. The email reminder feature informs recipients that they need to go through a document and sign it. You may install sign.cc and add your signature from the comfort of your home or office, regardless of your device or operating system.
Sign.cc's document management function lets you gather, prepare, and synchronize documents before sending them to recipients. You can choose numerous recipients and combine their contact information with their signature this way.
Sign.cc charges a lower monthly subscription cost of $14.99 and provides unrestricted access to all of these services.
2.DocuSign
The most popular digital signature app in the world is DocuSign. It's available alone or as part of the broader DocuSign Agreement Cloud, a collection of tools that may assist you with all aspects of the contracting process. DocuSign eSignature allows you to transmit and sign documents while on the go via their mobile app or their mobile-responsive web software on your phone or desktop browser.
DocuSign isn't nearly as simple to use as Sign.cc, but it's more powerful and adaptable. It has a lot of templates, advanced reporting built-in, and a few extra features like SMS distribution tools, ID verification support, and signature analytics.
All of this might not be particularly useful if you just transmit or sign a few documents every month. However, if you manage a large company that sends and receives a lot of contracts, they may be quite helpful in streamlining your processes.
3.SignNow
It's designed specifically for companies, and it includes all of the tools you'll need to sign and distribute papers, create agreements, access payments, automate and simplify procedures, and manage contracts. This platform was created to help you save time. You may construct documents with fillable form fields using reusable templates. This will make the document sending procedure easier for you, allowing you to be more productive with your time.
A variety of mobile applications help to increase efficiency. Mobile devices allow you to create, share, and sign documents. Even sophisticated routing procedures can be created.
When it comes to processes, SignNow lets you divide documents into groups and transmit them based on the recipient's role. After the signature is complete, you can perform a variety of tasks.
4.SignWell
SignWell is a low-cost, user-friendly digital signature app. It may save you hours of time by automating your document signing procedures and is entirely compliant with the US and international eSignature regulations.
The free lifetime plan is one of the most generous we've encountered, with practically all of their features included, including premium features like document tracking, reminders, and customizable workflows.
5.CocoSign
Another popular and well-trusted document signing system is CocoSign. CoCoSign, unlike DocuSign, does not offer a mobile app, but its internet browser software is extremely user-friendly. You may just drag & drop a PDF into the appropriate page if you only want to sign a document.
Simply drag and drop the signature block onto the document where you want to sign it, then click to type, draw, or upload your signature. You may then save and download your modifications to your smartphone.
It's simple and quick. CocoSign may also be used to transmit, handle, and track signature requests for a group of people at the same time.
6.HelloSign
Dropbox, a popular file-sharing service, also owns HelloSign, a digital signature tool. It's quite simple to use. You can open a template, submit a document, or sign something after you've logged in. All of these procedures are made simple by the interface.
It, of course, works great with Dropbox. You may use HelloSign to upload and sign files straight from Dropbox, or you can open your papers in Dropbox and send them out for signatures from there.
7.SignEasy
SignEasy is a fantastic digital signature program for personal use only, not for business. It's simple to get started: simply join up for a free trial and begin uploading papers, preparing them for signatures, and sending them out right away.
It has a lot of integration options and works with all of your favorite apps. Open a document in Gmail, sign it, and send it right away — no muss, no worry.
8.PandaDoc
Everyone likes getting paid, and PandaDoc makes it simple to incorporate payment into your contract signing process, even on the free plan. You may set things up such that when someone signs the documents you email them, their credit card information is entered and they are charged.
It's a terrific method to tie things together if you're sending folks contracts for a certain service or project. You will receive your legally binding agreement as well as the first installment all at once. PandaDoc works with a variety of payment processors, including Stripe, Square, and PayPal. PandaDoc isn't just for collecting fees; it can also be used to send contracts out for signatures. They're clearly a large element of the feature set based on the user interface.
Conclusion
Every person is supposed to have their own signature. The electronic signature has evolved into a kind of identification that may be used in a variety of situations, including financial transactions, signatures, legal contracts, letters, communications, and a variety of other documents. Signatures are appended to documents to make them lawful, authenticate them, and bind all parties involved. To make personal and corporate transactions easier, software like Sign.cc is recommended.