Earlier, a few business leaders, CEOs, CFOs considered digitizing their organization's contracting process as a myth. But, nowadays, with no further option to choose from, it has become a required factor to implement. The majority of the organizational leaders are shifting their focus in digitizing their organization's contracting process.
In addition, organizations are investing more in contract management solutions with ever-higher rates. A few of the poles say many small-scale organizations expect to accelerate and maintain their digital solutions towards growing their businesses.
Let us look at how to digitize your organization's contracting process and how it benefits your organization in becoming more effective and profitable.
What is an Organization's Contracting Process?
Digitizing the organization's contracting process deals with various factors. Who will lead this process? From the organization standpoint, you may also get queries on Where to begin? And, the traditional challenges associated with this process is have not changed and remain as a multi-functional activity that depends on the concerted efforts by a wide variety of stakeholders.
In simple terms, digitizing an organizational contracting process is nothing but automating all the possible stages of approvals, providing eSignature to authenticate the records/documents, providing automated notifications, and a few more.
Prioritizing the Initial Point
Depending on the situation of your industry, the right starting point will differ. Consider some of the factors as given below to decide where to start.
Pain and Impact
The essential criteria are how challenging the process is and the impact fixing it would have on your respective organization. Initially, this can be judged by feel and intuition. Suppose, if you want to be quantitative, it is possible to attach the value to existing issues or the expected business outcomes, but it requires a proper evaluation with deep connections to contracting. For example, some of the eSignature maker do value assessments with customers and prospects to quantify the impact that contracting software can have on a specific process on a company basis.
Speed
The faster you can implement a solution, the sooner your organization will experience better value and results. Complex processes, which involve the help of other departments, long negotiations, and multiple systems, are much complicated to implement and are difficult to run.
Prioritizing a start point can be achieved subjectively or by using the data to score and weigh your varied options. After you pick the process, build a detailed plan and a business case for it.
Contracting Implementation Strategies
Sales Contracts
In any of the sales-led technology companies, electronic signature software in marketing and sales. In this case, the company obviously experience a few bottlenecks in the sales process that directly impacts the growth goals due to the loss of sales and slow revenue recognition. When the department leaders dig deeper into it, they discovered Master Service Agreements were frequently holding up the contracts because they require to be customized, and negotiations involving the legal team took longer periods. Whereas in few other cases, customers verbally committed to buying the product, but they grew impatient and ended up with the competition because you might be following the long and chaotic process.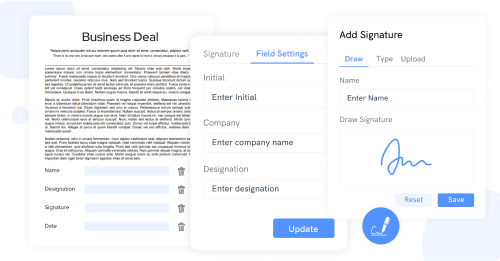 In this case, the pain is considered real, and streamlining the sales contracting process can result in reduce manual effort, speed up the contract generation, simplify the negotiation and result in an easy experience for the customer. This is a way where the sales process is considered a high priority for contract implementation.
Hiring and Onboarding Employees
Enterprise retailers having a greater workforce often experience high turnover in stores and a slow process in laborious hiring and onboarding. In several cases, hiring and onboarding agreements do not meet a proper filling, and it leaves the company open to delays or risk leading to staff shortages and loss of revenue targets. In addition, this workforce needs to grow significantly during holidays and seasonal events and then shrink again after a few months, meaning agility and speed are the important factors.
This is an example where using contracting software can streamline both the hiring and onboarding processes to help the organization scale to seasonal demand and respond as per the change in conditions quicker. It also gives a better experience for the employees and reduces issues in the documents that are required to be re-work.
Ways to Digitize the Organization's Contract Management
Focusing on the key areas of contract lifecycle management, organizations can avoid errors, streamline their workflows and processes by doing business reliable and faster.
Coherent Contract Formatting
Following a manual document generation may take much time and also be error-prone, sometimes. To digitize this particular process, it is recommended to implement a technology solution, which merges data from sources like CRM integration tools seamlessly. When a contract management solution can pull the information from a central database in an automatic way, sales reps no longer waste their time re-capturing the data into the agreement.
Centralized Reviews and Approvals
The best contract management solution allows you to gain complete control over your agreement and organization. Digital solutions like eSignature online offer sales reps an experience that generates sales in just a click.
Digital solutions keep formatting consistent to prevent the sales reps from leaving critical information in the sales generation process. By doing this, you can easily import the required document or access it from anywhere across the globe. Also, you can forward the same whenever you want by making the required changes.
Detecting a Change Automatically
Sometimes, it may consume most of your time to review a document and highlighting the required information. To streamline the revision process, you can implement a solution that auto checks for the errors and shows required corrections to perform. This feature eliminates the reliance on manual effort.
Also, your digital contract management solution should make it easy for the customers to download and make required additions/deletions to the contract with ease. The customer will not require to turn on the change tracking because the changes will be recorded automatically, making it impossible to miss the information that they have added, edited or removed.
Implementing an Automatic Tracking
A keen and proper tracking of the document activity is quite necessary for auditing and complete accountability. The contract management solution that you have chosen should record a history of changes, including the version comparisons and comments. No matter the number of versions available on the agreement, they should be accessed in the audit trail with no further complications.
Benefits of a Contract Management Solution
Remote Access
The most pressing issue in the contract management process lies in dealing with scattered contracts. Accessing a contract remotely can get rid of this issue to bring in more accessibility anytime and anywhere. As the remote work and onsite mobile workers count is tremendously increasing daily, the need for a globalized virtual setting for the contract transaction process is turning compulsory. Moreover, keeping storing the contracts in an electronic repository like cloud-hosted repositories makes things easier as it enables fast accessibility and appropriate routine maintenance.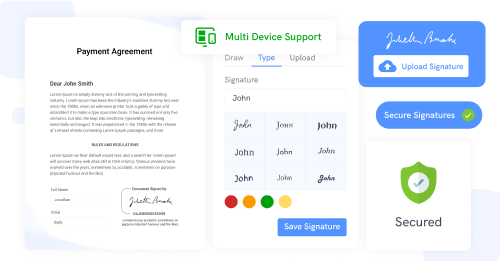 Automation
As we listen to this term regularly, automation helps organizations create, implement, and negotiate contracts daily, easily and accurately. An automated contract process can fasten the pace of business, lessen retrieval time, reduce risks, easily track compliance to help overcome the frustration in employees and customers. Accordingly, the contract management system's paybacks override the manual and traditional paper-based contract process.
Meet Contract Law and Compliance Regulations
Maintaining each and every contract in meeting the requirements of compliance standards is needed. e-documents are always bound within a common law that binds documents between two contracting parties. A digitalized contract management software meets all the contract laws and compliance standards and thereby secures user information. This also allows the contracting parties for an enforceable contract to sign in without compromising their confidentiality.
Improves Customer Service
A digitalized contract management solution ensures easy contract accessibility by letting customers sign the documents from any point of location just using a digital device, without waiting for the hard copies. In addition, e-contract offers an auto-fill feature letting them fill the remaining documents automatically.
Also, you can access the e-contracts from any compatible digital device (like a phone, tablet, computer). Therefore, most customers prefer e-contract over the traditional paper contract as it takes some minutes of time to click the I agree button at the end of the document or fill out an eSignature after the customer has decided to proceed further with a purchase.
Summary
Digitizing processes like contract management solutions are becoming an increasingly emergency priority for businesses. A suitable contract management solution will effectively reduce costs, save time and streamline the tasks. The inefficient process costs far outweigh the cost-savings that come from opting out of a electronic signature solution.
Managing the agreements following a manual process leads to proposals that do not accurately represent your organization, critical information that has been forgotten to include on contracts and a lack of insight into the sales process. Companies that chose to digitize their organization's contracting process will experience greater results with desired outcomes.