How to Sign an online PDF Document
Any electronic document is any electronic media material (other than computer programs or system files) intended to be used in electronic or printed format.
How to Sign an online PDF Document
Any electronic document signing is any electronic media material (other than computer programs or system files) intended to be used in electronic or printed format. Initially, any computer data was regarded as internal, with the ultimate data output always being on paper.
What role does online documentation play?
Participants can upload their files and have multiple parties examine the information simultaneously using online document management software. In addition, if the platform has a collaborative feature, stakeholders can also provide input directly to the forum, which will be shared with everyone participating.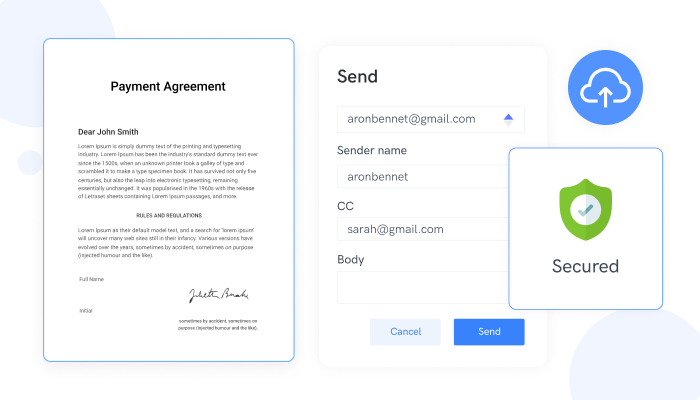 Is a PDF file considered a document?
Adobe created the Portable Document Format (PDF), defined as ISO 32000, in 1992 to deliver documents independent of application software, hardware, and operating systems, including text formatting and images.
Digital signatures are encrypted electronic signature that you can use to authenticate the validity of messages and documents. They usually necessitate a more involved procedure requiring private and public encryption keys. On the other hand, electronic signatures include all signatures, whereas digital signatures are tied to a physical signature. The main distinction is that a digital signature is intended to secure a document, whereas an electronic signature is used to verify it.
Is it possible to use this signature maker for legal documents?
Absolutely! Your name is converted into a downloadable signature graphic as you type or draw it. You can use this image in papers, PDFs, and other documents. If you don't have the right software, completing and signing PDF files might be a frustrating experience. Then you should consider signing your PDF documents online using Sign.cc? This article will be showing you how to quickly sign PDF files online with Sign.cc and other options.
How to fill out a PDF form and sign it:
Open a PDF document.
In the right pane, select the ""Fill & Sign"" tool.
Fill out the following form: You can finish filling out the form by clicking a text field and typing or adding a text box. Finally, you can use checkboxes and radio buttons to fill in the information.
Please sign the following form:
In the toolbar at the top of the page, click ""Sign."" Then, draw, type, or choose an image for your signature. Then, to add your signature to the form, click ""Apply.""
Fill out the following form and submit it: You can, therefore, share the PDF with others and even mail it to be signed after you've completed the form. Click Next and follow the steps to distribute the document.

You can make a signature in one of three ways:
First, put your name in the box. Use your trackpad or mouse to create your signature. Create a signature image and upload it. Please sign your name. Fill in your name and choose your favorite style. There are over ten different handwriting styles to pick from. Make a signature. Draw your signature on your screen with your mouse, trackpad, or pointer device. Use Sign.cc to sign documents, including offer letters, payslips, contracts, invoices, and more. Use Sign.cc to sign and approve documents quickly. E-Signature software that is easy to use. Signing the contract.
Here are some benefits of using Sign.cc to sign and fill pdfs online.
1. Workflows should be simplified.
Sign.cc allows you to upload, send, and sign documents online while also managing electronic signatures in one spot.
2. Notifications and Reminders
You can use Sign.cc to remind recipients of unfulfilled eSignature requests.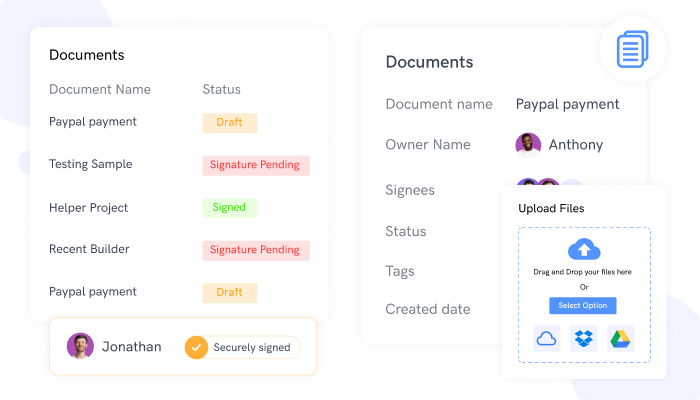 3. Contract Administration
Replaces time-consuming paperwork, lowers disagreements and eliminates errors.
4. Electronic Signatures that are both certified and secure
Sign papers from anywhere, on any device – sign.cc makes document signing simple, fast, and safe.
5. Keep an eye on what users are doing currently, and you'll always be up to date.
You can observe, follow, and receive the most accurate picture of our data by seeing and monitoring updates. The report is divided into sections, each examining a different aspect of the data.
What's the difference between Adobe sign and fill and sign in Adobe Photoshop?
Adobe Fill and Sign is an Acrobat solution for electronically inserting a signature for non-legally binding options. NOTE: To distinguish itself from Adobe Sign, this method will refer to adding a signature as ""Stamping"" rather than Signing.