What Is an Electric Document Management System?
Standardized documentations exist in all businesses for smooth and uninterrupted operations. These are sets of records that organizations create and maintain to provide evidence or information that can be used to make informed decisions.
What Is an Electric Document Management System? Standardized documentations exist in all businesses for smooth and uninterrupted operations. These are sets of records that organizations create and maintain to provide evidence or information that can be used to make informed decisions. These can be contracts, strategic policies, or even daily transactions. In short, a business simply cannot operate without standardized documentation. Like many other technologies, document management systems have also evolved significantly. Below, we'll discuss how conventional and modern DMSs differ and which one is suitable for your business.
Issues With Conventional Paper Document Management Systems
Paper has been the main material used by businesses for documentation purposes for over two centuries. Even today, it is still considered a priority in terms of authenticity and acceptability. However, the hassle involved in using such conventional systems is just too much. A few of the most prominent issues with a traditional paper document management system include:
This system needs a lot of storage space. The documents just keep on increasing; thus, handling them becomes a headache. It is even more difficult to access specific papers urgently.

Security is another issue with such a system. The more documents you have, the more you must spend on their security, and the difficulty of securing will also increase. Also, such systems are more prone to damage. Once lost, these documents can't be retrieved.

Such systems limit the collaboration and communication between different sections and layers of businesses. The authentication, transportation, and editing of such documents are slow and costly.
Guide To Electric Document Management System
An electric document management system (EDMS) is a modern solution to conventional paper management systems. It is a computer program that is designed to increase productivity, security, accessibility, authentication, and transportation of documents. It has replaced the traditional documentation systems in the same way as emails have replaced traditional mailing systems. The primary qualities of a great EDMS include: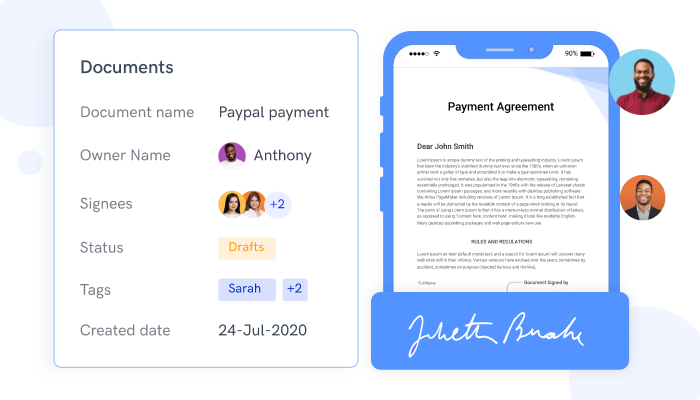 An EDMS should be capable of hassle-free integration. From a new business starting right away, such a system is pretty forward. Those who transit from the conventional PDMS to this one can face some issues. EDSM providers must ensure they provide enough training for successfully configuring and operating these systems.

One of the major reasons businesses are adopting EDMS is to gain more productivity. This is done through increased operational capacity. For this purpose, an EDMS must drive collaboration and be streamlined with an organization's goals and objectives.

A great EDMS is developed to provide operational convenience to its users. Therefore, such a system provides an interactive and friendly user experience.

Security and compliance are two of the most notable features of any EDSM today. Organizations must follow strict standards regarding data management. Therefore, the developers of such systems ensure their safety and reliability.
Sign.cc By 500apps
Sign.cc is a paperless EDMS. It is primarily considered as an electric signature software, but it is a comprehensive EDMS. It helps businesses in document management, team collaboration, reporting, and contact management. Some excellent features of SIgn.cc include:
Electronic Signature - This is the most prominent Sign.cc app feature. It allows you to perform extensive customizations regarding the creation and insertion of electronic signatures. Also, it enables you to use your initials as signatures and insert text into a user interface for a creative layout.

Multiparty Signing - This feature stores the contact information of its users and their signatures into 128-bit encryption. A manager can assign a multipart singing request and monitor the progress in real-time.

Document Management - Sign.cc is a highly collaborative EDMS. It allows its users to create, distribute, and interactively store documents.

Built-in Templates - Built-in templates are created to standardize business transactions and thus, save a lot of time and resources. Users can customize their templates and share them with others through a cloud sharing facility.

Team Collaboration - Sign.cc ensures that all its users are connected in streamlined processes. It enables a smooth acquisition and sharing of digital documents within an organization. Also, such documents are easily accessible and can be retrieved from any electronic device or platform.

Reports - Reporting is a key feature in any EDMS, and Sign.cc is certainly no exception. It facilitates a quick presentation of content and reports on the status of work completed through its action tracking tool.
Summary
The EDMS has become so popular in recent years that it's almost impossible to find a business without its application. However, not all such systems have the same efficiency. The selection of the right document management partner must be made carefully. Sign.cc is regarded as one of the safest and most reliable EDSM. Especially for new businesses, it is just a perfect tool to adopt modernization and documentation automation. 500apps offers more than thirty business apps, including Sign.cc, at a highly affordable price. You can subscribe to this package and give a head start to your business today!