7 Proven Ways to Sign PDF Online
A person can use an online signature to give consent or signify that they approve of the contents of a document. Online signatures, often known as e-signatures, can be legally enforceable in various situations. Examples of online signatures include the individual's written name, an uploaded image of the person's cursive signature, or a signature drawn on a smartphone or tablet screen. Digital IDs are used in some online signatures to ensure that the person signing the document is who they say they are. It improves transparency and builds confidence between customers, business partners, and vendors.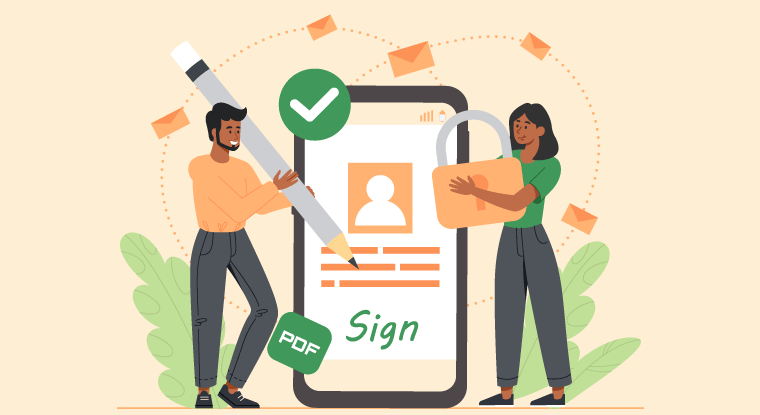 Online signatures can be used to replace traditional or ink-based signatures for a variety of purposes all over the world. Also, online signatures have the same legal impact as handwritten signatures for most forms of transactions as long as the individual gives consent.
7 Ways to Sign Pdf Online
A PDF can be digitally signed in a variety of ways. There are many choices available on PCs, Macs, the internet, and mobile apps. Let's explore the seven proven ways to sign a pdf online.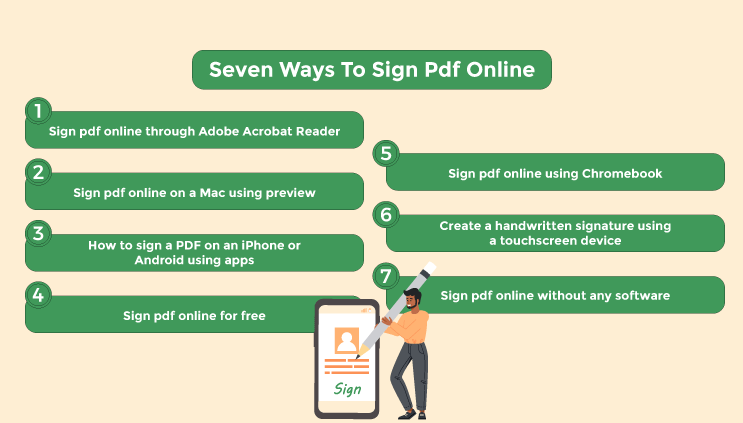 Sign PDF Online Through Adobe Acrobat Reader
The most common PDF signer, Adobe Acrobat Reader, includes an online signature method that works on both PCs and Macs.
Right-click on the pdf file you need to sign online.
Click on the fill & sign icon.
Click the sign to add a signature, or click add initials if you want to add your initials.
In the field that appears, you can either draw the signature or upload an image of the signature.
Select the location where you'd like your signature to appear. The signature can then be resized and repositioned as desired.
Sign PDF Online on a Mac Using Preview
Preview, a tool included with Mac computers, allows you to sign PDFs digitally.
Open PDF in preview.
Click on the sign button or "show markup toolbar icon."
You can make a signature in three ways: using your finger on the trackpad, taking a picture of your signature with your Mac's camera, or synchronizing your signature from your iPhone or iPad using your finger or Apple Pencil.
Select "Sign" from the drop-down menu. The signature can then be placed in the proper location on the PDF and resized as desired.
How to Sign a PDF on an iPhone or Android Using Apps
If you wish to digitally sign a PDF online with your iPhone or Android device, you'll need to download the apps available in the play store. There are various paid and free to download online pdf sign apps available that come with a quick tutorial on how to use them. Some of the most common online electronic signature maker are Sign.cc, Docusign, Hellosign, Preview, and more that allow you to sign pdf digitally on iOS and android based smartphones.
i) Sign PDF Online for Free
There are numerous websites and applications that allow you to digitally sign a PDF for free. Sign.cc is a simple document signing app that allows you to digitally sign three documents every month without paying a subscription fee. It allows you the option to either upload a pdf document or create a template that needs to be signed online. It is important to keep in mind that you need to upload an image of your signature of desired dimensions to sign the PDF online.
ii) Sign PDF Online Using Chromebook
On a Chromebook, you can use a number of different web signing providers. Pdffiller, because of its simple web interface, allows you to comfortably upload and sign PDFs online. Afterward, you can either email the signed paper to someone or download it for later use.
iii) Sign PDF Online Without Any Software
You have options to not download software to sign a PDF and instead prefer to sign a PDF online through a web browser. Still, these options are limited, and some people are concerned about their privacy while signing documents online. So, it's always advisable to go for certain free or paid software such as Smallpdf, adobe acrobat, and more to sign pdf online.
Create a handwritten signature using a touchscreen device. There are a lot of applications that allow you to draw your signature onto the pdf on your mobile phone instead of simply uploading it. For instance:
On your tablet/phone, you can install software like PDFchef that is compatible with your device.
Afterward, you can choose the signature option after selecting the document you wish to sign.
After selecting the option, you can draw your signature on the touchscreen using your finger or a digital stylus in the window that appears.
Before closing the app, you should not forget to save the file as a pdf.
Importance of Online Signature
Online signatures are the safest way to sign papers, making them suitable for sensitive information. Traditional methods of obtaining important handwritten signatures are slower and less secure than online signature. They aid in the simplification of procedures such as document exchange with partners or customers outside of a corporation by removing administrative activities that are unnecessary in manual processing. Other advantages of signing documents online include: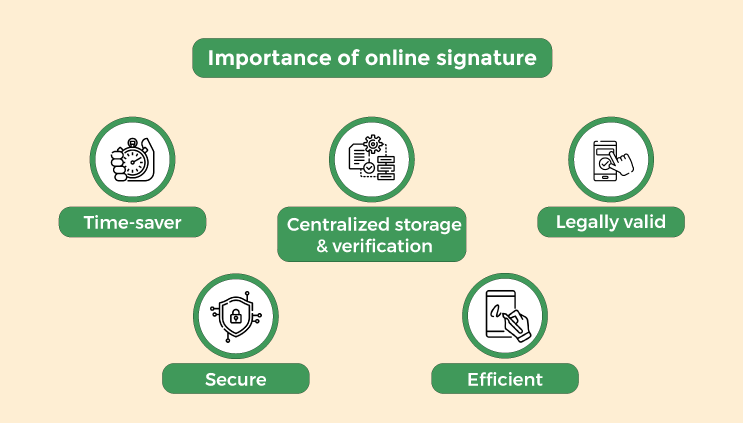 1. Time-saver
By removing the handwritten paper-based system, digital signatures save time. The traditional method of making signatures can take a long time and is tiresome. Electronic signatures are a lightning-fast solution that allows the procedures that follow the signature to start right away without wasting time and effort.
2. Centralized Storage & Verification
A filing cabinet can easily become overloaded with loose documents and folders. With online signature software, you can keep all of your documents in one place, organized and safe from fires, floods, and other security hazards.
3. Secure
The online signature that seals the document also keeps track of any modifications made after it was sealed. Online signatures can prevent tampering with documents while keeping track of who made the most recent changes.
4. Efficient
Printing, signing, witnessing, delivering, copying, and storing a signature can be a lengthy and complicated process involving numerous individuals. With the click of a button, online signatures can be collected, considerably enhancing efficiency on both ends of the paperwork.
5. Legally Valid
Prior to eSignature online, legal investigations were primarily based on handwriting identification and witness testimony. The time, date, IP address, and unique user identification key used at the time of signing are all documented in online signatures, making it a valid legal document.
Benefits of Using Sign.cc
Sign.cc, an online signature creator that lets your company collect, organize, and document signatures on your important documents, agreements, and paperwork! Let us look at some of the key benefits of sign.cc.
Allow signatories to make their signatures and sign papers in various formats with ease.
Choose from various pre-built templates, such as a non-disclosure agreement, a sales agreement, and a service contract.
Streamline eSignatures - Sign, send and manage the documents securely from any location.
CRM integration helps you close business deals faster.
Dropbox, Google Drive, Box, and OneDrive are great places to save and manage documents.
Online signatures are the safest way to sign papers, making them suitable for sensitive information. Sign Up 14 Day Trial
Summing It Up!
Electronic signature software make signing documents easier while also keeping everything safe and secure. They can help you save time for the things that matter in your business by allowing you to complete administrative procedures more quickly and efficiently. Today, using online signatures to authenticate documents while maintaining security, increasing productivity, and lowering costs are vital for businesses. To sign pdf online, we recommend using sign.cc, which allows for the easy signing of online documents, making the business workflow smoother and faster.
Discover Why Sign.cc Stands Out
#1
Get digital signatures on documents like sales contracts, employee HR letters, and more
#2
Create components like signature, date, initials on document via drag and drop builder
#3
Enable multi-party signing and share documents to multiple users
#4
Choose from 15+ scenario based pre-designed templates
#5
Upload documents from your local system or cloud providers like Dropbox, Google Drive and 500Box
#6
Track individual signee status for each document
#7
Send documents for signature from your favorite CRM software like CRM.io
#8
Set a hierarchical order for signing documents
#9
Unbelievable pricing - the lowest you will ever find
#10
Everything your business needs - 50 apps, 24/5 support and 99.95% uptime
Join the SaaS Revolution
All-in-One Suite of 50 apps

Unbelievable pricing - ₹999/user

24/5 Chat, Phone and Email Support