A Comprehensive Guide for Creating E-signatures
An electronic signature or e-signature is one of the most trusted and secure elements that gets used instead of a handwritten signature in multiple processes. The efficient and legal way of documentation has received a positive response from individuals and organizations in the past few years.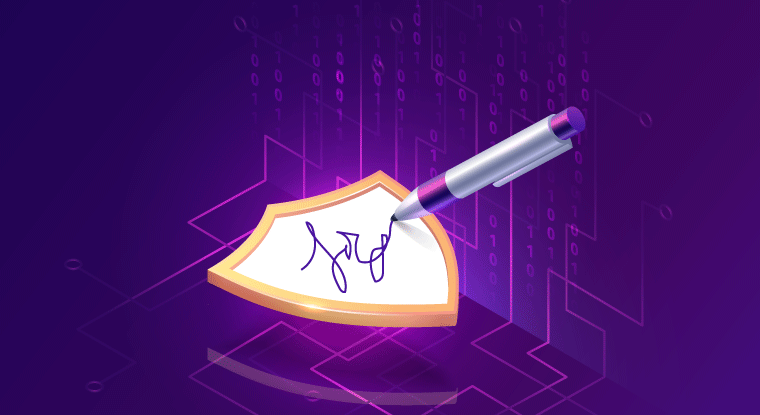 What are E-Signatures?
E-signatures or electronic signatures enable you to sign legal contracts online without using a pen or paper.
These signatures are legally binding and are considered an efficient procedure for approvals on electronic documents. They are verifiable and secure and can replace handwritten signatures virtually in any process. eSignature online are more convenient than the traditional ones as they save time by eliminating the need to post. Moreover, you can sign documents remotely in an instant.
How Do They Work?
You will find a variety of options that fall under the e-signature section. Electronic signatures work in the following manner.
Sign a document by typing a name and identifying data like a unique ID number.
Sign a digital document with an individual's actual signature using a stylus or fingerprint on the touchscreen.
Sign using credentials via biometrics, encryption, or password entry, and coordinate with a Trust Service Provider (TSP).
Electronic signatures are recommended the most for businesses, especially when dealing with compliance-related items or legally bound contracts. The signatures work in various ways depending on the options chosen by you. The signature image gets captured and apprehended to a document if you sign it digitally using a stylus. An advanced e-signature uses verification technology to ensure that the signatures are original, secure, and authentic. The signature provides encryption, audit trails, and other backend tools for authenticity verification.
Here is a quick look at the complete process.
A document goes to the stakeholder that requires a signature.
The user confirms the identity via Trust Service Providers (TSPs) with biometric authentication.
The electronic signature and its related data get appended to the digital document.
The document and the trackable signature move to the next step through an automated workflow for the company to process them further.
Benefits of E-Signatures
Incorporating eSignature maker into multiple processes can enhance client experience for individuals and business organizations. Here is a breakdown of the benefits of e-signatures that you must know.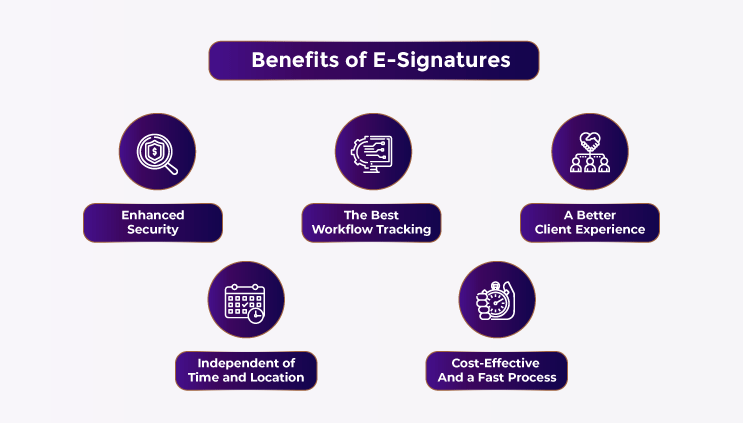 1. An Enhanced Security
E-signatures ensure that your document reaches the right people with security controls and verification steps. The signatures are reliable tools that enable the stakeholders to authenticate the document's origin and integrity.
2. Independent of Time and Location
You can make digital signatures anywhere and at any time. Remote work is increasing in current times, and it has become significant to sign the documents remotely instead of doing them physically in the office.
3. The Best Workflow Tracking
You can track the identity of individuals who have opened, approved, or signed an electronic document as e-signatures provide you with a complete paper trail of the entire process.
4. Cost-Effective And a Fast Process
You can collect approvals and signatures on multiple documents at a single time without printing or wasting a single piece of paper. Signing a document electronically saves time and enables office affairs to get managed faster.
5. A Better Client Experience
You can ask your clients to sign the documents quickly from any device and location using the e-signature feature. Most clients want real-time access to document processes. The best way to help them is to follow the electronic documentation process.
Types of E-Signatures
You can find three types of electronic signatures with different ways of signing digital transactions and understand their legality and evidential power by going through their unique features mentioned below.
1. Simple Electronic Signatures (SES)
SES is the simplest and the broadest type of e-signature. It includes data in an electronic form which is logically associated with other data used by a signatory to sign documents. Simple electronic signature software (SES) do not require the signer's identity verification because trusting them is the responsibility of the individual who accepts the documents.
2. Advanced Electronic Signatures (AES)
AES is based on certificates used for uniquely identifying the signer of an electronic document. Advanced electronic signatures (AES) get transmitted through specific delivery services that provide audit trails, and other evidence related to various data.
3. Qualified Electronic Signatures (QES)
QES must include a certificate based on public keys issued with superior technological means. Qualified Electronic Signatures (QES) must have an identification of the signatory by a certified and audited entity.
E-Signatures are legally binding and are considered an efficient procedure for approvals on electronic documents. Sign Up 14 Day Trial
Creating An E-Signature
You must follow a step-by-step signing process to create an e-signature.
1. Typing
Choose a typeface and type your initials or name. You can choose a font of your choice and change the signature color. Download the signature once you get satisfied with it and save it as a PNG file on your computer for later use.
2. Drawing
You can choose to draw a signature by using the mouse, stylus, or trackpad on a preferred platform. You can change the color, thickness, and angle to make the signature look unique. Save it as a PNG on your computer when you are done with the changes.
3. Uploading
Upload an image of your wet ink signature to make it seem precisely like your original signature. You can make a copy of your signature on blank paper and photograph or scan it at your convenience.
Tips For Using E-Signatures
One of the best ways to get productive at work is by using e-signatures to sign documents. However, you must follow some important tips when using document signing app.
Determine when and where to use e-signatures. Seek legal advice if you are unsure about your decision.
Develop e-signature policies, practice guides, and procedures for your team members and the clients.
Determine the best video conferencing and e-signature software to use across all processes.
Check for software security and a dedicated compliance team.
Maintain client privacy when working remotely and find a private space for conducting calls or video conferences.
Develop a custody policy for document storage without compromising security.
Common Mistakes to Avoid When Using E-Signatures
Electronic signatures are a blessing in disguise for business organizations. However, you must avoid committing the following mistakes when using them.
i) Not Teaming Up with Reputed Brands
By choosing to work with reputed brands, you must ensure security and safeguard yourself when exposing your clients, company, and other relevant data. Business organizations that team up with poor-quality systems or substandard vendors cannot assure document protection.
ii) Awareness of Legality Status
All parties must know that the electronic document signing is legally binding to prevent possible legal implications that may come up in the future.
iii) Time-Out Error Status
The error status is consistent in various applications and arises when you attempt to upload large files. You must recheck the format and size of your file to ascertain that the issue is not because of poor connectivity.
iv) Not Using UI/UX Or Mobile-Friendly Software
You must understand that all your clients and customers may not be accustomed to the mode of digital signing. You must choose mobile-friendly software with a simple user interface that helps all parties to understand the processes easily.
How to Troubleshoot Problems with E-Signatures?
You can take the help of e-signatures to troubleshoot various problems.
They save time and create efficiency
E-signatures help reduce tedious and lengthy tasks by allowing business organizations and their clients to deal remotely by getting access to all documents virtually.
They help eliminate and lower costs
E-signatures will never burn a hole in your pockets when used for documentation processes. They are the best ways to eliminate extra costs for your business.
They help track the progress of your signatures and files
If you are worried about tracking the progress of your pending files and signatures, the best way to get rid of your woes is by using e-signatures. You can track all processes in real-time without the need for your presence in the office.
The Future of E-Signatures
Most individuals and companies have already bid farewell to the traditional practice of signing documents physically. It's time for the e-signature trend to shine, as it comes with multiple benefits for business organizations and their clients. Electronic signatures are a part of contactless technology that can further improve contact validation in the future. This latest and upcoming trend can lead business organizations to adopt advanced biometric technology for all documentation processes.
Summing It Up
E-signatures are the perfect alternative to traditional, handwritten signatures that require your physical presence in a specific location and time. The electronic signatures have revolutionized the way documentation processes take place in today's world.
If you are looking for the best electronic signature software to sign documents and request electronic signature, Sign.cc is the one-stop solution for you. CRM integration helps close deals faster and stores documents on various platforms, ensuring a smooth singing experience.
Discover Why Sign.cc Stands Out
#1
Get digital signatures on documents like sales contracts, employee HR letters, and more
#2
Create components like signature, date, initials on document via drag and drop builder
#3
Enable multi-party signing and share documents to multiple users
#4
Choose from 15+ scenario based pre-designed templates
#5
Upload documents from your local system or cloud providers like Dropbox, Google Drive and 500Box
#6
Track individual signee status for each document
#7
Send documents for signature from your favorite CRM software like CRM.io
#8
Set a hierarchical order for signing documents
#9
Unbelievable pricing - the lowest you will ever find
#10
Everything your business needs - 50 apps, 24/5 support and 99.95% uptime
Join the SaaS Revolution
All-in-One Suite of 50 apps

Unbelievable pricing - ₹999/user

24/5 Chat, Phone and Email Support