Best & Free Electronic Signature Software in 2023
In comparison to handwritten signatures, electronic signatures are less expensive and more effective. It takes a lot of printing, hand-signing, and scanning to manually sign a proposal, contract, or estimate, which takes time for both the document's author and recipient.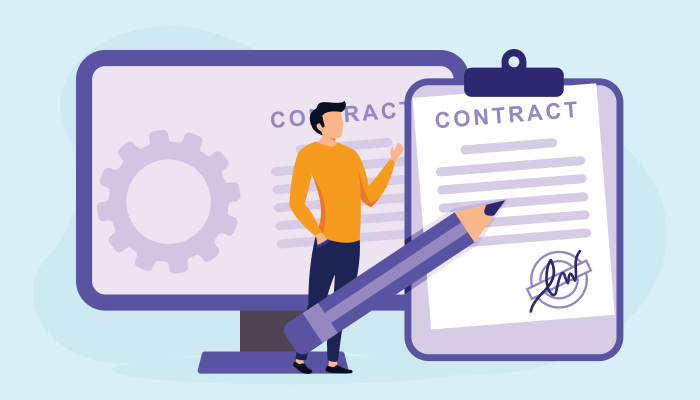 Free electronic signature software has transformed daily operations for numerous businesses. You can send a single email and wait for the reply with your fully signed document instead of printing a legal document, mailing it to your signer, and then waiting for them to sign it and return it back. Digital documents are simple to manage. Any free electronic Signature software offering is included in the list we've provided here. Although they might only support one project or user, they are genuinely free offerings. But scaling frequently calls for full investments.
To make sure you receive the proper product, compare all free electronic signatures if you'd like to examine more products and consider more feature options.
What to Look For in a Free Electronic Signature Software?
Although electronic signatures appear simple, there are several nuances to these platforms that you should be aware of. The following three characteristics in the programme you use should be present if you wish to effectively establish an electronic signature.
Security: In order to guarantee the security of the file and protect the data, electronic signatures must be secure. Any free electronic signature solutions must be technically capable of encrypting, authenticating, and carrying out all other necessary tasks to ensure a safe signature.

Integration: Integration is crucial for e-sign software because it makes the software more accessible to users from a variety of devices, including desktop computers, tablets, and mobile phones. You add more complexity to the procedure if not everyone can use it or if they must pass hurdles in order to do so.

Reputation: You should pick software solutions with a good reputation so that your clients and business partners can trust it with sensitive information. This will give them the confidence that an electronic sign is real. Examine recommendations from colleagues, read reviews of The Ascent, and look at testimonies. Make sure the relevant software providers have a customer service department that can respond to your inquiries.
Here Goes the List of Free Electronic Signature Software
1. Sign.cc
With Sign.cc, document signing is quick and safe. Additionally, users may create and instantly follow signing instructions and requests, save and manage documents in Dropbox, Google Drive, and One Drive, and instantly add distinctive signatures to documents in a number of formats.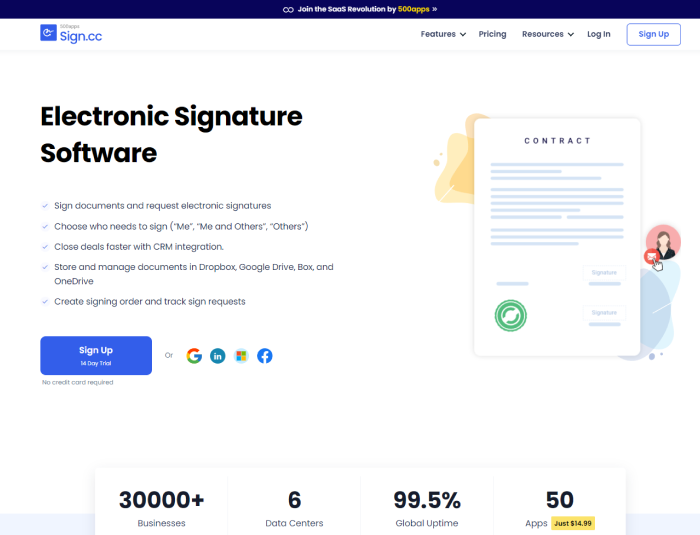 Sign documents and request digital signatures
Identify the signatory (either "Me," "Me and Others," or "Others")
CRM Integration will help you close your business more rapidly
The storage and management of documents are possible on OneDrive, Box, Google Drive, and Dropbox
Create signing orders and maintain a record of sign requests
Price - 50+ apps are accessible with a free trial membership. Its monthly cloud service is $ 14.99, or Rs.999/month.
Now Manage Your Digital Signatures for Free With Our Sign.cc. Sign Up 14-day Trial Trail
2. EverSign
Eversign's mission is to assist both small and large organizations in making the transition to the digital world by providing them with guidance along the route.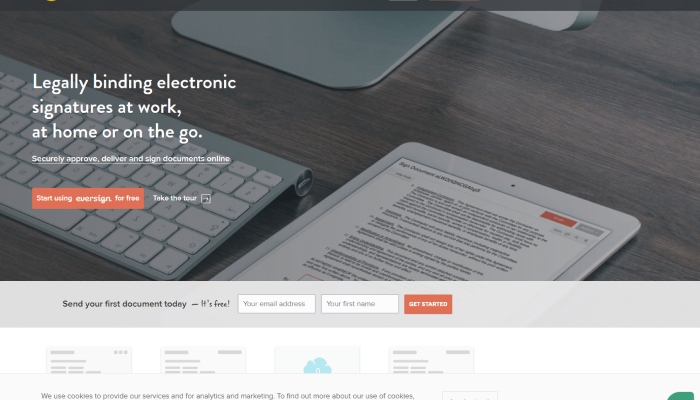 They committed to developing a highly secure and well-monitored free electronic signature platform that is ahead of its time in terms of functionality, while remaining affordable for both individuals and SMBs, and bringing flexible workflows and an increase in time efficiency for large companies at the same time, because we genuinely understand that a great number of businesses are hesitant when it comes to managing and processing sensitive data, such as contracts and business agreements, in the cloud.
Price - Starting at $9.99 per month/per user.
3. HelloSign
The simple method to securely sign documents online is with HelloSign, the free electronic signature software. Any contract, including loans, sales contracts, NDAs, and offer letters for new employees, should have legally binding signatures. Enterprise-grade security that is more secure than pen and paper methods, a user experience that has won awards, strong admin controls, document tracking, and all of these features come standard out-of-the-box.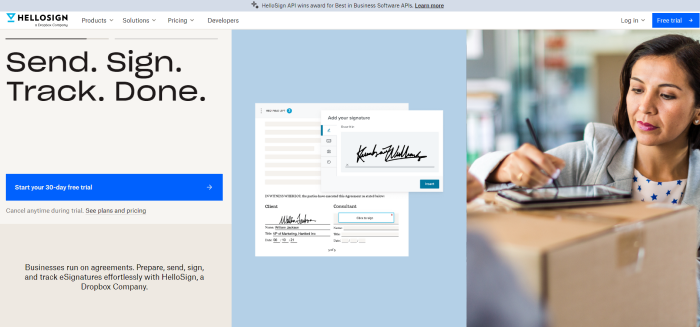 Quicker signing Using HelloSign, contracts may be signed and returned by businesses 80% more quickly than with conventional paper-based contracts, which typically require 15 days to complete. Boost document completion rates. HelloSign uses tools including tracking, automated reminders, and mobile signature to quickly send agreements.
Price - Starting at $15 per month/per user.
4. DocuSign
DocuSign, free electronic signature tool assists businesses in connecting and automating the creation, execution, and management of agreements. DocuSign provides eSignature, the most popular method of electronic signature on virtually any device, as a component of the DocuSign Agreement Cloud.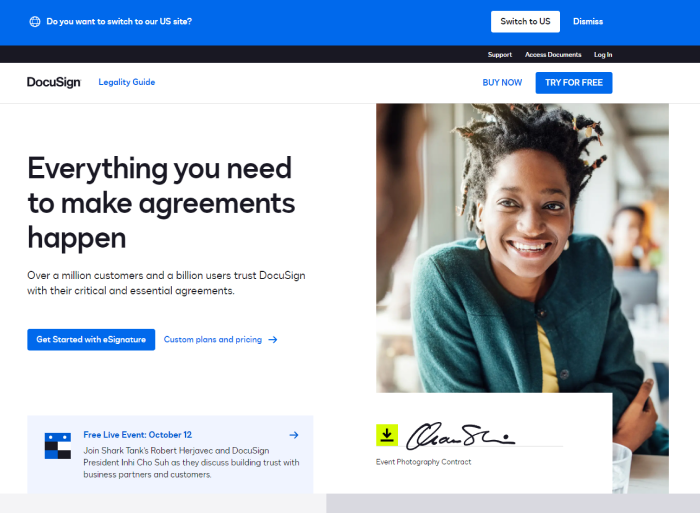 DocuSign helps your business:
Boost client happiness by offering a superior signing experience
Standardize the agreement process
Save time by decreasing manual work
Boost agreement correctness
It integrates with your current business systems
Send, sign, and track agreements quickly and effortlessly
Price - Starting at $10 per month/per user.
5. Acrobat Sign
At Adobe, we consider documents to be more than merely a tally of facts and evidence. They are the cornerstone of bringing people and ideas together and advancing commerce. Your company will operate more quickly with Adobe Acrobat Sign. The only user-friendly free digital signature software solution that combines the strength of Adobe Acrobat with straightforward and secure e-signature technology is Acrobat Sign. This can be further enhanced by incorporating a QR code maker tool, which can create codes that link to the signed document and make it easy for recipients to access and verify the authenticity of the signature.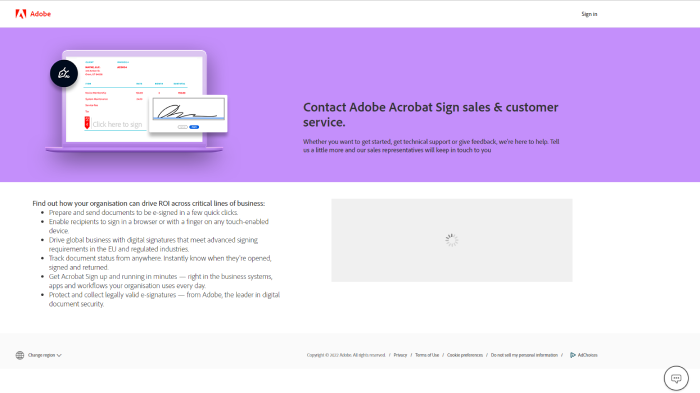 You may create, sign, transmit for signature, manage, and track documents with Acrobat Sign, all from the same Adobe platform. By allowing your customers and teams to sign documents on any device or browser, whenever they want, you can give them a great signing experience. There is no need for additional software downloads or accounts.
Price - Starting at $12 per month/per user.
Final Words
It may be tempting to simply choose a software choice and stick with it, but it is not a wise course of action. You might discover that using an electronic signature is more difficult than you anticipated, or you might not enjoy the user experience.
Instead, it's worthwhile to spend some time downloading a few free electronic signature tools and trying each one out. After all, they are free, so they won't cost you anything. Once you've done that, you'll be able to choose with confidence.
Discover Why Sign.cc Stands Out
#1
Get digital signatures on documents like sales contracts, employee HR letters, and more
#2
Create components like signature, date, initials on document via drag and drop builder
#3
Enable multi-party signing and share documents to multiple users
#4
Choose from 15+ scenario based pre-designed templates
#5
Upload documents from your local system or cloud providers like Dropbox, Google Drive and 500Box
#6
Track individual signee status for each document
#7
Send documents for signature from your favorite CRM software like CRM.io
#8
Set a hierarchical order for signing documents
#9
Unbelievable pricing - the lowest you will ever find
#10
Everything your business needs - 50 apps, 24/5 support and 99.95% uptime
Join the SaaS Revolution
All-in-One Suite of 50 apps

Unbelievable pricing - ₹999/user

24/5 Chat, Phone and Email Support