How to Create an Electronic Signature in a PDF?
The adoption of a remote workflow is widespread among businesses. Electronic and digital signatures now make it feasible to authorize papers more swiftly and legally. The PDF file format, among others, supports electronic signatures. We'll walk you through adding an electronic signature in a PDF document in the section that follows.
An electronic signature, also known as an eSignature, is just a regular physical signature that has been digitized, making the signing procedure speedy. Like traditional handwritten signatures, electronic signatures primarily serve as proof that the signer has approved the concerned document.
Purpose of Using Electronic Signature
Before continuing, it's critical to comprehend the what, why, and how of electronic signatures. Now that we've finished learning the "what," it's time to discover the "why."
Using an electronic signature is far quicker than using a traditional signature because you don't need to print, physically sign, scan, and return the document back to the sender.
The ability to swiftly and simply add the copied signature to any future document after just needing to do it once is another helpful feature of eSignatures.
Usually, an electronic signature has the same legal force as a physical one (read: certain countries consider written signatures as taking higher precedence over eSignatures).
Lastly, electronic signatures are likewise encrypted, so you may use these as well.
Key Features of Electronic Signature
E-signature software companies share a number of traits that stand out, including: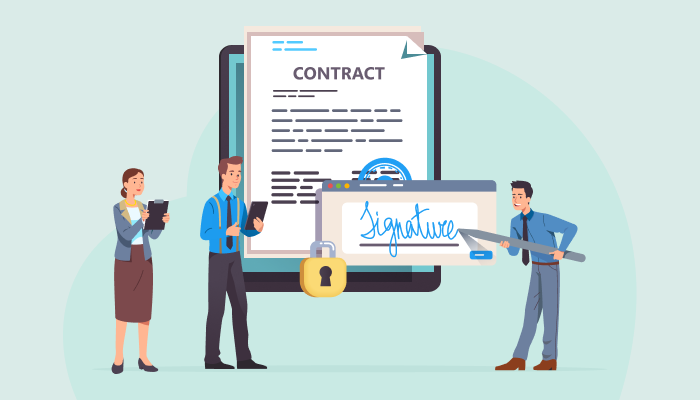 The capture of an electronic signature
Tools for editing and annotating
Identity verification and authentication methods
Formats and varieties of signatures
Preservation of documents
Workflow automation procedures
Custom branding opportunities
Access Restrictions
Encryption and security
Audit records
Particular document templates
Support for digital pens
Support for iOS and Android mobile applications
Add an electronic signature in PDF and Word documents.
Here's How to Add Electronic Signature to a PDF
A type of electronic signature known as a "digital signature" includes encryption as an additional layer of protection. Public key infrastructure (PKI) is used, which calls for secure key generation and storage. Utilizing features like timestamps that are part of digital signatures helps to protect the integrity of documents.
Electronic signature in a PDF document, the user must have a current digital certificate, which is often supplied by a Certificate Authority (CA). Independent businesses known as certificate authorities offer trustworthy certifications to other enterprises.
eSignatures are digital symbols that can be applied to any document with the goal of signing it in the electronic signature programme Sign.cc. They are very simple to use because adding an electronic signature with a mouse click to any document makes them. You can create an electronic signature for your company or organization using a variety of online programmes.
Here's how to use Sign.cc to add an electronic signature to a PDF document. Follow these procedures to create a visible electronic signature in a PDF:
Sign in to Sign.cc
Click on the section Signees
The choices "Me," "Me & Others," and "Others" will be displayed
If the PDF document only needs your signature, select "Me"
If the PDF document needs both your and other signers' signatures, select "Me & Others"
If the PDF document simply needs other people to sign it, select "Others"
When you select the option, you can either upload a PDF file or select a template from our library
Select "Use this templates" ( third icon from the right) from the drop-down menu after selecting a template 9. If you choose the "Me & Others" or "Others" options, you will be instructed to add the signees
Click "Next" after you've added the signatories successfully
The "Add" section is located here on the left. The "Signature" icon is the first. The box is simple to drag and drop. The "signature" button inside the box should be clicked
You will be given three choices when you click: "Draw," "Upload," and "Initial." Select one of the options, sign successfully, then confirm and submit
The other signatories will receive mail
The "Document" section allows you to keep track of the status.
You now know how to add an electronic signature to a PDF document.
Benefits of Using Electronic Signature in a PDF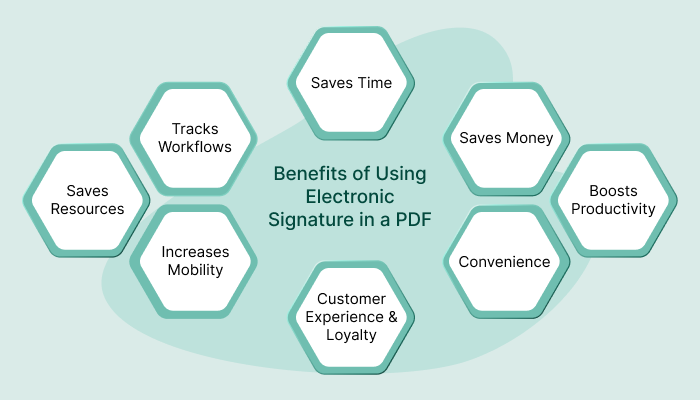 1. Saves Time
One of the most obvious advantages of electronic signature technologies is time savings. Instead of setting up in-person document signings or back-and-forth mail delivery, you can transmit an electronic link to shorten the turnaround time for documents.
2. Saves Money
Saving time and money go hand in hand. Any prosperous firm may increase ROI and reduce expenses by automating procedures. Eliminating printing, packing, and shipping expenses also yields considerable savings that increase your revenue.
3. Boosts Productivity
When workers can devote their time to challenging initiatives rather than repetitive, mundane activities, productivity and employee satisfaction soar. E-signature technology allows your business to eliminate tasks that are best handled electronically.
4. Increases Security and Reduces Risk
Are electronic signatures safe? Simply put, without a doubt. Why is that
Because they are legally binding and challenging to forge, electronic signatures are more secure than handwritten ones.
E-signatures are simple to verify because they typically come with a digital audit trail that includes emails, copies of contracts that have been signed, and signed documents.
E-signature systems can detect even minute adjustments and tweaks, making them safer than wet signatures, which are easily altered.
The potential of bodily injury, loss, theft, or destruction is present with paper documents.
Electronic signatures ensure that all necessary signatures are present.
A third party cannot access electronic documents without permission.
The name of the signer, their location at the time they signed, and the date they did so are all recorded in the metadata of documents that have been electronically signed.
5. Convenience
Free electronic signature tools like Sign.cc are useful and easy to use, even for non-technical users. The signing procedures are straightforward and sensible, whether you're sending or receiving. If you know how to use email and a few buttons, using electronic signatures is easy.
6. Customer Experience & Loyalty
Sign any time, anywhere! Whether on a mobile device, PC, office building, or beach cabana, e-signatures allow real-time access to papers and speeding transactions without printing or scanning. Those that are satisfied with your business are your loyal customers who promote it.
7. Increases Mobility
Do you work with a workforce that is mostly on the move? Sending content online at any time and from any location expands your audience. Receiving and signing documents using mobile devices also increases turnaround time and client convenience.
8. Saves Resources
Senders and recipients must frequently print and scan documents, wasting reams of paper and expensive printer ink when employing physical or "wet" signatures. The environment and your supply budget will both gain from paperless offices.
9. Tracks Workflows
Have you received, authorized, or electronically signed your document? By monitoring workflows, you may instantly ascertain the status of your documents.
10. Empties Your Archives
Do you still have a lot of paper documents taking up space in your office? Electronically signed documents are immediately available for use, unlike paper documents that must be kept on file for a specific period of time. Hooray! No more paper stacks or filing cabinets!
11. Ensures Compliance
You must follow the rules for regulatory compliance in all company transactions. If you're being audited, keeping track of paper records to meet compliance standards could be problematic. Document authenticity and unaltered news must be guaranteed in order to avoid legal action and fines. Using e-signature encryption technology, document security and legal compliance are preserved.
Manage Your Electronic Signatures in PDF for FREE With Our Sign.cc. Sign Up 14-day Trial Trail
In Conclusion
Anyone who frequently sends out signed documents can tremendously benefit from eSignatures. For many business owners and teams, such as sales, administration, and accounts, using it can be very useful.
Choose the software that is best suited for your organization. Visit 500apps today and explore more about Sign.cc.
Discover Why Sign.cc Stands Out
#1
Get digital signatures on documents like sales contracts, employee HR letters, and more
#2
Create components like signature, date, initials on document via drag and drop builder
#3
Enable multi-party signing and share documents to multiple users
#4
Choose from 15+ scenario based pre-designed templates
#5
Upload documents from your local system or cloud providers like Dropbox, Google Drive and 500Box
#6
Track individual signee status for each document
#7
Send documents for signature from your favorite CRM software like CRM.io
#8
Set a hierarchical order for signing documents
#9
Unbelievable pricing - the lowest you will ever find
#10
Everything your business needs - 50 apps, 24/5 support and 99.95% uptime
Join the SaaS Revolution
All-in-One Suite of 50 apps

Unbelievable pricing - ₹999/user

24/5 Chat, Phone and Email Support