7 Ways to Sign Documents Online - Expert Tips
An electronic signature is used to sign papers supplied electronically, eliminating the use of a pen and paper. Legal forms, commercial agreements, invoices, finance documentation, and other documents can benefit from an e-signature.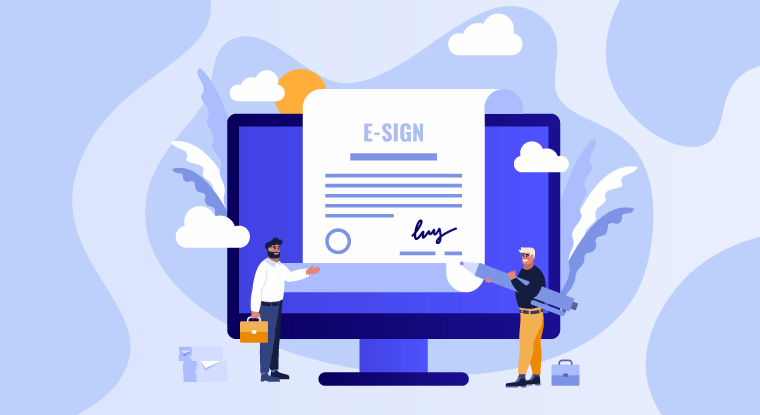 Electronic signatures allow businesses and people to sign documents remotely via a mobile device or computer, resulting in a legally binding signature in seconds. Electronic signatures, also known as e-signatures, help organizations decrease risks, save money, and provide better customer service.
To guarantee that your organization follows best practices for electronic signatures, you can provide staff onboarding and training on how electronic signatures function. Customers who sign documents online for the first time may also welcome basic instructions.
Why Use E-signature?
Electronic signatures offer several benefits over traditional ones, making them more prevalent these days. Listed below are some advantages of electronic signatures.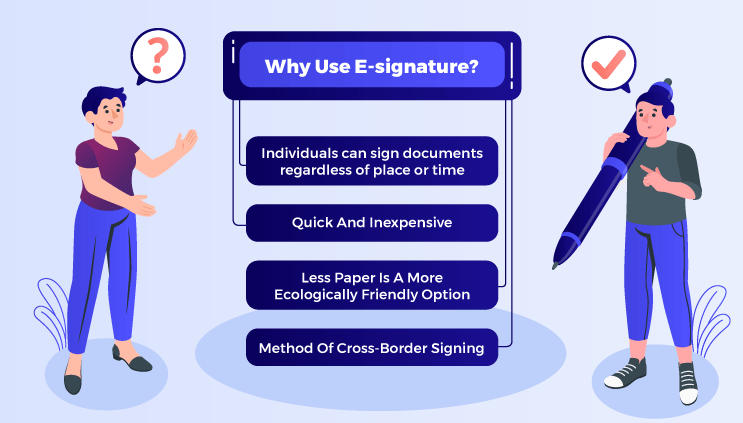 1. Individuals Can Sign Documents Regardless of Place or Time
You can sign documents online at any time and from any location. This is crucial, especially since remote working has become more popular.
2. Quick and Inexpensive
Electronically signing a document is nearly as fast as signing it on paper. However, you can save time in the handling of the document. Documents may be managed more quickly when they are no longer scanned, printed, or transmitted by paper mail.
3. Less Paper is a More Ecologically Friendly Option
You do not need to print an electronically signed document. Hence, it is unnecessary to think about its physical storage. In addition, signing documents online can reduce the amount of paper used.
4. Method of Cross-Border Signing
Electronic signing is a quick and efficient technique for scenarios when papers must be communicated across borders, such as in the context of contracts or competitive tendering procedures.
What Can You Use E-signature For?
Electronic signatures may now be utilized to execute signatures in almost every scenario. Let's look at some of the most common scenarios in which e-signs are used, particularly in the business sector.
i) Agreements With Vendors/Suppliers
Businesses, particularly Small and Medium-sized Enterprises (SMEs), are often at a disadvantage when negotiating with suppliers. Hence, managers must be able to lock in the terms and pricing as soon as an agreement is signed. Managers or business owners who sign papers online may conclude any contract with their vendors in minutes, allowing them to capitalize on the previously mentioned benefit.
ii) Approvals From Customers
That last permission prior to manufacturing is essential for firms that deal with custom-made items. esign allows you to securely and efficiently collect approvals, allowing you to move on to the next step in the manufacturing process.
iii) Employee Orientation
Hiring a new employee necessitates a slew of documentation. Some documents include employment offer letters, consent for background checks, performance assessment letters, contact forms, employee handbooks, etc. All of these documents may be completed swiftly and securely using electronic signatures.
iv) Legal Documents
E-signatures are ideal for typical legal agreements such as intellectual property licensing and NDAs since they are legally binding and admissible in courts.
v) Online Banking Security
Using e-signatures ensures a respectable amount of security, which is critical for your money. Financial institutions want to adopt e-sign technology because it significantly reduces the likelihood of transaction record tampering.
vi) Submitting Tax Returns
You may utilize electronic signature maker to make the time-consuming task of submitting tax returns easier. In fact, the Internal Revenue Service (IRS) highly advises individuals and companies to submit their forms electronically to receive a speedier refund. Electronic signatures offer several benefits over traditional ones, making them more prevalent these days. Sign Up 14 Day Trial
7 Ways To Sign Documents Online
Here are seven different ways you can sign documents online.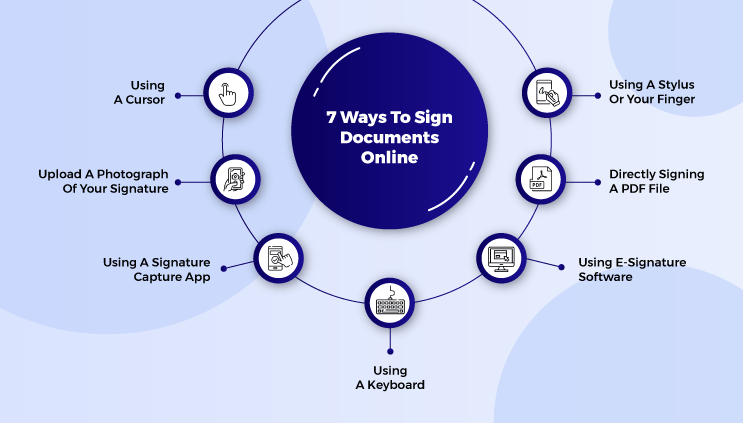 1. Using a Stylus Or Your Finger
If you're using a touchscreen device, such as a phone or tablet, this function can come in handy. You can effortlessly draw your signature on the screen with your finger or a pen and generate an electronic signature straight on your paper.
2. Using a Cursor
A similar procedure may be used while using a laptop or PC. To produce your eSignature on the computer, hold the cursor while pressing and dragging it along the screen. The touchpad on a laptop may be used to e-sign the document in a similar manner.
3. Upload a Photograph of Your Signature
One of the simplest methods to establish an electronic document signing is to sign it on paper and photograph it with a camera. This may then be included in the relevant document. You may also scan and upload your signature using a scanning app on your smartphone.
4. Using a Keyboard
Using a keyboard is by far the simplest and most convenient way to make an digital signature online. You have to enter your name and choose a typeface that complements your handwriting. Now, you have an eSignature that is ready to use.
5. Using a Signature Capture App
In addition to simply photographing your paper signature, some applications allow you to photograph your signature and alter it to have a fully translucent backdrop, making it much easier to add your signature to any document.
It is essential to save your file in PNG format as it allows you to save the file with a clear background so that important information beneath it is not obscured.
6. Using E-Signature Software
Instead of applications that assist you in making a signature, some apps allow you to sign documents immediately. Since eSignature online are becoming more widespread, having an easy to use software can be beneficial. These types of software are an excellent method to prevent your signatures from falling into the wrong hands or being altered.
7. Directly Signing a PDF File
The most common and standard format for fixed-layout documents is a PDF file. Since its inception, the PDF format has been improved to be as user-friendly as Word. Hence, it is now possible to sign a PDF document online.
A PDF reader is necessary to open a PDF file. This works with any file that ends with a ".pdf" extension. Adobe Acrobat Reader is the most widely used reader in the industry.
Summing It Up
Digital signatures have changed the way corporations affix signatures. To stay up to date with the changing times, softwares like Sign.cc allows you to seamlessly sign documents online. It offers several other benefits, like allowing you to choose from a library of pre-built templates to expedite the signing process and create an electronic signature document containing the date, name, and signature of several users. In addition, you have complete control over the sequence in which your receivers receive and sign your papers on the go, thus ensuring efficiency.
Discover Why Sign.cc Stands Out
#1
Get digital signatures on documents like sales contracts, employee HR letters, and more
#2
Create components like signature, date, initials on document via drag and drop builder
#3
Enable multi-party signing and share documents to multiple users
#4
Choose from 15+ scenario based pre-designed templates
#5
Upload documents from your local system or cloud providers like Dropbox, Google Drive and 500Box
#6
Track individual signee status for each document
#7
Send documents for signature from your favorite CRM software like CRM.io
#8
Set a hierarchical order for signing documents
#9
Unbelievable pricing - the lowest you will ever find
#10
Everything your business needs - 50 apps, 24/5 support and 99.95% uptime
Join the SaaS Revolution
All-in-One Suite of 50 apps

Unbelievable pricing - ₹999/user

24/5 Chat, Phone and Email Support