How a Digital Signature Certificate Can Benefit Your Business
This article explains the benefits and types of digital signature certificates and knows how they can help your business.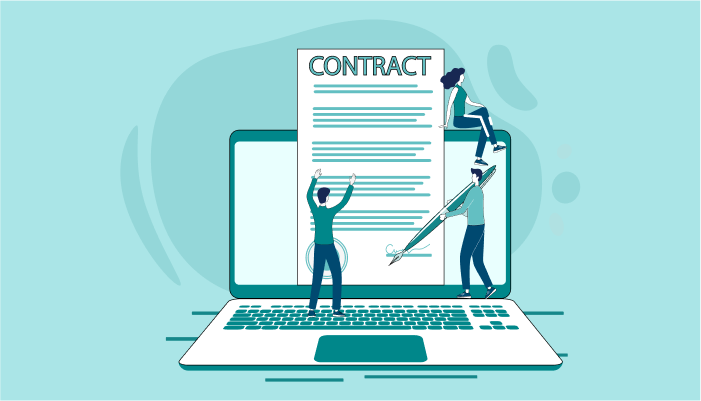 With the advent of technology and time, everything has become digitized. The world no longer runs on physical or paper documents and certificates. In fact over 60% of businesses use digital documents. In this article, we will discuss digital signatures that hold significance for multiple organizations, their clients, and customers. A electronic signature refers to the e-signature that complies with legal regulations and provides assurance of the signer's identity. The term 'digital signature' indicates the acceptance of an online record or agreement. Now, the question is – who ensures the signer's identity and provides security? The answer is a digital signature certificate (DSC).
What Do You Mean by a Digital Signature Certificate?
A digital signature certificate (DSC) is in an electronic format and is equivalent to paper or physical certificates. The certificate acts as a secure digital key issued by certifying authorities to validate the person's identity who holds the document. So, the certification process uses public-key encryptions to create signatures.
The digital signature certificate (DSC) contains information about a user's name, email address, country, pin code, date of certificate issuance, and the certifying authority's name. You can present the digital certificate electronically to prove your identity, access services or information on the internet, and digitally sign documents for multiple purposes.
Multiple agencies and organizations have adopted the digital certificate as a statutory requirement for various applications. The certificate also helps individuals and organizations secure legally valid online transactions.
Types of Digital Signature Certificates
You will find three types of digital signature certificates.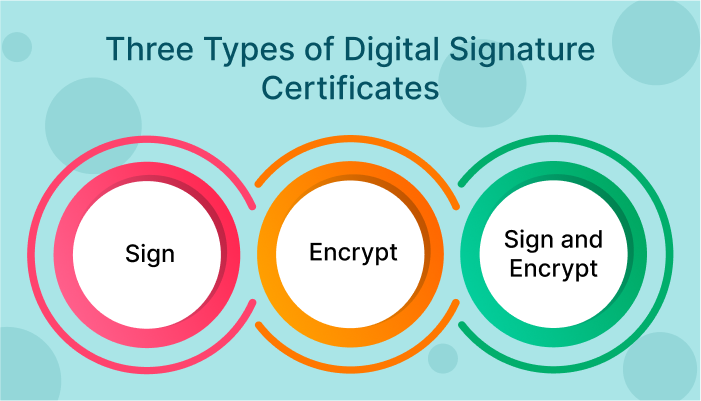 - Sign
You can use a sign DSC to sign documents like PDF files for MCA, tax returns, and other websites. If you sign via DSC, the certification assures the signer's integrity and the data. So, a sign DSC is proof of unaltered and untampered data.
- Encrypt
You can use an encrypted DSC to code a document. Most organizations use the certificate to encrypt documents and upload them to tender portals. You can also use the certificate to send classified information. Encrypt DSC gets used for legal documentation, e-commerce documents, and sharing confidential information.
- Sign and Encrypt
You can sign and encrypt documents using the Sign and Encrypt DSC. The certificate is convenient for users who must authenticate and maintain the confidentiality of shared information. You can use the Sign and Encrypt DSC to fill out forms and applications.
What Are the Benefits of Using a Digital Signature Certificate?
Digital signature certificates can protect documents in multiple fields like life insurance, rental agreements, invoices, employment contracts, etc. The certifications help authenticate user identities and ensure that the shared information remains confidential and secured.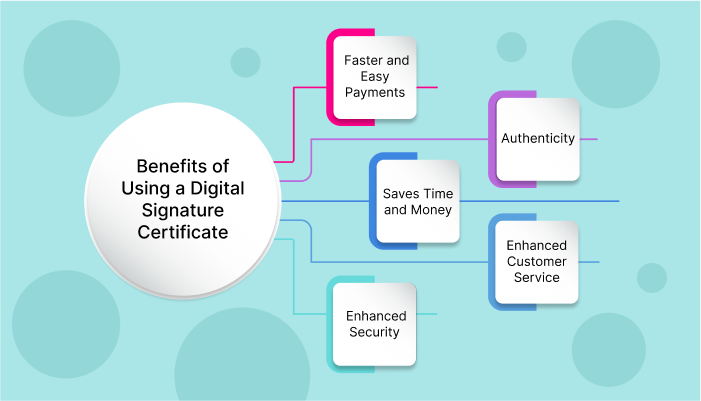 Here are the benefits of using a digital signature certificate.
1. Faster and Easy Payments
Organizations can ensure the faster signing of sales or sign contracts and close documents with multiple parties with a digital signature certificate. The certificate helps in contract management, streamline legal agreements, invoices, and other paperwork so that you can make fast payments and close the deals.
2. Saves Time and Money
Digital signature certificates enable fast online authentication and allow documents and other official paper procedures to get delivered on time. You no longer have to send the documents to the recipients via post or courier and wait for the signing to get done. So, digital signature technology helps you save time and money.
3. Enhanced Security
Digital signature certificates are better than paper or physical certificates because they help protect documents. Digital signature-making software and tools ensure that the information is encrypted and secures the document from getting tampered with or misplaced. Moreover, the certification ensures that the information and the user's identity get verified before it reaches the recipient.
4. Authenticity
A digital signature certificate provides legal validity to documents and ensures that e-signatures get verified. The best part about the certification is that it can stand in any court of law. DSC also enables you to track and archive the documents and simplifies audit and compliance for individuals and organizations. Moreover, the certificates hold validity in the future with long-term signature formats.
5. Enhanced Customer Service
We live in an age where all tasks get getting digitized. So, most customers expect to sign their documents digitally because it is a simple procedure as well as tamper-resistant. Digital signature certificates are the best ways to ensure enhanced customer service as every documentation and signature can be conveniently carried out on any platform of choice, including mobile phones and PCs, at any time of the day.
How Can a Digital Signature Certificate Help Your Business?
Digital signature certificates ensure that sensitive documentation is secured and shared with authorized users. Data breaches are common in business and cost a lot of money. So, organizations consider it vital to protect their data. So, a digital signature certificate helps organizations keep their data and documentation secure and ensure no one tampers with sensitive information. Boost your efficiency by automating both internal and client-facing signatures and approvals with digital signature online.
Here is how a digital signature certificate can help run your business better.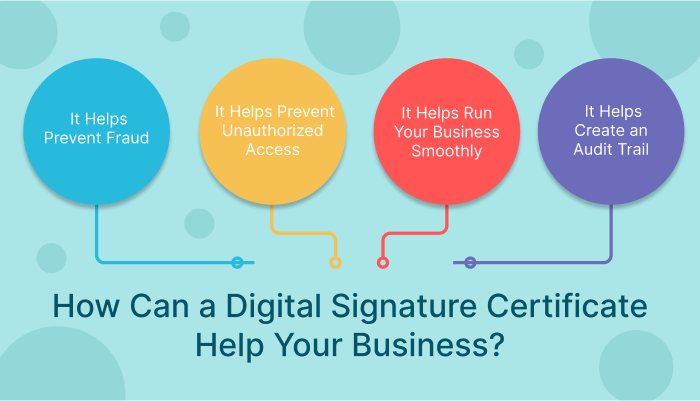 - It Helps Prevent Fraud Digital certificates ensure that the user or sender is who they say they are. The system assures that unauthenticated user cannot defraud others by pretending to be someone else within the organization.
- It Helps Prevent Unauthorized Access Businesses must prevent data from getting accessed by unauthorized individuals. A data compromise may result in a stolen identity or losing sensitive business information. So, digital signature certificates prevent unauthorized individuals from accessing data and information.
- It Helps Run Your Business Smoothly Digital certificates are the best way to protect information without much time commitment. So, businesses do not have to take extensive steps to secure document exchanges or organize meetings and appointments.
- It Helps Create an Audit Trail Digital certificates include encryption processes that help business organizations identify who signed the documents, how they got altered, who can access them, and other relevant information. So, businesses can have complete control over documentation using digital signature certificates.
Summing It Up
A digital signature certificate helps authenticate information details of individuals and organizations when conducting online businesses. The certification also helps ensure data integrity and secure information between the senders and receivers. If you are looking for an efficient electronic signature software to sign digital documents and request e-signatures, Sign.cc by 500apps is your answer. The software helps you close deals faster by allowing you to create signing orders, track sign requests, and choose who can sign a particular document. To learn more, visit the 500apps website today.
Discover Why Sign.cc Stands Out
#1
Get digital signatures on documents like sales contracts, employee HR letters, and more
#2
Create components like signature, date, initials on document via drag and drop builder
#3
Enable multi-party signing and share documents to multiple users
#4
Choose from 15+ scenario based pre-designed templates
#5
Upload documents from your local system or cloud providers like Dropbox, Google Drive and 500Box
#6
Track individual signee status for each document
#7
Send documents for signature from your favorite CRM software like CRM.io
#8
Set a hierarchical order for signing documents
#9
Unbelievable pricing - the lowest you will ever find
#10
Everything your business needs - 50 apps, 24/5 support and 99.95% uptime
Join the SaaS Revolution
All-in-One Suite of 50 apps

Unbelievable pricing - ₹999/user

24/5 Chat, Phone and Email Support