How to Add Electronic Signature in Word?
A remote workflow is heavily used by organizations. It is now possible to approve documents more quickly and lawfully with electronic and digital signatures. Many different pieces of software, including Microsoft Word, support electronic signatures. In the following section, we'll go through how to add an electronic signature in Word.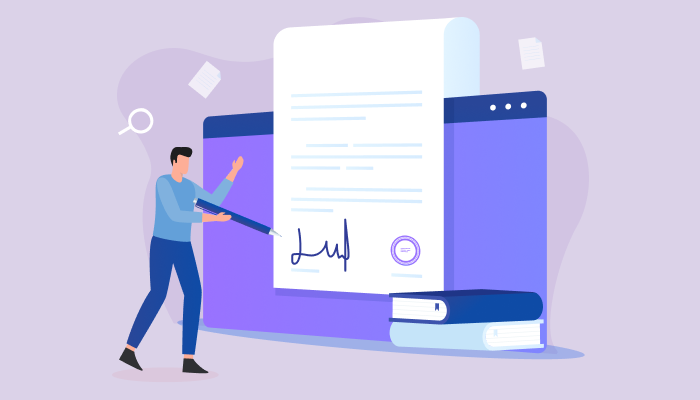 The process of signing documents is a quick one because an electronic signature, also known as an eSignature, is simply a standard physical signature that has been digitized. Electronic signatures, like traditional handwritten ones, primarily serve as evidence that the signer has approved the subject document.
Purpose of Using Electronic Signature in Word
It's important to understand the what, why, and how of electronic signatures before moving on to this subject. It's time to learn the "why" now that we've finished learning the "what."
Since you don't need to print, physically sign, scan, and transmit the document back to the sender, using an eSignature is far quicker than using a traditional signature.
Another useful aspect of eSignatures is that the copied signature may be quickly and easily appended to any future document after just needing to be made once.
An electronic signature is typically just as legally binding as a physical one (read: certain countries consider written signatures as taking higher precedence over eSignatures).
Oh, and before we forget, electronic signatures are also encrypted, so you may use them with important and sensitive papers with confidence.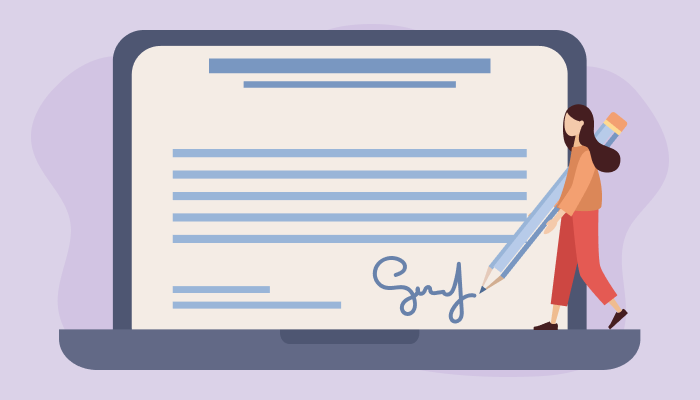 Key Features of Electronic Signature
Several common characteristics of e-signature software providers stand out, including:
Electronic signature capture
Tools for annotation and editing
Authentication and identity-verification techniques
Templates and types of signatures
Document preservation
Processes for automating workflows
Custom possibilities for branding
Access limitations
Cryptography and safety
Audit logs
specific templates for documents
Assistance with digital pens
Mobile application support for iOS and Android devices
Add electronic signature in Word, PDF
Here's How to Add Electronic Signature in Word
A digital signature is a sort of electronic signature that incorporates encryption as an extra security measure. It makes use of Public Key Infrastructure (PKI), which necessitates safe key creation and storage. The integrity of documents can be maintained by using characteristics like timestamps that are included with digital signatures.
The user must possess a valid digital certificate, normally provided by a Certificate Authority, in order to digitally sign a Word document (CA). Certificate Authorities are independent companies that provide other organizations with reliable certifications.
In the electronic signature software called Sign.cc, eSignatures are digital symbols that are added to any document with the intention of signing it. They are really easy to use because all it takes is a mouse click to add an electronic signature to any document. There are many programmes accessible online that you may use to build an eSignature for your business or organization.
Here's how to add an electronic signature in Word documents with Sign.cc. To produce a visible electronic signature in Word, adhere to these steps:
Sign in to Sign.cc
Go to the section Signees.
You will find options "Me", "Me & Others", and "Others".

Choose "Me" - if the Word document requires only your signature.
Choose "Me & Others" - if the Word document requires your and other individuals' signatures.
Choose "Others" - if the Word document requires only other individuals' signatures.

On choosing the option, you will be able to upload the Word document or you can choose a template from our existing library.
When choosing a template, click on the option "Use this template"( third icon from the right)
You will be redirected to add the signees(if you've selected options "Me & Others", and "Others".
After successfully adding the signees, click on "Next"
Here, on the left side, you find the "Add" section. The first icon is "Signature". You can easily drag and drop the box. Click on the button "signature" inside the box.
Upon clicking you will have 3 options: "Draw", "Upload", and "Initial". Choose from any and after successful signing, it, confirm, and then submit.
A mail will be sent to the other signees.
You can track the status from the "Document" section.
So, yeah, there you have it on how to add an electronic signature in Word.
Manage Your Electronic Signatures in Word for FREE With Our Sign.cc. Sign Up 14-day Trial Trail
Benefits of Using Electronic Signature Software for Signing in Word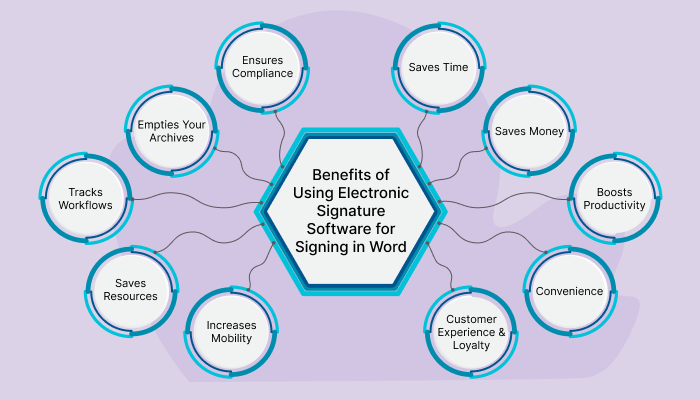 a) Saves Time
Saving time is one of the most obvious benefits of electronic signature solutions. You can send an electronic link to speed up document turnaround time rather than arranging for in-person document signings or back-and-forth mail deliveries.
b) Saves Money
Time and money savings go hand in hand. Automation of operations is a simple method to boost ROI and cut costs for any profitable organization. Eliminating the costs of printing, packaging, and shipping also results in significant savings that boost your revenue.
c) Boosts Productivity
Productivity and employee satisfaction surge when workers can devote their time to complicated projects rather than repeated, ordinary tasks.
Your company can reduce chores that are better handled electronically thanks to e-signature technology.
d)Increases Security and Reduces Risk
Are digital signatures secure? Simply said, absolutely. This is why:
E-signatures are more secure than handwritten signatures because they are legally binding and difficult to falsify.
E-signatures are frequently accompanied by a digital audit trail made up of emails, signed documents, and copies of contracts, making them easy to verify.
Compared to wet signatures, which are easily tampered with, e-signature solutions can detect even tiny alterations and tweaks, making them safer.
Paper documents have the risk of being physically harmed as well as being lost, stolen, or destroyed.
No required signatures are missing thanks to electronic signatures.
Electronic papers cannot be accessed by a third party without authorization.
Documents that have been electronically signed are tagged with details such as the signer's name, where they were when they signed, and when they did so.
e) Convenience
Even for non-technical consumers, free electronic signature solutions like Sign.cc are practical and simple to use. The signature processes, whether you're sending or receiving, are simple and logical. Electronic signatures are simple to use if you know how to use email and a few buttons.
f) Customer Experience & Loyalty
Sign any time, anywhere! E-signatures provide real-time access to documents, accelerating transactions without printing or scanning, whether on a mobile device, PC, office building, or beach cabana. Loyal clients who support and advertise your business are those who are happy with it.
g) Increases Mobility
Do you employ a workforce that is primarily mobile? Your reach is increased by sending materials online at any time and from anywhere. The speed of turnaround and client convenience is also increased by receiving and signing documents on mobile devices.
h) Saves Resources
Senders and recipients must repeatedly print and scan documents, using reams of paper and pricey printer ink when using physical or "wet" signatures. Your supply budget and the environment will benefit from paperless offices.
i) Tracks Workflows
Has your document been received, approved, or electronically signed? You can quickly determine the status of your documents by tracking workflows.
j) Empties Your Archives
Are you still using up space in your office with a collection of paper documents? New papers signed electronically take up no physical space, in contrast to paper records that must be stored for a set amount of time. Hooray! No more filing cabinets or stacks of paper!
k) Ensures Compliance
In all business dealings, you must adhere to regulatory compliance requirements. Keeping track of paper records to comply with compliance requirements could cause concerns if you're audited. In order to prevent litigation and fines, it is essential to ensure that documents are authentic and unaltered. Document security and legal compliance are maintained using e-signature encryption technology.
In Conclusion
eSignatures can greatly enhance the workflow of anyone who routinely sends out signed papers. Its use can be extremely advantageous to many business owners and teams including sales, admin, accounts, etc.
Choose the software that is best suited for your organization. Visit 500apps today and explore more about Sign.cc.
Discover Why Sign.cc Stands Out
#1
Get digital signatures on documents like sales contracts, employee HR letters, and more
#2
Create components like signature, date, initials on document via drag and drop builder
#3
Enable multi-party signing and share documents to multiple users
#4
Choose from 15+ scenario based pre-designed templates
#5
Upload documents from your local system or cloud providers like Dropbox, Google Drive and 500Box
#6
Track individual signee status for each document
#7
Send documents for signature from your favorite CRM software like CRM.io
#8
Set a hierarchical order for signing documents
#9
Unbelievable pricing - the lowest you will ever find
#10
Everything your business needs - 50 apps, 24/5 support and 99.95% uptime
Join the SaaS Revolution
All-in-One Suite of 50 apps

Unbelievable pricing - ₹999/user

24/5 Chat, Phone and Email Support