Expert Tips on Digital Signature Online to Make Most of It
Here is an article that gives you expert tips on digital signature online to make the most of it and the pros & cons of employing a digital signature.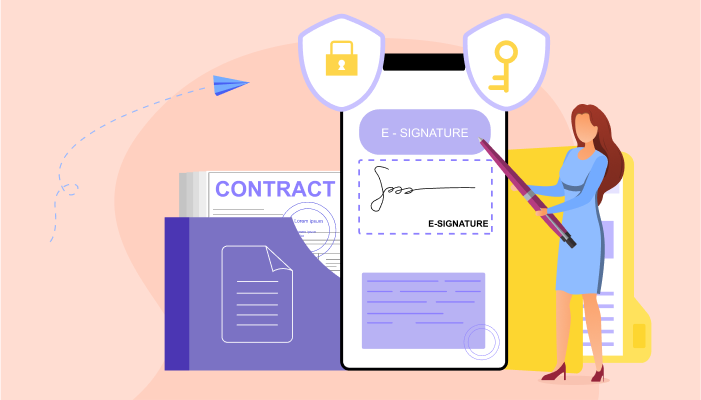 Digital signatures can be compared to physical signatures in that both are distinctive to the signer. However, in the case of papers that have been digitally signed, a digital signature online provides far greater protection and guarantees the document's authenticity. A digital certificate is inextricably incorporated into a document when it is digitally signed. This confirms if the document has been compromised in addition to precisely recognizing the signer and the particular time the signature was issued. The digital signature, which appears as a coded message, safely connects a signer to a document in a transaction that is recorded. For increased security, digital signatures rely on the Public Key Infrastructure (PKI), a standard that is widely acknowledged.
Features of Digital Signature Online
The goal of a digital signature online is to guarantee that the original content transmitted remains unaltered. A digital signature offers the following three features regardless of whether it is encrypted or delivered in plaintext:
- Authentication
Despite the fact that communications frequently contain information about the party sending them, this information is not always reliable. Digital signatures have the ability to verify the authenticity of source communications. A valid signature proves that the document was transmitted by the person who is the owner of the secret key for a digital signature. In a financial setting, it is extremely important to have strong confidence in the sender's legitimacy.
- Integrity
The sender and the recipient of communication may frequently need to have the assurance that the message was not modified during transmission. Although encryption obscures a communication's contents, it could still be feasible to alter an encrypted message without being able to decipher it. This is prevented by certain encryption techniques known as non-malleable. When a document is digitally signed, any alterations made after the signature render the message invalid. Furthermore, most cryptographic hash algorithms still view this as computationally impossible. Therefore, there is no effective way to change a message and its signature to create a new message with a legitimate signature.
- Non-repudiation
An essential feature of electronic signature is non-repudiation, especially non-repudiation of origin. By this feature, a signatory cannot subsequently retract their signature on a document. Similar to that, a fraudulent party cannot impersonate a legitimate signature if they just have access to the public key.
10 Expert Tips to Help You Make the Best Use of Digital Signature Online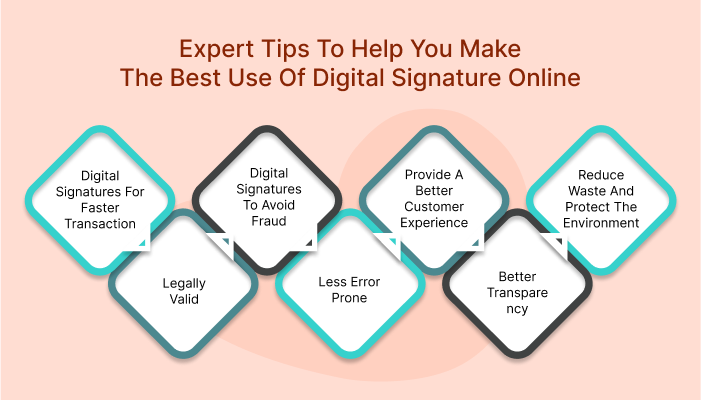 1. Use Digital Signatures For Faster Transaction
When you use digital signatures online, signing documents is simple, and the time saved can be used for other vital tasks and company operations. Additionally, a timestamping function offered by digital signatures assures non-repudiation. The ability to sign papers from anywhere on the globe is an additional advantage. This eliminates the requirement for physical presence, saving time and money on travel.
2. Use Digital Signatures to Avoid Fraud
The fraudulent practice of faking an unidentified person's handwritten signature is eliminated by digital signatures. Anyone proficient in impersonating others in person can readily acquire the victim's signature from a variety of sources and use it for their own gain. Any chance of this kind of forgery is fully eliminated by the usage of Public Key Infrastructure standards.
3. Provide a Better Customer Experience
When dealing with companies that use digitally signed papers, customers feel secure. Thus, it promotes an organization's reputation and market worthwhile also improving the client experience. Customers are reassured that the business they are working with is employing the most recent technology, thanks to the use of digital signatures.
4. Reduce Waste and Protect the Environment
The use of digital signature creator has several advantages. By using it, we minimize waste and cost. Additionally, utilizing digital signatures shows stakeholders, partners, clients, and workers that your company is mindful of the environment. Digital contracts and digital signatures are environmentally safe since they may save a lot of paper, ink, and power, which lowers carbon emissions.
5. Legally Valid
Additionally, clients can now have legal confidence thanks to digital signatures. Because digitally signed papers may be used as proof in court and as support for further inquiry, they are recognized legally. Many regions have created and enacted legislation governing digital signatures.
6. Confidentiality and Security of Your Documents
Physically signed papers must be managed and stored carefully since they can be lost, burned by fire, stolen, or subject to other forms of tampering. As a result, they are vulnerable to manipulation, which finally results in confidentiality being lost. If digital documents are properly signed and backed up, they are immune from these hazards.
7. Use It for Customer Satisfaction
We all enjoy hearing positive comments from our customers since we are aware of the importance of customers to businesses. Going paperless has enormous financial and time-saving advantages for businesses, but it also has many advantages for the clients they service, such as ease, speed, and efficiency. A satisfied consumer translates directly into a happy, content one.
8. Less Error Prone
There is no space for blunders when it pertains to contracts. Contract management is unfortunately made difficult by the fact that paper-based solutions are sometimes prone to mistakes or signatures in the incorrect fields. But by demanding a check at each stage of the validation process, contract automation with digital signatures could substantially reduce the number of mistakes.
9. Better Transparency
In business, being able to track down documents' original sources is essential for internal recordkeeping, compliance, and the safeguarding of firm information. Businesses may benefit from a complete digital audit trail that is maintained with the documents in the workspace and retained on secure servers thanks to the digital signature process system.
10. Provides the Highest Standard
All businesses involved in the digital signature sector adhere to the PKI standard. A vendor creates two keys in PKI's algorithmically based protocol. One key is private, whereas the other is public. Vendors must create and store keys in a safe and secure manner according to the PKI standard. In general, the standard also recommends using the services of a reliable Certificate Authority to provide such security.
Pros and Cons of Employing a Digital Signature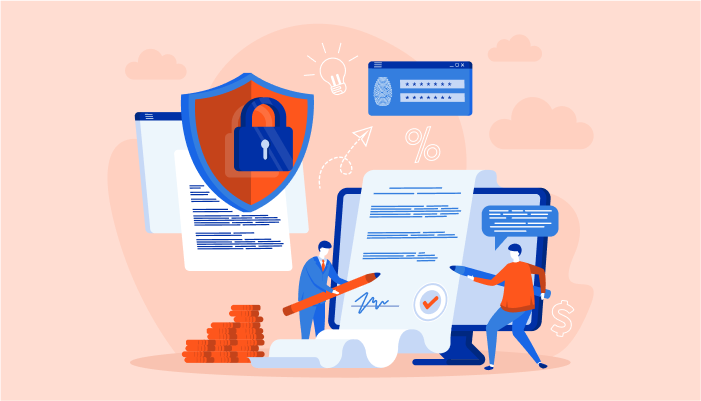 Pros
With a digital signature, you may immediately verify identification and approve papers with the press of a button rather than spending the time to get and validate an ink signature.
Adopting secure digital signature processes saves time and resources. Consider how convenient it would be to sign documents or access websites using only your face.
In comparison to ink signatures, digital signatures are much more secure, providing organizations and people with the assurance that their data and assets are safeguarded.
Businesses that provide their clients and consumers with a digital signature solution can provide value by giving them easiness, convenience, versatility, and control. As a result, there are more happy consumers and a stronger image for the company.
The danger of human mistakes is decreased by streamlining the authentication process and document authorization processes. In the long term, this may save time and money while enhancing overall results all around.
Cons
Not all have access to a computer or mobile device, and some people, especially the elderly, might have little technical knowledge and require help to provide a digital signature.
An inked signature on a document is easier to access than a digital signature in the case of a power outage, device damage, or hardware failure.
Some digital signature providers offer comparatively poor levels of security, and not all are created equal. Before taking any action, make sure you properly investigate the digital signature provider and software you are contemplating.
Despite the obvious benefits, more conventional clients or partners can develop a prejudice against digital signatures and doubt their reliability.
Summing It Up
More and more companies are creating, storing, and transmitting information in electronic form as a result of the exponential increase in digital technology. This continuous phenomenon has prompted fears about protecting online transactions from new risks. With the introduction of a electronic signature software based on cryptography, digital signatures have greatly reduced this problem. A digital signature is a contemporary method of identifying and validating individuals, documents, messages, etc. Going paperless necessitates the use of electronic signatures. Sign Up 14-days Free Trail Sign.cc is a versatile tool that can be utilized for a wide range of processes, including hiring new employees, signing contracts, choosing benefits, obtaining student permission slips, and signing liability releases. Are you prepared to quickly sign paperwork, agreements, contracts, and proposals? Sign up for free!
Discover Why Sign.cc Stands Out
#1
Get digital signatures on documents like sales contracts, employee HR letters, and more
#2
Create components like signature, date, initials on document via drag and drop builder
#3
Enable multi-party signing and share documents to multiple users
#4
Choose from 15+ scenario based pre-designed templates
#5
Upload documents from your local system or cloud providers like Dropbox, Google Drive and 500Box
#6
Track individual signee status for each document
#7
Send documents for signature from your favorite CRM software like CRM.io
#8
Set a hierarchical order for signing documents
#9
Unbelievable pricing - the lowest you will ever find
#10
Everything your business needs - 50 apps, 24/5 support and 99.95% uptime
Join the SaaS Revolution
All-in-One Suite of 50 apps

Unbelievable pricing - ₹999/user

24/5 Chat, Phone and Email Support