Online Signature: The Ultimate Guide for Beginners
This article introduces you to online signature and lists the steps to create an online signature along with its benefits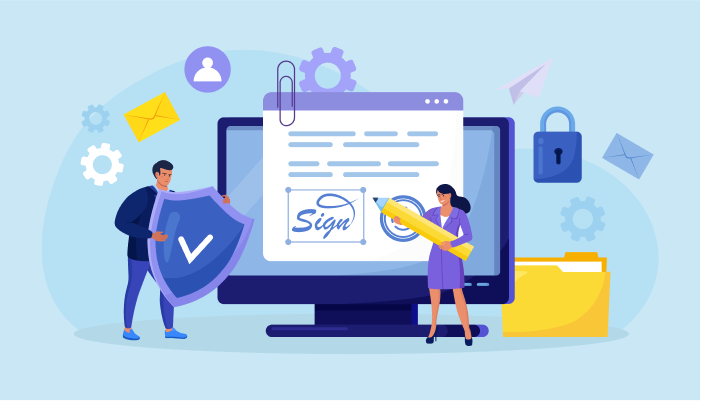 In this age of digitalization where almost everything is done online, it becomes necessary to have an online signature. It helps in saving time and also saves you from going to the office and signing the document. It is very easy to create an online signature using MS Word or any other software that has proper features to make an e-signature. In just past 5 years, the usage of e-signatures has increased from 89 million to 754 million.
The popularity of social media has significantly increased the importance of online signatures. You can create your own signature on different social media accounts and websites. The purpose of creating a custom social media signature is to make your profile look more professional and attractive.
A personalized electronic signature allows visitors to see your identity as a real person and not just another anonymous user. This allows you to be more credible and trustworthy, which is crucial for ecommerce sites that deal with money transactions.
What Is an Online Signature?
An online signature is software that allows you to sign your name in digital format. It is used in various forms of communication, such as e-mails, blogs and web pages. You can use the online signature to sign up for a blog or website using your own personal image as a signature.
The online signature is available in different formats like jpg, gif and png. This feature helps add more fun to your emailing experience. You can also make use of this feature for business purposes like creating an online signature for your company's website or social media profiles. The image will be displayed at the bottom of your messages and emails when you send them out to others.
You can make use of the online signature for sending out business emails or even personal emails if you feel like it. In addition, it makes sure that people who receive your message will not get bored by having to see the same text over and over again every time they open their inboxes. With an online signature, you can create something unique and memorable to impress your audience or readership base.
How Does an Online Signature Work?
When creating an digital signature, the first thing you need is the right software. There are many different programs available online that allow users to create their own signatures. Once you have chosen and installed one of these programs onto your computer or device, the next step is to personalize your new signature with text, graphics and images. You can also choose from several pre-made templates to use as inspiration for creating your own unique look!
Once you're done designing your new signature, it's time for testing! Try sending out a few emails with different versions of the same message to see which one looks best in each case: when there's nothing else on the page; when there are other images around it; when there's lots of text around it etc.
What Are the Benefits of Using an Online Signature?
If you have a business and you want to make your brand more memorable, there's a simple solution for that. You can create electronic signature for yourself that will represent your brand and will help you stand out from the rest of the crowd. Here are 5 benefits of using an online signature: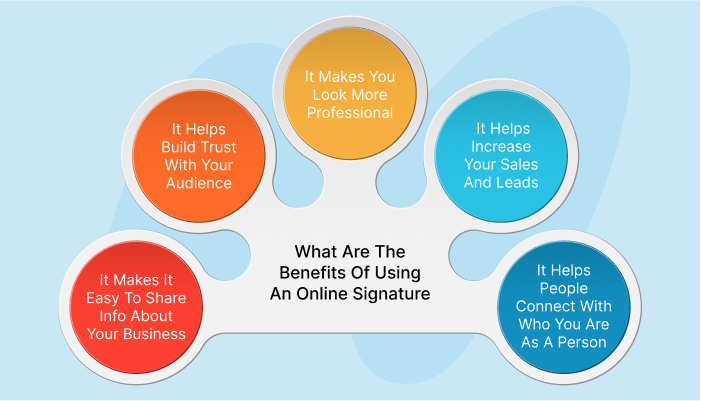 1. It Makes You Look More Professional
The first benefit of using an online signature is that it makes you look more professional. It shows that you are serious about your business and takes your business to the next level. The best thing about using an online signature is that it can be used as a promotional tool to promote your company.
2. It Helps Increase Your Sales And Leads
The second benefit of using an online signature is that it helps increase your sales and leads. Many businesses have started using these signatures as a way to promote their products or services. This has helped them increase their sales, as well as get more leads from potential customers. By using these signatures, you can provide information about your product or service at the bottom of every email sent out by the user. This ensures that all recipients get to see what products or services are being offered by the company.
3. It Helps People Connect With Who You Are As A Person
A signature should reflect your personality, interests and values in some way. It's a great way to show off your creativity, whether that means adding a special symbol or drawing something fun.
For example, if you work in sales, a client may want to know how long you've been working in that industry or what certifications you have. An online signature can help them learn more about you and make them feel more comfortable doing business with you.
4. It Helps Build Trust With Your Audience
The main benefit of using an electronic signature software is that it helps build trust with your audience by providing additional information about who you are and what you do — especially if they don't know you very well.
For example, if someone sends a letter or email requesting information or assistance from a company, an online digital signature allows them to verify that they are indeed who they say they are by checking their name against their company website and/or LinkedIn profile. If they don't have either of those things available, then their name may be enough for them to be considered trustworthy enough for whatever business transaction is taking place between them and the company.
5. It Makes It Easy To Share Info About Your Business
An online signature is a very effective way to market and brand yourself as an expert. You can include links to your website, social media profiles, contact information, etc. When people see this information in your signature, they will likely click on it and learn more about you or even become a customer.
How to Create an Online Signature?
Creating an online signature can be a great way to give your website a more professional look. An online signature can be used to share contact information, and social media links and even display your email address.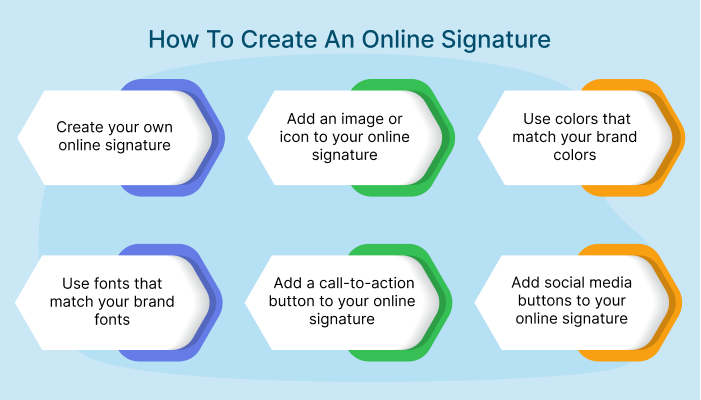 Many free web apps can help you create an online signature, such as HelloSign and Sign.cc. These tools allow you to create a custom-tailored signature that you can use on all of your websites and social media accounts. Here's how to go about it:
Create your own online signature
Add an image or icon to your online signature
Use colors that match your brand colors
Use fonts that match your brand fonts
Add a call-to-action button to your online signature
Add social media buttons to your online signature
Wrapping up
Sign.cc is a free online signature maker which can be used by anyone who wants to create their own signatures for any purpose. You can use it for signing contracts, documents or even emails.
The interface of the site is straightforward. The home page contains three tabs: Signatures, Gallery and Profile. The Gallery tab displays all your previously created signatures along with their date and time of creation. The Profile tab displays your profile information such as login details and other settings related to this account.
The Signatures tab displays all available signature templates that you can choose from to create your own signature design. Each template has different customization options like text color, background color, font etc., so you can change them according to your taste before saving your design as an image file on your computer or phone storage space.
Discover Why Sign.cc Stands Out
#1
Get digital signatures on documents like sales contracts, employee HR letters, and more
#2
Create components like signature, date, initials on document via drag and drop builder
#3
Enable multi-party signing and share documents to multiple users
#4
Choose from 15+ scenario based pre-designed templates
#5
Upload documents from your local system or cloud providers like Dropbox, Google Drive and 500Box
#6
Track individual signee status for each document
#7
Send documents for signature from your favorite CRM software like CRM.io
#8
Set a hierarchical order for signing documents
#9
Unbelievable pricing - the lowest you will ever find
#10
Everything your business needs - 50 apps, 24/5 support and 99.95% uptime
Join the SaaS Revolution
All-in-One Suite of 50 apps

Unbelievable pricing - ₹999/user

24/5 Chat, Phone and Email Support