How to Integrate eSignature Online Into Sales Funnels
This article briefly explains about eSignature online and how it benefits a business when it is integrated with other applications.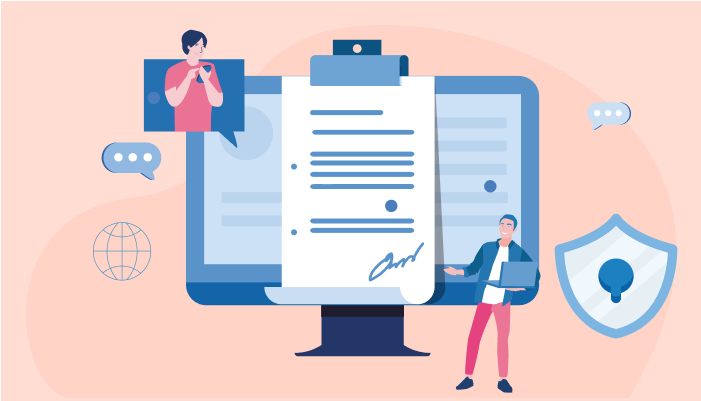 Electronic signatures are a type of digital signature. Digital signatures are used to verify the identity of the signer and to ensure that the document or other message was not altered after it was created. The e-signature online process is simple:
The signer places their signature on the document using a special pen and an electronic signature capture device.
The signature is verified by an electronic signature service provider, which converts it into a digital format, and then stores it in an electronic vault.
The digital signature is linked to the original document and can be used for proof of authenticity and non-repudiation purposes.
How is eSignature Online Used in Businesses?
Businesses use eSignature online in many different ways. Whether you're a small business or a large corporation, eSignature can help you streamline your workflow and save time.
Here are some common ways that eSignature is used: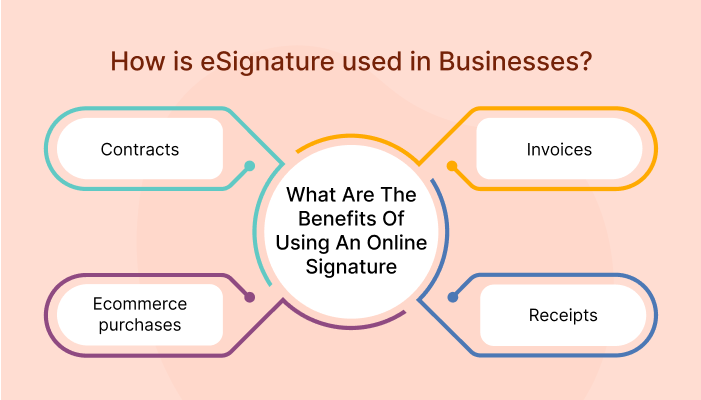 Contracts: Signing contracts electronically saves time and money because there's no need for paper copies or couriers. When you receive a contract, you can simply sign it on the spot and send it back to the other party. This eliminates the need for scanning, printing, faxing, or mailing.

Invoices: Instead of printing out and manually signing invoices, businesses can use eSignature software to add an electronic signature to each invoice as it's generated. This saves time and reduces errors since invoices don't need to be manually checked before being sent out.

Receipts: Receipts are often printed out and signed by hand, but with electronic signature software, you can simply enter the amount paid into your computer's calculator function and create a digital receipt that contains both your signature as well as all relevant details about the transaction.

Ecommerce purchases: If you sell products online, there's no reason why customers shouldn't be able to pay using their signature rather than typing in their credit card information manually every time they want to buy something from you. This will speed up the checkout process significantly while also reducing mistakes caused by typos or misread numbers when entering data manually into forms.
How Will Esignature Help Businesses to Integrate Sales?
eSignature will help businesses to integrate sales, marketing, and customer service. Customers can fill out forms online, validate their identity with a simple scan of their driver's license, and sign documents electronically. The process is fast and efficient and saves both time and money.
It's easy to integrate eSignature online with other software solutions. You can use it with your existing payment gateway or CRM system, or you can use an eSignature solution that integrates with many different platforms at once. This makes it easy to start signing documents electronically in just minutes.
Here are some examples of how eSignature can help your business: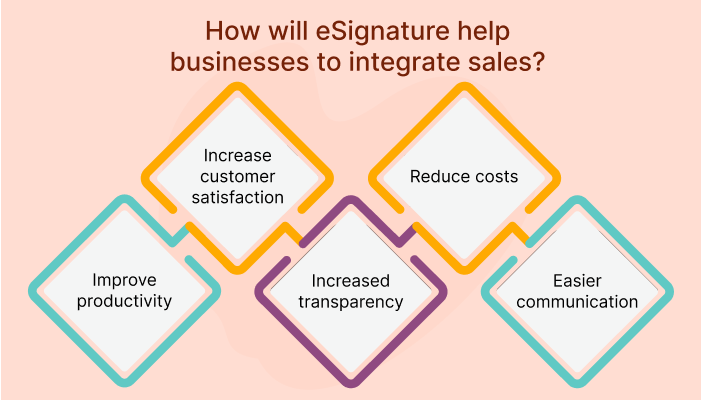 1. Increase Customer Satisfaction
The main benefit offered by digital signatures is the ability to increase customer satisfaction. Customers can sign documents online, improving efficiency and accuracy for all parties involved. Additionally, it can also improve security because any document can be encrypted.
Customers are more likely to buy from you if they have positive experiences with your business. One way to improve customer satisfaction is by providing them with transparency in their purchase process. By using eSignature, you can provide customers with digital receipts and confirmations, so they know exactly where their order stands throughout the production and shipping processes. This can make customers feel more comfortable about buying from you and increase their loyalty to your brand.
2. Reduce Costs
Eliminating paper can help businesses cut costs by eliminating the need for printers, copiers, paper, ink cartridges, and postage. The use of eSignature software also reduces the amount of space needed for filing documents by replacing stacks of paper with electronic files that can be stored on a server or shared across an intranet or internet connection. This can also save money on office supplies because you no longer have to buy envelopes, stamps, and pens to write out your signatures.
3. Improve Productivity
Electronic signatures help to reduce the administrative burden of managing paper documents. This is especially true for small businesses that don't have a large staff to handle the paperwork. Signatures are often used for contracts, agreements, and other legal documents. With e-signatures, you can reduce missing files by 66%.
Employees don't have to waste their time printing documents anymore since they can just send them directly from their computer or mobile device. This means they won't have to wait around while they print out paper copies of contracts or other legal documents so they can sign them later on. This means that employees will be able to keep working while they wait for their documents, which will hopefully increase productivity overall in your office!
4. Increased Transparency
Another benefit is that eSignature software makes processes more transparent, with real-time updates sent directly to your inbox or dashboard so everyone involved can see what's happening at all times. This ensures that everyone knows about the status of each transaction, saving you time and hassle when it comes time for follow-up calls or meetings with customers who need additional information before signing off on orders.
5. Easier Communication
There's no need for physical signatures anymore! The process of getting approvals from different departments has become much easier with eSignature online software because it eliminates the need for physical signatures on important documents such as contracts and proposals. You can also automate follow-up reminders so that no one misses out on important meetings or deadlines due to incomplete information needed for approval.
Wrapping Up
This article discusses the advantages and uses cases of e-signatures. However, it is also important to figure out which tool is the best for all your e-signature needs. We recommend getting Sign.cc by 500apps as it is your perfect tool for making e-signature online. It is a web-based platform that enables you to sign and share documents online in a secure, convenient and legally binding manner.
The Sign.cc platform was designed with the sole purpose of making it easier for people to sign documents online, whether they are business owners or individuals who want to share information with their partners, clients or customers.
The platform also has an integrated app that allows users to send documents from their mobile devices directly from their inboxes. The app allows users to check the status of all their documents at any time and communicate with other users directly from their phones or tablets. To know more, visit the 500apps website today!
Discover Why Sign.cc Stands Out
#1
Get digital signatures on documents like sales contracts, employee HR letters, and more
#2
Create components like signature, date, initials on document via drag and drop builder
#3
Enable multi-party signing and share documents to multiple users
#4
Choose from 15+ scenario based pre-designed templates
#5
Upload documents from your local system or cloud providers like Dropbox, Google Drive and 500Box
#6
Track individual signee status for each document
#7
Send documents for signature from your favorite CRM software like CRM.io
#8
Set a hierarchical order for signing documents
#9
Unbelievable pricing - the lowest you will ever find
#10
Everything your business needs - 50 apps, 24/5 support and 99.95% uptime
Join the SaaS Revolution
All-in-One Suite of 50 apps

Unbelievable pricing - ₹999/user

24/5 Chat, Phone and Email Support