The Best 10 Online Signature Maker Apps
The advent of electronic signature software has revolutionized the way business is conducted. Gone are the days of laboriously sending, signing, scanning, and filing away piles of paper documents. Today, a simple online signature is all needed to finalize a deal. Save time and streamline your document signing process with the convenience of these signature tools.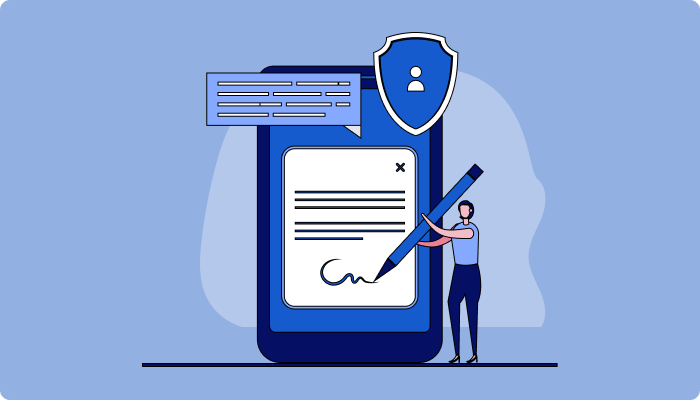 As per a report, 81% of current users of digital signatures have experienced a return on investment (ROI) within a single 12-month budget cycle, with 25% witnessing a payback within three months or even earlier.
Electronic signature software enables you and your online collaborators to sign a document digitally, no matter where you are. Due to the high use of electronic signatures, many tools have been created to simplify the process. This article will examine the most popular options available in this software niche, detailing the top-ranking tools and highlighting the distinctive features of each.
Signature Maker: Definition
A digital symbol that confirms consent to a contract or document is known as an electronic signature.
The software that makes this e-sign is known as a signature maker.
Software for electronic signatures enables users to affix their signatures to digital documents.
Cloud-based solutions enable multiple signatories to sign from various locations.
Desktop-based solutions allow you to modify and sign documents on your laptop, computer, or mobile device.
Top 10 Online Signature Maker Tools
The best electronic signature platforms automate and simplify your signature processes while also improving customer service and document management.
Sign.cc
Sign.cc by 500 apps can sign agreements and other documents quickly and efficiently. This potentially increases your productivity.
It also provides detailed reports to track completed, pending and denied documents.
You can manage your documents using the available bulk, tag, and status options.
With Sign.cc you can:
Rapidly and securely sign documents and request electronic signatures.
Select signing recipients: "Me," "Me and Others," or "Others."
Expedite your workflow and accelerate closing deals by integrating with CRM.
Efficiently store and manage documents in Dropbox, Google Drive, Box, and OneDrive.
Establish signing sequences and monitor signature requests with the highest degree of convenience.
Get started with the leading Online Signature today! Sign Up 14 Day Trial
Jotform
Jotform Sign is an signature maker software solution that enables digital sign-off
Automation features assist users in creating, sharing, and signing electronic documents rapidly.
You can generate a new form from the beginning or transform existing PDFs into legally enforceable e-signature documents.
Customizable forms may be created and sent multiple times to various recipients for convenience.
The software's robust automation capabilities allow users to automate the online signature process from start to finish.
Documents and signatories can be added to an approval workflow for added efficiency.
Online storage integrations enable the automatic upload of signed documents to the cloud.
DocuWare
DocuWare is a platform that manages documents and automates workflows, catering to businesses of all sizes.
It allows for the secure transfer and optimization of digital and paper-based assets on a unified system.
DocuWare supports both on-premise and cloud-based deployment options, making it versatile and accessible.
DocuWare provides the capability to incorporate electronic signature providers.
Using Validated ID/VIDsigner, users can access three distinct signature creator options: remote, biometric, and centralized.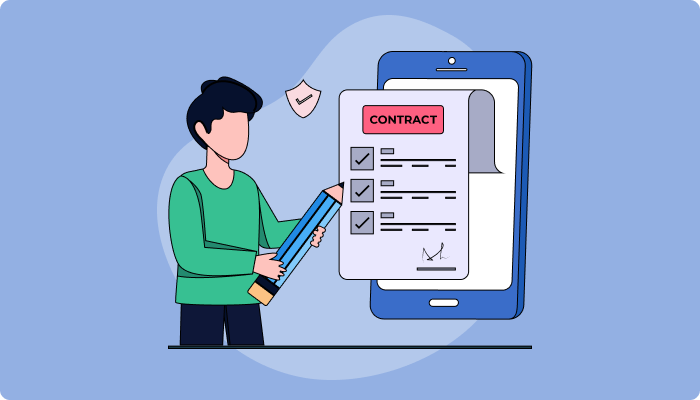 DocuSign
DocuSign is a well-known signature maker platform with a free option.
The platform is intuitive and user-friendly.
It integrates seamlessly with various third-party tools, offering high customization.
DocuSign also provides a suite of APIs that enable custom integrations with existing systems.
DocuSign boasts many high-level security certifications in both the United States and Europe.
eversign
Eversign not only provides electronic signature maker for free but also offers a powerful document management solution.
Sending documents for signature is a simple and seamless process with the tool.
The platform provides secure document storage and an in-built document editor.
Eversign also allows users to manage documents for multiple businesses from a single account.
Custom templates for documents can also be created using the platform.
Dropbox Sign
HelloSign is a signature maker platform that allows secure online signing and signature requests.
It enables the addition of legally valid signatures to any agreement, such as non-disclosure agreements or new-hire offers.
The platform offers robust document tracking, admin controls, and robust security.
HelloSign allows you to upload digital documents from a local drive or cloud storage.
The platform has an intuitive drag-and-drop feature to allow you to add the necessary fields to your documents.
PandaDoc
PandaDoc is an award-winning online digital signature software with an intuitive user interface and an easy-to-use eSignature solution.
The software is a document management tool, and the eSignature solution is a part of it.
The platform has features such as:
Full audit histories
Drag-and-drop form integration
Automated workflows
PandaDoc offers several integrations with payment, CRM, and file storage apps.
signNow
signNow is a signature maker solution offered as part of the airSlate Business Cloud.
It allows users to
Sign and send documents for signing
Generate agreements
Negotiate contracts
Accept payments
Automate business processes
It features e-signature workflows that make these processes simple and secure.
The solution provides a streamlined interface and is easy to use.
It also integrates with other airSlate products, including pdfFiller and airSlate.
Concord
Concord is a contract management system designed to manage the lifecycle of contracts from creation to renewal.
Users can draft legally binding contracts using the tool's e-signature functionality.
Signers can interact with the agreement through comments, redlining, and chat.
Approval workflows can be created to enable multi-step and conditional approvals for any type of contract.
Other features include:
Bulk legacy documents uploading
Deadline and renewal alerts
Permissions based on roles
Versioning of automatic document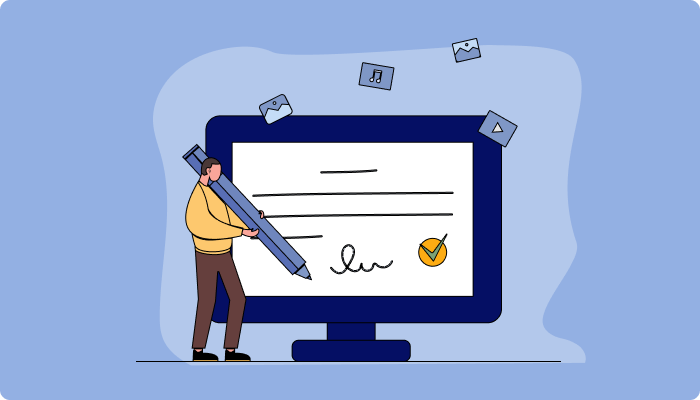 MSB Docs
MSB Docs facilitates document creation, e-signature, and archiving for organizations.
All steps of the signing process are logged and timestamped.
Audit trails ensure compliance and provide legal evidence.
E-signatures can be added to Sharepoint, OneDrive, and Microsoft Teams apps.
The tool integrates with CRMs like Salesforce, Freshworks, Box, and Sharepoint.
Benefits of Signature Maker
This software simplifies the signature process and reduces the time and effort required to obtain signatures.
It reduces errors and inaccuracies that can occur during manual paper-based processes.
These platforms eliminate the costs associated with shipping paper documents, printing, scanning, and as well as the need for physical storage.
Signature-maker tools are more secure than traditional paper signatures due to features like audit trails, encryption, and multi-factor authentication.
You can sign documents using any device with internet access, regardless of their location and the time of day.
These tools provide signers with an intuitive and user-friendly experience, improving customer satisfaction.
Final Thoughts
These are some of the leading electronic signature software options that digitize the signing process and can potentially save you both time and money. This software offers a user-friendly approach to electronic signatures, enabling businesses to generate, authorize, and transmit documents online. With e-signature software, there's no need to download the documents to sign them. All you require is an internet connection, and you're ready.
Your team can benefit from signature apps as they efficiently streamline a crucial but often time-consuming and repetitive process. In addition, signature apps can enhance the experience of your customers. By simplifying the contract signing process and providing features like activity tracking, reminders, and follow-ups, you can improve the buyer's journey and ensure a pleasant customer experience.
The availability of electronic signature software is a testament to how technology simplifies business operations in today's interconnected world. With the ability to conclude agreements swiftly, you can position yourself for greater success.
Discover Why Sign.cc Stands Out
#1
Get digital signatures on documents like sales contracts, employee HR letters, and more
#2
Create components like signature, date, initials on document via drag and drop builder
#3
Enable multi-party signing and share documents to multiple users
#4
Choose from 15+ scenario based pre-designed templates
#5
Upload documents from your local system or cloud providers like Dropbox, Google Drive and 500Box
#6
Track individual signee status for each document
#7
Send documents for signature from your favorite CRM software like CRM.io
#8
Set a hierarchical order for signing documents
#9
Unbelievable pricing - the lowest you will ever find
#10
Everything your business needs - 50 apps, 24/5 support and 99.95% uptime
Join the SaaS Revolution
All-in-One Suite of 50 apps

Unbelievable pricing - ₹999/user

24/5 Chat, Phone and Email Support