Everything You Need to Know About creating E-Signatures
In many operations, an electronic signature, also known as an e-signature, is used in place of a handwritten signature because it is one of the most reliable and secure parts.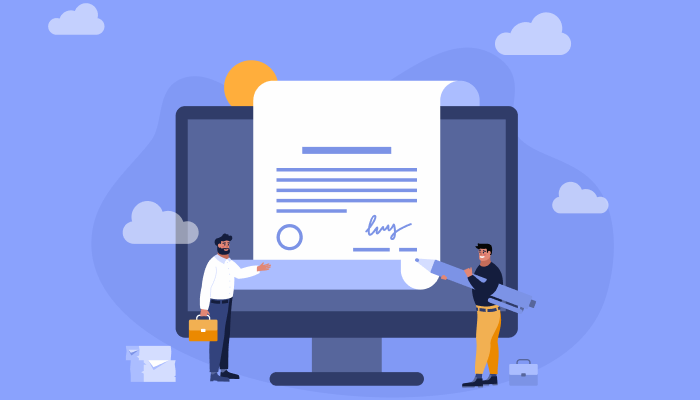 E-signatures or electronic signatures help you sign legal contracts online without using elements like a pen or paper. These legally binding signatures are considered an efficient procedure for electronic document approvals. The secure and viable e-signatures can replace handwritten signatures virtually in all processes. E-signatures are more convenient than handwritten ones because they save time by allowing you to sign documents remotely within a short period.
Creating an electronic signature is one of the most trusted ways instead of using a handwritten signature in various processes. E-signature is a legal and efficient way of documentation that has received a positive response from various organizations in the past years.
Benefits of E-Signature in Industries
Creating an e-signature and incorporating it into various processes helps enhance various business processes and client experiences for individuals and organizations across industries. If you are skeptical about using e-signatures in your organization, you must go through the benefits mentioned below.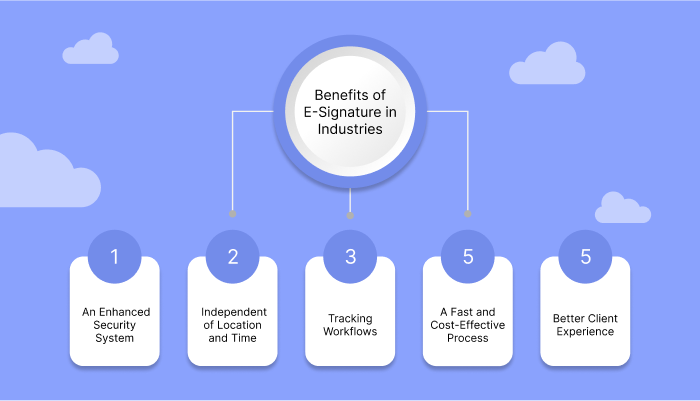 1. An Enhanced Security System
E-signatures include significant verification steps and security controls to ensure that the documents reach the right people. Electronic signatures act as reliable tools for stakeholders to authenticate the document's integrity and source of origin.
2. Independent of Location and Time
The best part about creating electronic signatures is that you can take them anywhere and at any time. Remote work has gained popularity in current times since the advent of the COVID-19 pandemic. As a result, people prefer signing the documents remotely instead of visiting the office physically. E-signatures have made the process easier for industries by enabling an online communication mode between the industry leaders, businesses, clientele, or customers.
3. Tracking Workflows
E-Signatures are the best way to get valuable insights into a business process by analyzing the paper trail attached to them. You can track the identities of those people who have opened, signed, or approved electronic documents. It is how electronic signatures provide a paper trail of significant processes happening within an industry.
4. A Fast and Cost-Effective Process
E-signature maker allow you to collect approvals and signatures on multiple documents at the same time. You can complete the process without wasting a single piece of paper. You can manage all official affairs within a short period as signing an e-document saves time and is the most cost-effective process in current times.
5. Better Client Experience
You can enable your clients to have a better experience by allowing them to sign the documents using the e-signature feature from any device or location. Having an electronic documentation process can help your clientele get real-time access to all business processes and build trust among both parties (you and the client).
E-Signature Software Providers
E-signatures allow users to gather signatures on documents electronically and eliminate the requirement of physical documents to record everything. You can find multiple e-signature software providers that facilitate e-signatures to encrypt various documents. Here are the top e-signature software providers worth trying out in current times.
1. Sign.cc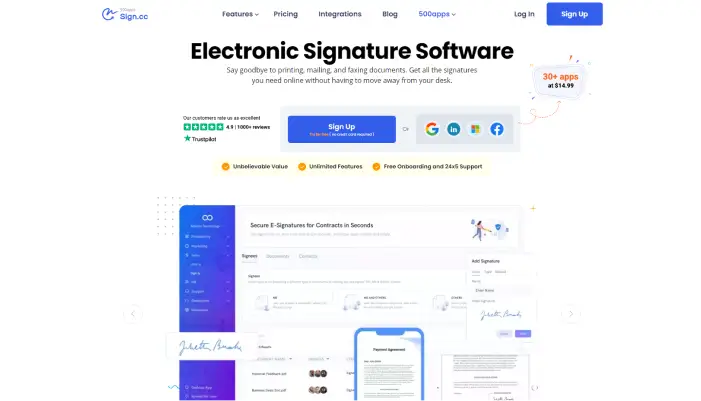 If you are looking for electronic signature software to sign relevant documents and request e-signatures, Sign.cc is your answer. You can create e-signature workflows using the software and scale or analyze them at your convenience. Here are the features of Sign.cc.
It allows CRM integration for a better user experience.
It allows you to store and manage your documents via various platforms like Google Drive, OneDrive, Dropbox, etc.
It includes customized documents and pre-designed templates to help you automate e-signatures at your convenience.
It allows you to track all sign requests and create multiple signing orders.
Pricing: $14 .99 /month
2. SignNow
SignNow is an efficient digital signing software that scales your workflow efficiently. You can sign online documents, negotiate contracts, generate agreements, and accept payments with SignNow's legally binding e-signatures. Here are the features of SignNow.
It allows you to sign, track, and store documents on any device.
It provides multiple tools for creating automated e-signatures.
It ensures team collaboration by allowing you to invite people to your team, share documents, and track activities.
It ensures security and authentication by keeping confidential data with advanced encryption facilities.
Pricing: Business: $8/user/month
Business Premium: $15/user/month
Enterprise: $30/user/month
3. EverSign
EverSign allows you to use legally binding e-signatures at work or at home. The software allows you to approve, deliver, and sign online documents without any hassle. Here are the features of EverSign.
It provides tools to securely manage documents from a single platform.
It allows team collaboration and enables you to keep members in the loop.
It helps automate your work with APIs and other integrations.
It provides automated e-signatures that comply with security and authentication requirements.
Pricing: Basic: $9.99 per month
Professional: $39.99 per month
Professional plus: $79.99 per month
4. SignRequest
If you want to boost efficiency via reliable e-signing services, SignRequest is your answer. The software helps increase conversion with automated e-signatures and facilitates growth by saving time and resources. Here are the features of SignRequest.
It provides you with secured documents and signatures.
It enables you to automatically store and manage electronically signed documents in a single platform.
It speeds up electronic signing processes and helps enhance your business.
It allows you to create e-signatures on any device.
Pricing: Professional: € 9/month ($ 9.24/ month)
Business: € 15/ month ($ 15.40/ month)
5. Foxit eSign
Foxit eSign allows you to gather and create significant signed documents through its efficient e-sign services. The software provides various solutions to create templates and upload online documents. Here are the features of Foxit eSign.
It provides users with a seamless experience via automated workflows.
You can sign in, send, track, and manage e-signature processes through its add-on e-browser experience.
It offers reusable and pre-designed templates to help you save time.
It allows bulk signing facilities and audit trails.
How to Create E-Signatures
There is a step-by-step signing process for creating an e-signature. You can follow the below steps and create an electronic signature with the click of a button.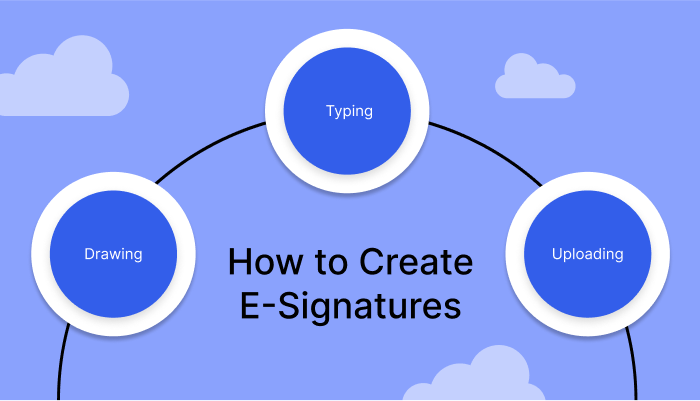 - Typing
Start by choosing a typeface and type your name or initials for identification. Choose a font of your choice and change the signature color at your convenience. Download the signature once you get satisfied with its outline and save it on your computer as a file for later use.
- Drawing
You can select a stylus, mouse, or trackpad on any platform to draw the signature of your choice. Most platforms allow you to change the color, thickness, and other elements to make the signature unique. You can save the file on your computer after making the required changes.
-Uploading
Upload an image of your wet ink signature that seems like your original signature. Try making a copy of your signature on blank paper and take a picture or scan it at your convenience.
Advantages of Using Sign.cc
Sign.cc is a significant electronic signature software that enables you to create and manage e-signatures instantly instead of the traditional method of handwritten signatures. Here are the advantages of using Sign.cc.
You can sign your agreements and documents quickly using the software.
It has a signature maker feature and an upload feature for signatories to add signatures.
It enables quick turnaround of documents, awareness, visibility, and higher trust levels between organizations and signatories.
Its secure technology keeps the internet connection safeguarded and secure from discrepancies and infiltration.
Going paperless necessitates the use of electronic signatures. Sign Up 14 Day Trial
Summing it Up
E-signatures have replaced handwritten signatures, and they do not require an individual's physical presence to sign the document. The legally valid signatures have revolutionized documentation processes in current times. You can track all processes like pending files and signatures in real-time without the need for your presence in the office. So, e-signatures are the best ways to eliminate extra costs for businesses.
Sign.cc is a reliable software that enables users to create and manage e-signatures from a single platform. It includes customizable documents and pre-designed templates for a seamless user experience.
Discover Why Sign.cc Stands Out
#1
Get digital signatures on documents like sales contracts, employee HR letters, and more
#2
Create components like signature, date, initials on document via drag and drop builder
#3
Enable multi-party signing and share documents to multiple users
#4
Choose from 15+ scenario based pre-designed templates
#5
Upload documents from your local system or cloud providers like Dropbox, Google Drive and 500Box
#6
Track individual signee status for each document
#7
Send documents for signature from your favorite CRM software like CRM.io
#8
Set a hierarchical order for signing documents
#9
Unbelievable pricing - the lowest you will ever find
#10
Everything your business needs - 50 apps, 24/5 support and 99.95% uptime
Join the SaaS Revolution
All-in-One Suite of 50 apps

Unbelievable pricing - ₹999/user

24/5 Chat, Phone and Email Support