Online Contract Signing: A Comprehensive Guide
Identification of contracts and pertinent papers supporting the objective of a contract is the first step in the contract management process. A contract operates as a binding agreement between a firm and any other entity, making it crucial for businesses.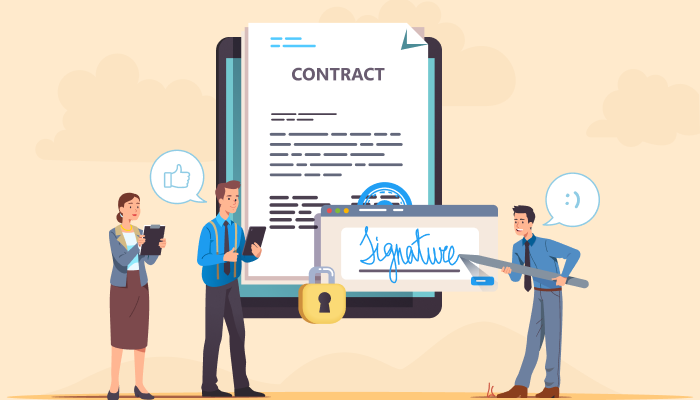 Technology has changed the way we normally do things. It is now simpler than ever to run a company, and most top executives are motivated to seek cost-effective solutions that streamline many aspects of the business. These days many commercial transactions take place online without any face-to-face communication between the people involved. Most businesses now require partners and clients to electronically fill and sign papers, including contracts.
According to research, businesses that use online contract signing systems save their document handling expenses by 85%. Additionally, it eliminates human mistakes and reduces the time needed to sign a contract from days to minutes. With the help of this technology, signing critical papers can be done more quickly and easily, and printing's negative effects on the environment may be reduced.
What is Online Contract Signing?
A legal contract that has been developed, agreed upon, and signed online with browser-based software is known as an online contract. These are entirely formed and signed online. These contracts, also known as electronic contracts or e-contracts, give people and businesses a quick and easy method to make contractual agreements with other people. Online contracts are a practical alternative for growing organizations since they can be performed using a number of devices and signed electronically, unlike traditional contracts that need paper and a pen signature. They are currently utilized for many different things, from commercial and consumer agreements to federal filings.
Online contracts function by obtaining digital signatures. You can provide official authorization in an online set-up using an electronic signature (eSignature). Online contracts and eSignatures are becoming increasingly popular as remote work and other kinds of communication grow more mainstream. This makes it possible for business owners, managers of rental properties, and salespeople to collaborate with clients from across the globe without having to travel to various locations or meet with people in person. For instance, you could use a computer to prepare a contract and email it to a business partner. Following that, the business partner sends it back to you along with an electronic signature confirming approval.
Benefits Of Online Contract Signing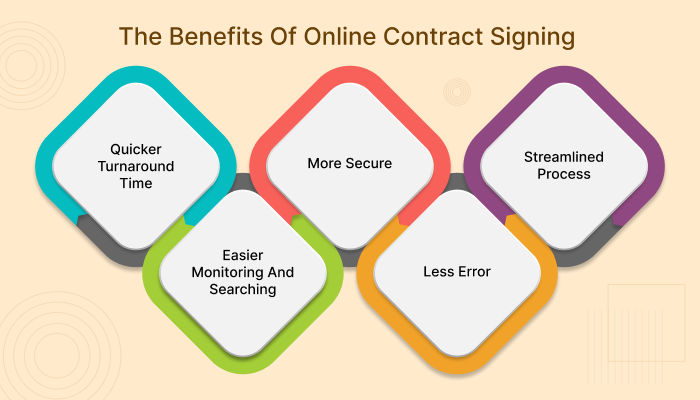 1. Quicker Turnaround Time
It can be challenging to collect all the necessary signatures for a contract, especially if the signers are scattered throughout different places. Signatures confirm contracts and push their implementation. The use of electronic signatures results in considerable time savings over the use of physical signatures. The contract can be safely signed using electronic signatures on any internet-connected device, accelerating the time to contract process overall. Additionally, printing, preparing, and sending contracts requires time-intensive human work that can be used for higher-value tasks. This innovation shortens the time needed since transmitting papers for electronic signature can be done much more quickly.
2. More Secure
Online contract signing comes with a number of security features to ensure against unauthorized usage and provides solutions that support electronic signatures. It extends those same security measures to secure the signing process as well. Utilizing electronic signature maker also adds an extra degree of security to the confidential documents you send out for signature. Another benefit of electronic signatures is that they are less likely to be compromised than paper documents, which are more vulnerable. Software for managing contracts that supports electronic signatures can automatically identify even slight changes and capture more information than paper.
3. Streamlined Process
Contract creation, review, and revision may take a lot of time and effort. Manual contract compilation might increase inaccuracies when paper documents become outdated, and parties are oblivious of the most recent templates and versions. With online contract signing tools that centralize and automate the development of agreements, contracts, and documents, this can expedite online contract administration operations. Using electronic signature technology can streamline the contract-signing process for all parties, including your legal staff and your most important customers and business partners.
4. Easier Monitoring And Searching
A centralized online contract management technology offers comprehensive contract monitoring with a secure contract database, authorized clause libraries and templates, thorough audit trails, performance analytics, and increased teamwork. In the case of a paper document, if there are many revisions of the same document, it might take hours to comb through pages and files in search of the slightest error or piece of text that has to be changed. With the help of online contract signing software, you can quickly search through a single document or your complete database to locate what you're searching for. Any term, phrase, sum, or other piece of information can be instantly found within the online contract. Think about the time and effort you can save by using fast searches.
5. Less Error
Traditional paper documents, regardless of the situation, can enable too many mistakes to be made by both the parties involved. As a result, there can arise some legal issues which place the parties in situations where they lack the ability to assert their legal rights. With digital signature software, before consenting to sign an electronic contract, both sides can examine and change its terms digitally on a web page. Electronic contracts encourage a more cooperative approach wherein both parties can contribute to the contract's creation and concur on commercial deals that will benefit both of them. You and the receiver can both input client information once to fill out several areas. By doing this, it is made sure that the addresses, names, signatures, and initials are the same throughout the whole contract.
How to Get Started With Online Contract Signing?
Almost every sector, from architecture and housing to financial institutions, need streamlined contract administration. These documents cover every aspect of a project or agreement. The contract's provisions are then acknowledged by both parties by signing in the specified place.
The majority of contracts will contain the information below:
The contact and identity details of the signing parties. Here, you should specify the complete contact information for both parties.
Identify and include the contract's goals and purposes and any underlying presumptions.
List the responsibilities, privileges, rights, and obligations that each party will enjoy under the agreement.
Put down the timeline information like how long the contract will last. List significant dates or achievements.
Specify the terms of payment. Indicate all the processes for payments, including due dates and amounts.
List the disclaimers and warranties. It is important to list the terms of any guarantees made by one party to the other.
Next is to put down the obligations and compensation. Determine who is immune from accountability and who is accountable for any harm.
Finally, a place for signatures from each party to demonstrate their understanding; both signatories must sign.
Best Online Contract Signing Software
For electronic signatures, Sign.cc by 500apps is one of the most popular and top-notch online signature creator. The platform allows users to quickly create distinctive signatures and sign records in a variety of formats, including a non-disclosure agreement, a sales agreement, a service contract, or a sales quotation. Additionally, you can set up complex approval procedures that demand the authentication of many signers to guarantee a smooth signing procedure. Visualizing the number of completed, pending, or rejected documents with comprehensive reports can help in giving you a better idea of the business. You can organize your documents and keep track of them with the help of various tagging options.
FAQs About Online Contract Signing
What Exactly Are Online Contract Signatures? An online contract signature, otherwise known as an electronic signature, at its most basic, is any digital signal or symbol that denotes the desire of the signer to sign anything. These signatures are put on an online form or digital document to show acceptance, agreement, or participation.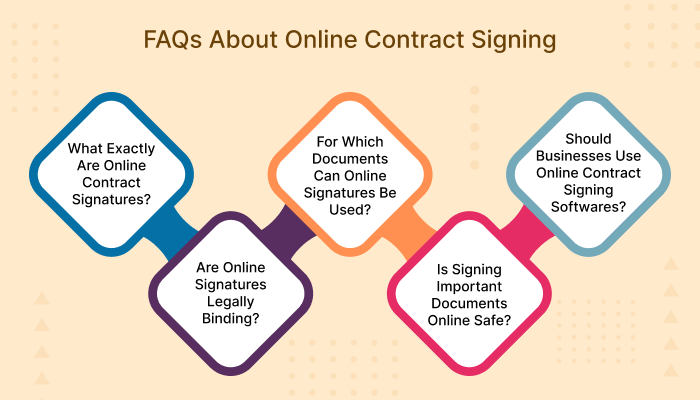 1. Are Online Signatures Legally Binding?
Online signature is adhere to certain rules are valid and enforceable even in regulated businesses. When disclosure, permission, and other requirements are satisfied, laws and regulations in the United States and around the world authorize treating electronic signatures the same as physical ones.
2. For Which Documents Can Online Signatures Be Used?
Some examples of the forms that can be e-signed are healthcare paperwork, audited financial statements, school permission forms, IEPs, purchase orders, and employment orientation forms. However, e-signatures are a practical and effective replacement for pen and paper for the majority of people and enterprises.
3. Is Signing Important Documents Online Safe?
AES signatures have procedures in place to prevent unauthorized parties from signing them, including access restrictions, encryption, and unique digital IDs. To prevent alterations to the text without the knowledge and approval of each signatory, the entire document is locked. This offers more protection than a multi-page physical contract, which is susceptible to pages being switched out or changed covertly.
4. Should Businesses Use Online Contract Signing Softwares?
Online contract signing tools speed up the often drawn-out contract procedure that the majority of firms currently use. Additionally, companies can sign contracts up to 99% quicker with electronic signatures and other electronic information execution techniques than with pen and paper.
Going paperless necessitates the use of electronic signatures. Sign Up 14 Day Trial
Summing It Up
New technology requires a lot of adjusting. However, technology presents a number of benefits and the chance to pique people's interest in your business. Therefore, it is essential not to exclude electronic signatures from your business processes. E-signatures not only speed up and reduce the cost of your operations, but they also simplify work.
Businesses can easily reduce costs, control risks, and boost productivity with the use of electronic signature software, all of which can hasten growth and enhance income. Learn more about electronic signatures from our team of professionals if you're prepared to take the first step toward a better future in this field. You can start by getting a free trial of the Sign.cc app. To learn more, visit the 500apps website today!
Discover Why Sign.cc Stands Out
#1
Get digital signatures on documents like sales contracts, employee HR letters, and more
#2
Create components like signature, date, initials on document via drag and drop builder
#3
Enable multi-party signing and share documents to multiple users
#4
Choose from 15+ scenario based pre-designed templates
#5
Upload documents from your local system or cloud providers like Dropbox, Google Drive and 500Box
#6
Track individual signee status for each document
#7
Send documents for signature from your favorite CRM software like CRM.io
#8
Set a hierarchical order for signing documents
#9
Unbelievable pricing - the lowest you will ever find
#10
Everything your business needs - 50 apps, 24/5 support and 99.95% uptime
Join the SaaS Revolution
All-in-One Suite of 50 apps

Unbelievable pricing - ₹999/user

24/5 Chat, Phone and Email Support