Making an E-Signature: Why You Should Go Cloud
Paper and pen are replaced by an electronic signature, which is used to sign documents delivered electronically.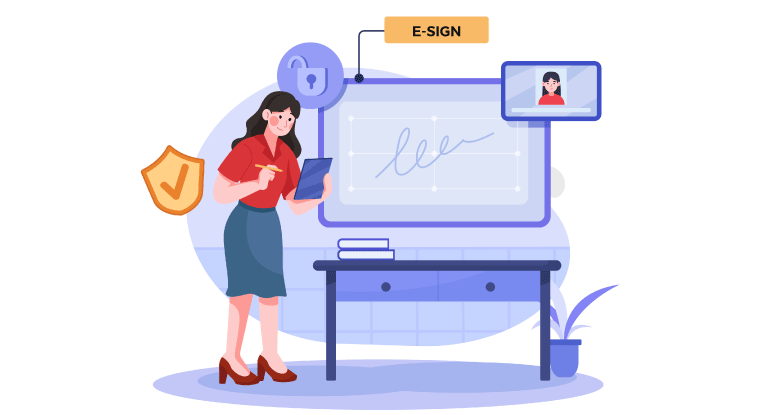 An e-signature or electronic signature is a legally binding way to get an electronic document approved instantly. Making an e-signature is the best way to get electronic documents signed safely and securely. Any e-signature can replace a handwritten signature in multiple instances. The signatures are secure and verifiable because of which various organizations prefer them instead of the traditional ones.
Features of E-Signature
Here is a breakdown of the features of an e-signature or electronic signature.
E-signatures keep the team members focused on significant tasks like sales and management by freeing them from repetitive, manual, and administrative tasks.
Electronic signatures eliminate the need for paper and pen to sign important documents by digitalizing the process. This makes e-signatures environment-friendly and cuts down unnecessary costs.
E-signatures are trusted, legal, and enforceable in every country around the world.
The signatures speed up every process by allowing recipients to sign documents electronically remotely and signing order at any time.
Saas Revolution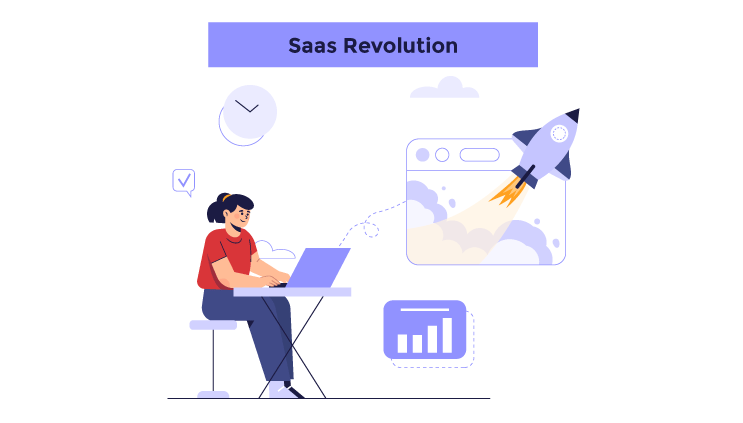 Software as a service (SaaS) is a licensing model and software delivery application software that gets hosted by a third-party organization. The SaaS providers charge a subscription fee from the users to avail of their services monthly or annually. The fee covers all update and maintenance costs that the provider has to incur to allow the services to run indefinitely for an enhanced user experience.
Most SaaS revolutions work on browser extensions that give remote access to software via connectivity to the server-based computing environment. The server does most of the work in a SaaS application instead of a local system. In this case, the SaaS providers are responsible for maintaining the security, performance, and updates of the application.
SaaS Companies Providing E-Signatures
You will find multiple tools and software platforms that provide e-signatures. We will discuss the SaaS companies which provide electronic signatures for better flexibility and usability.
1. Sign.cc
Sign.cc is an effective electronic signature software and a secure solution for getting documents signed anywhere and at any time. It allows you to create e-signature workflows and scale them at your convenience.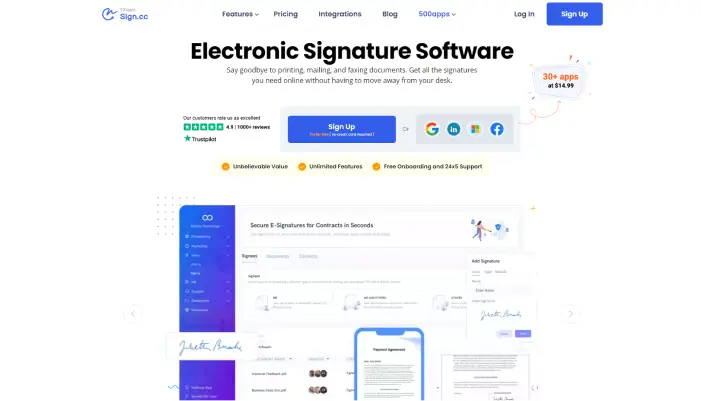 Here are the features of Sign.cc.
It allows you to request e-signatures and sign documents.
It includes CRM integration for better user engagement processes.
You can manage and store your documents on various platforms like Dropbox, OneDrive, Google Drive, etc.
It includes pre-designed templates and customized documents to automate e-signatures.
Pricing: $14 .99 /month
2. DocuSign
DocuSign helps you to connect and automate how you sign, prepare and manage agreements. The software provides the e-signature feature to enable any individual to sign practically on any device anywhere and at any time. Here are the features of DocuSign.
It requires zero maintenance downtime to create e-signatures.
It works under rigorous compliance and security standards to protect the client's trust and work.
It provides excellent e-browser experiences and superior mobile apps for better CRM integration.
Pricing: Personal: $10/month
Realtors: $20/month
Standard: $25/month
Business Pro: $40/month
3. HelloSign
HelloSign is the best software that allows you to sign or request electronic signatures online. The software enables you to add legally valid signatures to any document or agreement.
Here are the features of HelloSign.
It allows you to sign documents and send them across platforms quickly.
It simplifies the sign-in feature for every individual user.
It includes audit trails for proof of document access and review.
It provides a secure and reliable platform to sign and request e-signatures.
Pricing: Essentials: $15/month
Professional: $24.99/month
Standard: $25/month
4. PandaDoc
PandaDoc is an efficient software that provides an all-in-one document automation platform that enables teams to create, sign, and manage digital documents like quotes, proposals, contracts, etc.
Here are the features of PandaDoc.
It allows you to create impressive digital documents in minutes.
You can get your documents signed electronically within a short period.
It provides you with collaboration insights, notifications, and improvement tips to enhance your documents.
Pricing: Essentials: $19/month
Business: $49/month
5. Foxit eSign
Foxit eSign is the best signature maker to prepare and gather significant signed documents. The platform provides e-sign solutions to upload documents, create templates, add recipients, etc.
Here are the features of Foxit eSign.
It helps automate workflow and provides a seamless experience.
It provides an e-browser experience to allow users to sign, send, track, and manage various signature processes.
It provides reusable templates to help you save time.
It allows audit trails and bulk signing facilities.
Benefits of E-Signatures
Making an e-signature helps you avoid additional mailing, scanning, or printing of paper. Electronic signature makes life easier and offers a modern way of confirming the identities of various signatories. So, the question that arises here is – what benefits do we incur from e-signatures? The following points cover why it is a good idea to use e-signatures.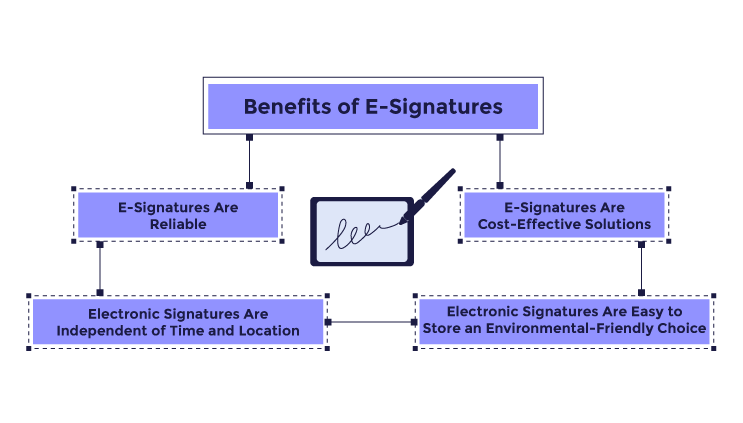 1. E-Signatures are Reliable
Electronic signatures are derived from various tools that guarantee the originality, integrity, and indisputability of all the signed information pieces. So, advanced e-signatures can confirm the identity of the person who signed a particular document and ensure that no one has modified the information later.
2. Electronic Signatures are Independent of Time and Location
You can create an e-signature online anywhere and at any time. Nowadays, most organizations want their documents to get signed remotely instead of requiring the signatories' presence on the office premises. Moreover, the location-independent feature proves useful when the same document needs to get signed by multiple individuals from different locations.
3. E-Signatures are Cost-Effective Solutions
You save a relevant amount of time when you sign a document electronically. You can manage the organizational affairs instantly when the documents do not require scanning or printing to reach the desired point of contact.
4. Electronic Signatures are Easy to Store an Environmental-Friendly Choice
E-signatures allow documents to get processed electronically. There is no requirement for physical storage as the document does not get printed. The electronic workspace stations ensure that that document gets stored safely for a longer period. Moreover, e-signatures are an environment-friendly choice for organizations, as they eliminate the need for paper documents, which are produced by cutting down trees.
Summing it Up
Digitalization has driven organizations into adopting the eloctronic signature maker for all their electronically managed documents. Making an e-signature ensures improved compliance and security features as well as a better customer experience. If you are not sure of which e-signature solution to purchase for your business, we recommend getting Sign.cc, by 500apps. With all its intuitive features, Sign.cc can provide your business with limitless possibilities and a seamless e-signing experience.
Discover Why Sign.cc Stands Out
#1
Get digital signatures on documents like sales contracts, employee HR letters, and more
#2
Create components like signature, date, initials on document via drag and drop builder
#3
Enable multi-party signing and share documents to multiple users
#4
Choose from 15+ scenario based pre-designed templates
#5
Upload documents from your local system or cloud providers like Dropbox, Google Drive and 500Box
#6
Track individual signee status for each document
#7
Send documents for signature from your favorite CRM software like CRM.io
#8
Set a hierarchical order for signing documents
#9
Unbelievable pricing - the lowest you will ever find
#10
Everything your business needs - 50 apps, 24/5 support and 99.95% uptime
Join the SaaS Revolution
All-in-One Suite of 50 apps

Unbelievable pricing - ₹999/user

24/5 Chat, Phone and Email Support