8 Best Electronic Signature Apps
We've all experienced how time-consuming signing a document online without utilizing an electronic signature app can be. Signing an online document without an electronic signature app requires several tedious and time-consuming activities, such as formatting, printing, scanning, and reformatting before sending it to the intended recipient. Electronic signature apps come to your rescue by saving you from all this hectic work. This app allows you to sign a document in a matter of seconds, thus saving time for you and your clients.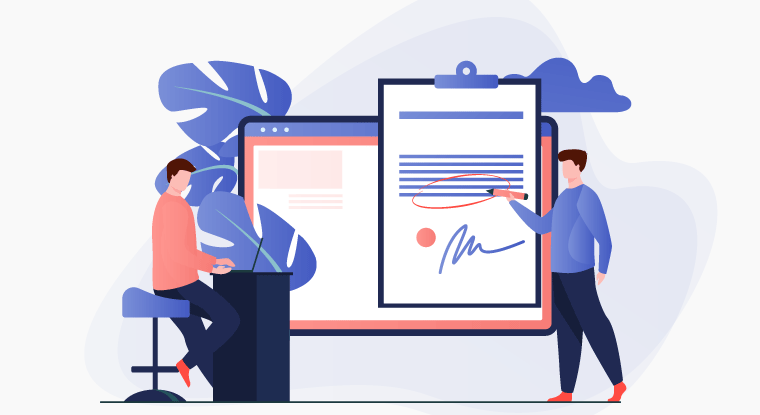 Electronic signatures are simply signatures in an electronic format that allows legal contracts to be signed without printing anything or picking up a pen. An electronic signature is a method of authenticating the signatory and certifying the document's authenticity using computers. Since electronic signatures do not require both parties to sign a document in the same room, they are more convenient than traditional signatures. On the contrary, the document can be instantaneously signed via email, mobile phone, or online, making the process incredibly convenient.
Features of Electronic Signature App
There are numerous electronic signature apps on the market, some of which lack a user-friendly interface and may not fulfill all your needs. Any good electronic signature app should provide all the features listed below.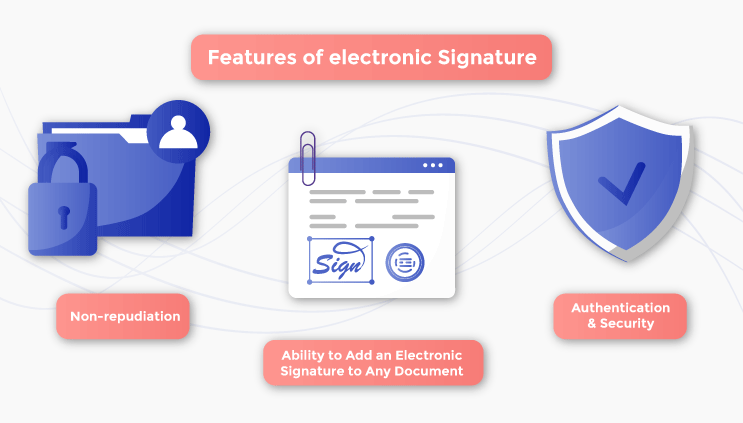 i) Ability to Add an Electronic Signature to Any Document
Any electronic signature maker should be easy to use and understand. It should be able to accommodate all types of documents and integrate with other apps or software to speed up the entire workflow.
ii) Authentication & Security
Documents containing sensitive information should be encrypted or password protected. The electronic signature application should be able to meet industry standards and be effectively safeguarded. Also, electronic signature apps should authenticate the person's identity who has signed the document.
iii) Non-repudiation
The signers should not be claiming that they did not sign the document. In other words, a good electronic signature app should be able to verify if someone has signed the document accurately.
Advantages of Using an Electronic Signature App
Electronic signature apps provide other advantages besides making your work smooth and easier.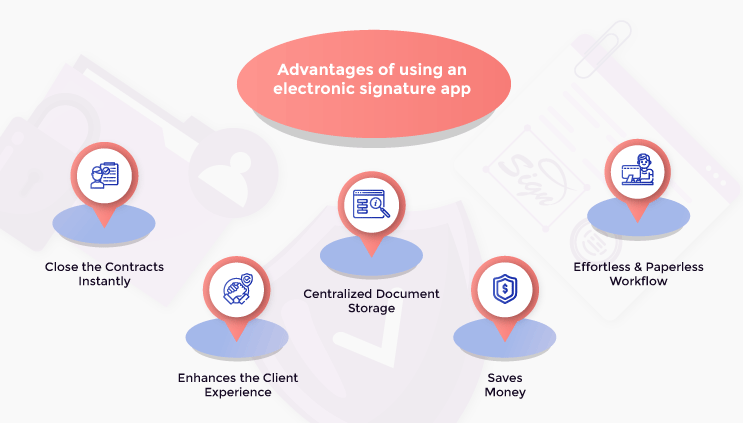 1. Close the Contracts Instantly
It gives you real-time document status and the ability to deliver papers instantly, easy document tracking, and distribute documents to hundreds of people in a single click, eliminating unnecessary bottlenecks and closing deals quickly.
2. Centralized Document Storage
Gone are the days of digging through file cabinets, stacks on your desk, or even separate computer systems to find a document. With the help of an electronic signature app, you can keep all of your documents in one place on your computerized system.
3. Effortless & Paperless Workflow
There's no need to print, scan, or meet in person when you use an electronic signature app. When all parties sign, the document is initiated and returned to the same location, thus making your workflow an effortless one.
4. Enhances the Client Experience
Through the eSignature online, clients may sign fast and seamlessly on any device from any place! Connecting your eSignature solution to your client portal software is essential when clients want real-time access to documents.
5. Saves Money
These advantages produce significant cost savings for your company, from reduced paper and printing costs to reduced time spent signing and collecting payments from new clients.
Electronic signature apps provide other advantages besides making your work smooth and easier. Sign Up 14 Day Trial
8 Best Electronic Signature Apps
Choosing the best document signing app from hundreds of apps available in the market is a difficult task. We've compiled a list of the top eight electronic signature apps to make your job easier.
1. Sign.cc
500apps is the driving force behind Sign.cc, which allows you to sign documents quickly and securely. It also allows users to make unique signatures and sign documents in various formats, store and manage documents in Dropbox, Google Drive, and One Drive, and create and track signing orders and requests instantly.
Other Sign.cc features include: multiple user sign-ins, several in-built templates, email reminders to remind signatories to sign documents, CRM integration, contract administration, team collaboration, and much more.
Price - Free trial account with access to 37+ apps. Its cloud plan starts at ₹ 999/- per month or $ 14.99/- per month
2. Hello Sign
By combining customization, client service, and flexible and reasonable pricing, delivers a fresh perspective to the eSignature market. The company complies with all major international eSignature laws and provides a variety of extensions and interfaces.
Price - Starting at $15 per month/per user
3. Signaturely
Signaturely is an excellent choice for individuals and organizations seeking a simple platform to generate and upload documents that can be signed online legally and quickly. When the documents are ready, Signaturely leads signers through the whole signing process, from establishing an online signature to adding the final Signature to the document, while keeping the sender updated.
Price - From $10 per month/per user
4. SignEasy
The features of SignEasy allow you to produce documents directly from the platform or connect drag-and-drop functionality with a range of third-party apps. This electronic Signature app also offers self-signing, in-person signing, and remote signing functionalities.
Price - Starting at $8 per month/per user
5. Formstack Sign
Formstack is an electronic signature app that teams from various sectors can utilize. When you upload a document to Formstack and provide the signer's contact information, they are notified of the signature request through text or email.
Unlimited e-signatures, documentation, and customized templates are just a few of the prominent features of this software.
Price - Starting at $18 per month/per user
6. SignRequest
SignRequest, an easy-to-use electronic signature app, enables free document uploading and electronic signatures for its users. It also provides an API that can directly integrate with your CRM to centralize all of your contacts and data.
Price - From $7 per month/per user
7. SnapSign
SnapSign's signature data gathering interface is simple and easy to use. The platform also binds the document legally. This e-signature solution comes with pre-built integrations, allowing you to implement signature-gathering into your present workflow quickly and efficiently.
Price - Starting at $9.99 per month/per user
8. Signable
Signable is a service that serves many customers in the United Kingdom and Europe, making it an excellent choice for people who want to verify their documents' compliance with EU regulations. It also has a user-friendly interface, making it a versatile electronic signature app.
Price - From $1.50/per envelope
Summing It Up!
There are a variety of free and premium electronic signature apps accessible on the market. Choosing the proper one is difficult, but sign.cc is our top option for the finest electronic signature app because of its unique features such as reporting and analytics, reminders, security, and real-time review, among others. So, if you're still unsure which app to use, give sign.cc a shot and make your process much smoother and faster without compromising your legal status and security.
Discover Why Sign.cc Stands Out
#1
Get digital signatures on documents like sales contracts, employee HR letters, and more
#2
Create components like signature, date, initials on document via drag and drop builder
#3
Enable multi-party signing and share documents to multiple users
#4
Choose from 15+ scenario based pre-designed templates
#5
Upload documents from your local system or cloud providers like Dropbox, Google Drive and 500Box
#6
Track individual signee status for each document
#7
Send documents for signature from your favorite CRM software like CRM.io
#8
Set a hierarchical order for signing documents
#9
Unbelievable pricing - the lowest you will ever find
#10
Everything your business needs - 50 apps, 24/5 support and 99.95% uptime
Join the SaaS Revolution
All-in-One Suite of 50 apps

Unbelievable pricing - ₹999/user

24/5 Chat, Phone and Email Support