Make Your Agreement Signed Faster With Electronic Signature Software
A very important part of any agreement or contract is the signatures of the parties that make it legally binding on all who sign. Traditionally, this is done through signing on printed-out copies of the agreement, but with the advent of technology and the rise in eSignature software, this signature process has become simpler, faster, and safer. As a business owner, agreements are a key part of your activities, as they are used when working with wholesalers, retailers, some customers, etc. Hence, it is in your best interest to transition your paper-based processes such as signatures to an effective online process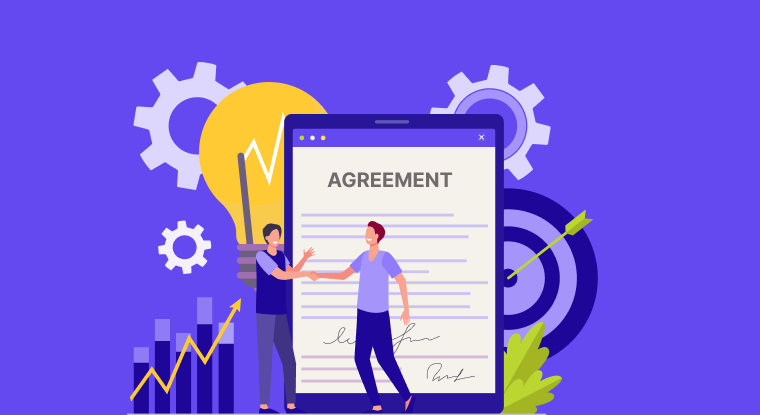 As a business owner, agreements are a key part of your activities, as they are used when working with wholesalers, retailers, some customers, etc. Hence, it is in your best interest to transition your paper-based processes such as signatures to an effective online process, and the quote below by Andy Hughes, a U.S marketing lead, supports the transition to electronic signature software.
Of course, there are certain key things that you must do to make your eSignature process fast and effective, and that includes choosing an electronic signature software that encompasses all the features that will make your process as fast and effective as possible.
With a large number of eSignature apps present on the internet, it is important that you understand some specific features to look out for when deciding on the software to incorporate into your business and use for your agreements. These features include drawing, customizable documents, mobile app, and more.
However, before we dive into the details of these important features of an eSignature app, you should know some benefits that the use of eSignature software will provide for your business and agreements.
Benefits of Using an Electronic Signature Software
There are several benefits that incorporating electronic signature software into your business and agreement will do for you. Here are six of these benefits: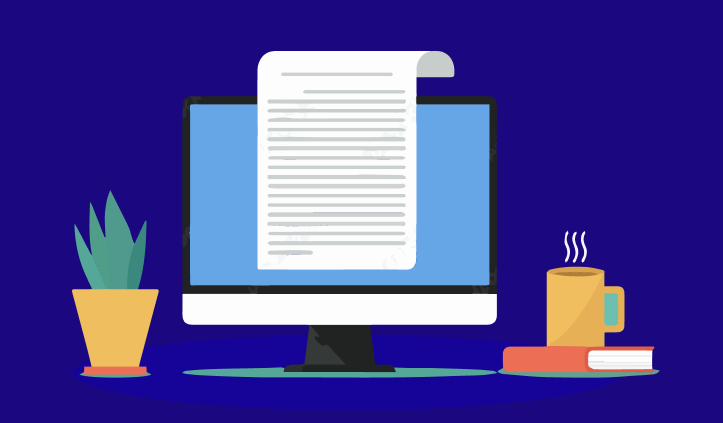 1. Consistency
Electronic signature software helps you to have the saved signatures of you and your employees. This means that you can easily attach the same signature to multiple documents in a matter of minutes. The signature is saved for consistent use in the future, and there is no need to resign every time.
2. Speed
Digital signatures in electronic signature software help you skip over the many steps that a paper-based process would have. It saves time by skipping the steps of communication, printing, sending and receiving the documents, saving and scanning the signed papers, etc. All you would have to do is attach your signature through your software and send it via email or other forms to the other parties.
3. Cost Reduction
Electronic signature software saves the costs of buying paper, printing supplies, storage costs, the cost of sending the documents to the various parties for signing, etc. It also saves energy in monitoring the paper processes, which you can then transfer into other business activities.
4. Document Monitoring
The use of digital signing software makes it possible for the signed documents to be easily traceable as the software would log the history of documents signed. It would also make the documents more reliable as they are safer and less likely to be tampered with when signed through an online process.
5. Environmental Friendly
The elimination of paper in the eSignature process has a significant environmental impact. If many businesses transition to the use of electronic signature software, it will directly impact the reduction of the use of paper, which translates to less deforestation, chemical processes, and a happier environment.
6. Authentication & Integrity
The eSignature software saves the signed document and records the signing, which can serve as proof of the parties to the contract, and that they did sign, along with the date of the signing. It does this through digital signatures that link the signatures on the document to identifiable entities.
The easier you make it to sign off on a document, the faster you can process contracts. Sign Up 14 Day Trial
Key Features of Electronic Signature Software
It is one thing to be able to use digital signature creator to sign your agreements and other documents, and another to be able to do so faster and more effectively. The difference is in the software that you pick for your eSignature processes. This software can be differentiated by the features that they provide for you. We mentioned some of the features before, but here, we will outline the top five features individually in detail: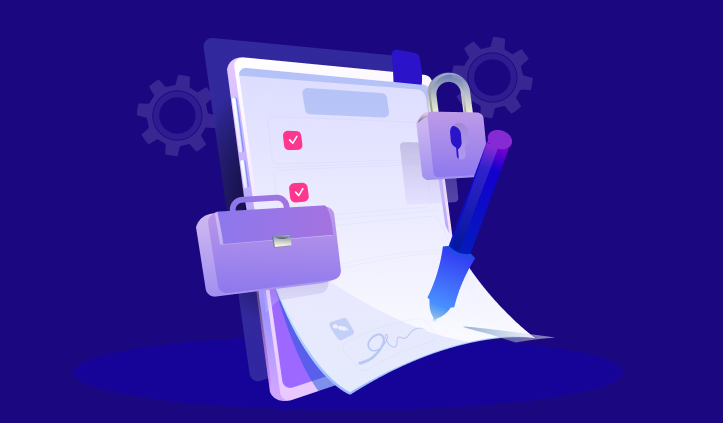 1. Drawing Features
Many agreements and documents being sent and signed today are more than just texts; they are also visual-based documents. The presence of a drawing feature alongside an upload feature for signatories to add their online signatures is very important in this regard. This feature will allow senders and signatories to simply draw in their signatures on documents, and the drawing can then be downloaded or saved for future signing.
2. Customization
The ability to add the branding of your business onto the sealed cover of the documents being sent helps to act as a form of confirmation that the documents are valid and actually being sent from you, and not a scammer or someone trying to hack private information. This, in turn, leads to a quicker turnaround of documents, visibility, awareness, and higher levels of trust between you and the signatories. It can be something as simple as your company logo, brand design, and brand colours.
3. Security
This is a very important feature to look for in electronic signature software. The presence of SSL encryption is non-negotiable, as this will protect the data of your documents when they are being sent between you and your signatories and prevent others from accessing your private business information. SSL stands for Secure Socket Layer and is a technology that keeps your internet connection safeguarded and secure from infiltration. Your software should have the ability to encrypt and password-protect each document that you send for signing.
4. Multiple Platform Capabilities
You never know what type of device your signatories are using, so it is important that your electronic signature software has the capabilities to accept signatures on a variety of platforms and devices, such as Androids, PCs, Apple devices, and Tablets, etc. This can be that your chosen software has the option of a website and a mobile app that is available for download across all these devices and others. This will help to ease and speed up the signing and sending process.
5. Templates
With the set of pre-designed templates in your eSignature software, it erases the need for you to start writing contracts from scratch when you need an agreement urgently. You can easily select a template that fits your need, add the important details, and have your agreement written up in minutes to be sent to your signatories. You can also amend existing documents by uploading them, adding fields from your templates, and removing those you don't need. This speeds up your agreement creation and signing process.
How Electronic Signature Software Works?
Now that you know the key features and have shortlisted your options for an eSignature software, here is an example of a simple work process for how eSignature software gets your agreements and documents signed:
Create your document and verify the generated PDF document on your signature software.
Add your signature to the document if necessary.
Send the PDF documents to the other parties to sign, by email, by clicking the digital signature option and adding their email address.
The other signatories will receive your email with a link to access the signature form or documents. When they access the document, they will receive a code or means of verification to secure the signature.
They can draw or upload their signatures to the document after verification. Then they can download a copy of the signed document.
The signed document is then sent back to you, and you receive a notification.
The signing process of the document is also saved in the software so that it can be used for proof of the signatories, the signatures themselves, and the date of signing.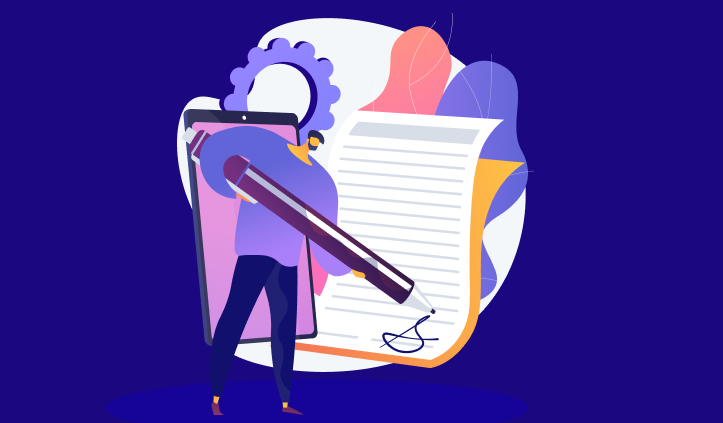 There are two key questions that many business owners ask about electronic signature software and its use. These questions are; "Are eSignatures legally binding?" and "What types of documents can be signed using eSignature software?"
Here are the Answers to These Questions
1. Are eSignatures Legally Binding?
Yes, they are. Digital signature online are legally binding and valid in many countries in the world. The United States passed the ESIGN Act in 2000, and this law makes all eSignatures legal for almost any purpose. The EU has the Electronic Identification and Trust Services Regulation (eIDAS) which was enacted in 2016. In the words of Kristin Biedinger, a professional attorney,
No contract can be voided or rendered unenforceable merely because it was signed electronically
2. What Types of Documents can be Signed Using eSignature Software?
Although this depends on the software that you choose, many electronic signature software will allow you to sign on a wide range of documents. The documents allowed include PDFs, word documents, spreadsheets, images, powerpoints, rich text, epubs, and many more. This is another reason why you should select good software so that you can add your signature to documents of all kinds of formats.
Conclusion
With the benefits we have outlined, you should definitely be transitioning your signing processes to eSignature software, and you can choose a software by cross-referencing your software options with the key features that we have outlined. When you choose an appropriate electronic signature software, you can get your agreements and documents signed faster. But, to help you skip the long process, here is our recommendation for a very effective electronic signature software.
This electronic signature software software is a part of the 500apps suite and offers all the key features and benefits we highlighted above that are important to get your documents signed faster and more efficiently. So, give Sign.cc a test run and see how big a difference it makes on the efficiency of your business operations and time spent formalizing your agreements.
Discover Why Sign.cc Stands Out
#1
Get digital signatures on documents like sales contracts, employee HR letters, and more
#2
Create components like signature, date, initials on document via drag and drop builder
#3
Enable multi-party signing and share documents to multiple users
#4
Choose from 15+ scenario based pre-designed templates
#5
Upload documents from your local system or cloud providers like Dropbox, Google Drive and 500Box
#6
Track individual signee status for each document
#7
Send documents for signature from your favorite CRM software like CRM.io
#8
Set a hierarchical order for signing documents
#9
Unbelievable pricing - the lowest you will ever find
#10
Everything your business needs - 50 apps, 24/5 support and 99.95% uptime
Join the SaaS Revolution
All-in-One Suite of 50 apps

Unbelievable pricing - ₹999/user

24/5 Chat, Phone and Email Support