Pre-Designed Templates: How to Use Them and Save Time
Using contract builder software, which gives you pre-designed templates to utilize, might present you with a slew of advantages.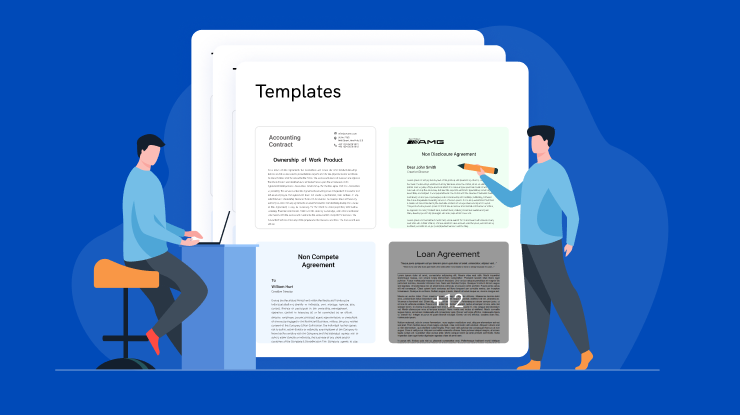 A template is a pre-designed document with general information that you send frequently to different people for eSignature online. You can save the template in your account and whenever you need to send a new document of this type, you can open the template library and use it in a few clicks instead of having to create a new document from scratch.
Imagine yourself as a film producer's assistant who sends non-disclosure agreements to everyone visiting the set of a movie, such as caterers or extras, stating that they will not reveal any plot details. Instead of writing a new agreement every time you need one signed, you can create a template containing the text of the agreement and put placeholders for the names of the signers, signature dates, contact information, and any additional details. Sign.cc will include the recipient's information automatically based on your contact list when you open the template. You will save a great deal of time by doing this instead of starting from scratch.
Can You Create a Template Without a Software?
While it is possible to create a custom contract template without using any digital tools, this is a difficult task. This is especially true if you work with intricate contracts that need you to regularly change certain terms and conditions. The same is true in circumstances when a contract must be signed by many parties from various places. You may have to fax the document if you opt to follow the process manually. Building a bespoke template without depending on a digital solution is, in truth, a waste of time and effort. You must go over the entire paper to verify there are no mistakes. There's a good risk you'll overlook a few details, which will jeopardize the contract's authenticity. You should also keep in mind that you may need signatures from people who are far away. This is just another obstacle you will have to overcome. Why go through all that trouble? Sign.cc can help you save time.
Benefits of Using Pre-Designed Templates
Using contract builder software, which gives you pre-designed templates to utilize, might present you with a slew of advantages. For one thing, you'll be able to save time. You're undoubtedly reading this because you know how time-consuming contract creation can be. However, perhaps you've done it previously and want to streamline the procedure. Sign.cc can very useful in this situation.
Introducing Sign.cc
500Apps is the creator of Sign.cc. This program allows you to select a template and customize it to meet your specific company needs. Depending on the sort of contract you desire, you may specify terms and conditions. The program also lets you save the content in a format that your end-users can understand. You may upload documents from your PC, Dropbox, Google Drive, or CRM Integration using the drag and drop tool. After that, you may add fields from other files. Furthermore, your chosen templates may be easily shared with your team or peers. As a result, you'll be more productive since you'll be able to collect input from all parties engaged in the contract. Another unique feature of the Sign.cc templates is that you may reuse them as often as you like.
How to Create a Template?
It's Easy to Make a Template; Here's How to do it:
In your word editor of choice, first write your document, leaving blank spaces for any information that will be added later for each signer, such as a name, a date, etc.
Save your document, preferably as a PDF.
After clicking 'Select Files', you will be taken to an uploading screen where you can either select files to upload or drop them in the 'Drop files here to upload' area.
Next, select the signer's role. Our non-disclosure agreement for the film will be signed by a contractor, so in the role field, you should write Contractor.
It's time to prepare the document for signing. Go to the upper right corner and click on the Preview button.
You're now on the document-editing screen. You can drag any text box from the righthand menu and place it wherever you want in the document.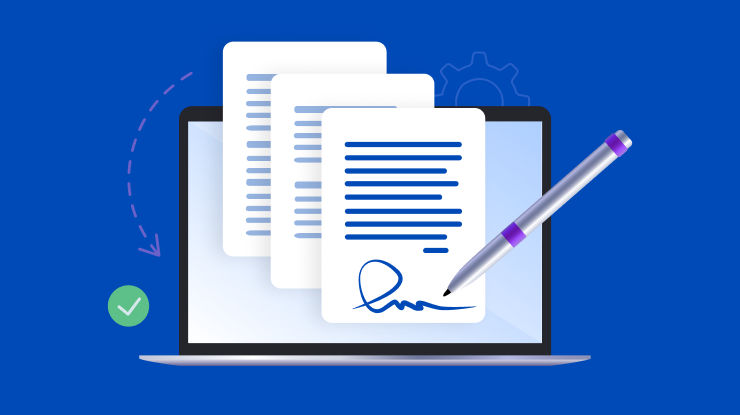 In our example, we placed the Full Name box, the Signature box, and the Date Signed box in the blank space. When you use the template and choose the recipient, Sign.cc will automatically fill in the Full Name box. When the recipient signs the document, the date will also be automatically filled in.
Now that you have saved the template, you can view it by selecting 'Upload files from recent files'.
How to Use a Template?
Suppose you want to provide a new contractor with a film non-disclosure agreement. First, find the template in the 'Recent Files' menu, then select the template and click OK.
Select the recipient of the document on the next screen. In the signer category, we would enter the name and email address of Brian Lee, since we want to send the agreement to him.
You can also write a description (optional).
When you're done, click Send in the top right corner after previewing the document and that's it. An email containing a link to the document will be sent to the recipient.
Types of Templates:
1. Standard Template
You reuse the file to be signed, as well as all signatures and additional boxes added for signers to fill out, as well as configurations like email reminders, topic, email content, and login types. Use this template for files like engagement letters or patient onboarding forms when the file to be signed is the same or just requires a minor update before being sent out each time, such as a name change.
2. Dynamic File Templates
When you want to modify the file every time but keep the signature boxes, additional fields to fill in, and configurations like reminders and the email topic, this is beneficial. For example, each client's Form 8879 may be created from scratch, but the signature boxes must be placed in the same place.
Conclusion
The way firms manage templates has evolved as a result of technological advancements. Advanced digital tools have enabled the tracking and updating of critical information on these templates to be automated. Furthermore, these technologies have made the process of establishing contracts much easier. Pre-designed templates may be readily changed to meet your company's needs, so you don't have to worry about paperwork.
Discover Why Sign.cc Stands Out
#1
Get digital signatures on documents like sales contracts, employee HR letters, and more
#2
Create components like signature, date, initials on document via drag and drop builder
#3
Enable multi-party signing and share documents to multiple users
#4
Choose from 15+ scenario based pre-designed templates
#5
Upload documents from your local system or cloud providers like Dropbox, Google Drive and 500Box
#6
Track individual signee status for each document
#7
Send documents for signature from your favorite CRM software like CRM.io
#8
Set a hierarchical order for signing documents
#9
Unbelievable pricing - the lowest you will ever find
#10
Everything your business needs - 50 apps, 24/5 support and 99.95% uptime
Join the SaaS Revolution
All-in-One Suite of 50 apps

Unbelievable pricing - ₹999/user

24/5 Chat, Phone and Email Support