5 Easy Steps to Generate Online Signature
People have utilized many methods to accomplish transactions throughout history. By the Middle Ages, people were frequently using markings or symbols to demonstrate that they had personally authorized a document. It eventually became customary to sign documents by spelling out their names.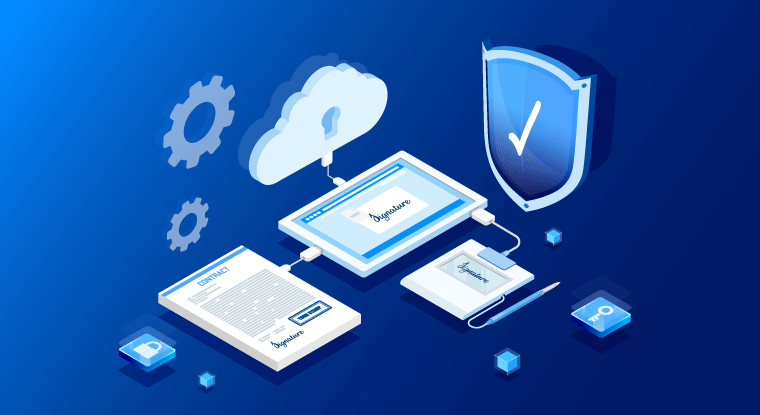 Now fast forward to the present. Many firms have moved away from printed copies of papers and toward digital equivalents, frequently kept in the cloud. Signatures have become computerized, allowing you to sign many contracts and letters without a pen or paper.
An online signature enables a person to provide consent or demonstrate approval of a document's contents. Online signatures, often known as e-signatures, can be legally enforceable for various purposes. E-signatures can take numerous forms, including typing the individual's name, uploading a picture of the person's cursive signature, or drawing a signature on a smartphone or tablet screen. Some electronic signature apps use digital identifiers to ensure that the person signing a document is who they say they are.
In general, eSignatures online may replace traditional or ink-based signatures in various applications worldwide. However, you require an online signature generator to create an electronic signature to use on documents.
Benefits of Online Signature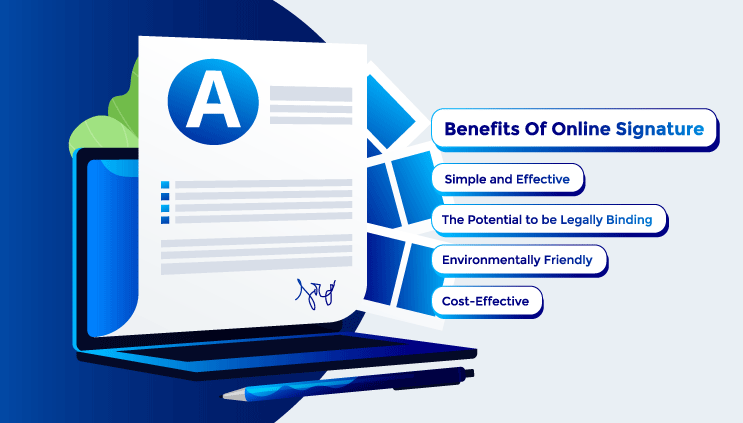 i) Simple and Effective
It's pretty simple to collect the necessary signatures if everyone who is supposed to sign the document has an email account and access to a device that can connect to the internet. You can grant access to those who need to sign the paper if you save it on a cloud-based platform. The signees are not required to print out the contract or agreement, sign it, and return the signed copy back. Instead, they may open the document and effortlessly create a signature using an online signature generator.
ii) The Potential to be Legally Binding
The regulations regulating online signatures differ depending on where you live. Electronic signatures, for example, are enforceable under the EU's Electronic Identification and Trust Services Regulation (eIDAS). However, in order to have the same legal standing as an ink-based signature in the EU, an eSignature must be digital. Since leaving the EU, the United Kingdom has used its version of eIDAS, known as UK eIDAS.
In the USA, businesses can now utilize eSignatures while trading due to the Uniform Electronic Transactions Act (UETA) and the Electronic Signatures in Global and National Commerce Act (ESIGN) passed in 2000. Both ESIGN and UETA state that electronic documents and eSignatures have the same legal status as paper documents and traditional signatures. Hence, electronic papers and signatures cannot be rejected merely because they are electronic.
Furthermore, according to Japan's Act on Electronic Signatures and Certification Business, eSignature online are just as legal as ink-based or so-called wet signatures. Unlike in the EU, where digital signatures are given more weight, electronic document signing in Japan are treated the same as other sorts of eSignatures.
Other nations where eSignatures have the same or equal weight and enforceability as wet signatures include Australia, China, UAE, and Brazil.
iii) Environmentally Friendly
First, at least one physical copy of the contract or agreement must be printed. Furthermore, transportation can consume a significant amount of fuel and energy depending on how the document is distributed. The paper must then be delivered to the next individual or returned to the original owner.
Electronic copies require no paper or ink, which helps conserve trees. In addition, there is no need to physically transport the contracts from point A to point B and back, eliminating the need for transportation, thus reducing the carbon footprint.
iv) Cost-Effective
Consider the fees generally associated with signing papers. There are the costs of maintaining printers and copiers, paper, ink, and toner, not to mention the postage or courier fees.
Many traditional office expenditures are eliminated by storing information in the cloud and using an online signature generator. It is also cost-effective since it reduces travel expenditures, especially when dealing with sensitive material.
Paper-based signature gathering is not the most ecologically friendly or resource-conserving method. Sign Up 14 Day Trial
Steps to Generate Online Signature
Creating an online signature is simple and can be done using the following steps.
Step 1
Choose the document you want to sign. You can create the signature outline using any document signing app by changing the font, color, and other elements.
Step 2
Create an online signature by typing your signature. If you are using a touchscreen device, you can draw directly on the document. This is the most convenient way to sign the document. You can even type on the document using the fonts that match your signature.
Step 3
Once you have selected the signature, click on upload. You can even take a picture of your signature using your phone or camera and then upload it in a PNG format.
Features of Online Signature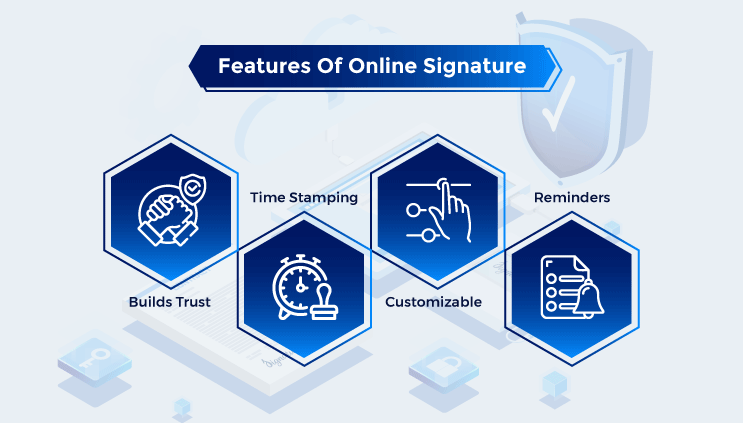 1. Builds Trust
While traditional document systems are open to tampering, online signatures are more secure. Minor alterations to any document may be automatically recognized by online signature software, making it extremely difficult to hack into them.
2. Time Stamping
Another unique feature of the online signature is timestamping. This allows people to trace back along the digital trail in case of an error.
3. Customizable
With options of choosing the fonts, drawing, and using initials with handwritten fonts, an online signature is highly customizable.
4. Reminders
You can get documents signed on time by sending email reminders, especially for the documents required to be signed within a specific deadline.
Summing It Up
Businesses today rely on content more than ever before. The cloud provides a secure platform for managing content at all stages of its lifecycle, allowing you to access the document safely, swiftly, and effortlessly. This is where an online signature generator comes into the picture.
An online signature creator cannot be imitated, copied, or stolen. Unlike other forms of identification, online signatures do not require government permission to use them. With this new technology, it is possible to create an electronic record that can be used in place of paper-based documentation. For these reasons, they are a list of valuable tools for both consumers and businesses alike.
We recommend getting Sign.cc by 500apps to create your online signature. The electronic signature software allows you to send, sign, and monitor e-signature documents at any time, from any location, using any device. Furthermore, you may manage your contacts and automate them for numerous record systems. You can also use this app to share templates with other team members, check use data, and generate reports, thus ensuring a smooth online transaction.
Discover Why Sign.cc Stands Out
#1
Get digital signatures on documents like sales contracts, employee HR letters, and more
#2
Create components like signature, date, initials on document via drag and drop builder
#3
Enable multi-party signing and share documents to multiple users
#4
Choose from 15+ scenario based pre-designed templates
#5
Upload documents from your local system or cloud providers like Dropbox, Google Drive and 500Box
#6
Track individual signee status for each document
#7
Send documents for signature from your favorite CRM software like CRM.io
#8
Set a hierarchical order for signing documents
#9
Unbelievable pricing - the lowest you will ever find
#10
Everything your business needs - 50 apps, 24/5 support and 99.95% uptime
Join the SaaS Revolution
All-in-One Suite of 50 apps

Unbelievable pricing - ₹999/user

24/5 Chat, Phone and Email Support