Transform Vendor Contracts with Digital Signature Software
Traditionally, contracts are drawn up and printed on paper, signed by the contractor, and then sent to the other parties to be signed. This then makes the contract formal and legally binding. However, with the advent of technological solutions like digital signature software, you can now skip the long, traditional process of printing and sending, and skip straight to the formalization of the agreement by using digital signature software to make it easy for you and the other parties to append the relevant signatures.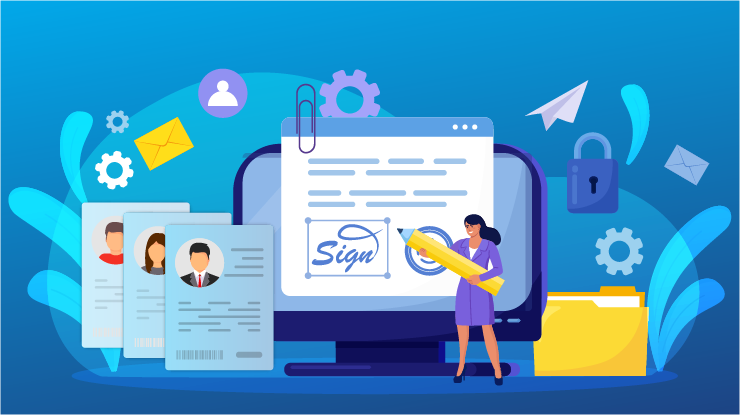 Contracts management process is a big part of the processes of businesses in any industry. Throughout the course of your business, you will unavoidably sign vendor contracts or create contracts with vendors. No business can survive without a product or service from another company, and the best way to regulate this business relationship is through contracts.
Traditionally, contracts are drawn up and printed on paper, signed by the contractor, and then sent to the other parties to be signed. This then makes the arrangement formal and legally binding.
However, with the advent of technological solutions like digital signature software, you can now skip the long, traditional process of printing and sending and skip straight to the formalization of the agreement by using digital signature software to make it easy for you and the other parties to append the relevant signatures. This quote by the marketing lead of a company, Andy Hughes, highlights how using digital signature software can be a big benefit to your business.
In this era of globalization and digitize contracting process, businesses that can evolve with the change in technology and make their business more accessible to a wider variety of clients are making more headway. There is a growing emphasis on companies adopting faster methods of doing simple processes, such as signing vendor contracts.
This is where digital signature software comes into play. It is the least that any business owner can adopt to make the process of signing and legalizing agreements faster and simpler.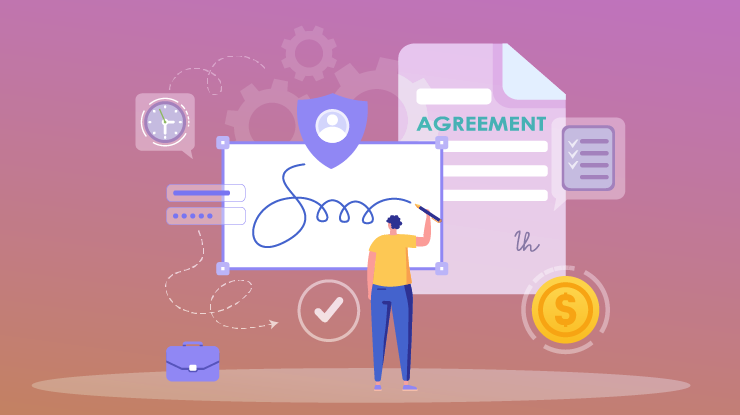 There are many downsides to using traditional signing methods, and some of these are:
It is manual, expensive, and can be inefficient. Businesses have to print and scan the contract, send it via email, or print and send it via dispatch. This makes it a very slow process that is prone to manual errors and is cost-intensive. This cost is more than just the printers, scanners, and papers that are bought. It also includes the time and energy that employees spend.

Traditional signing processes are difficult to monitor and manage. You cannot know the document's status until you communicate with the parties to sign or receive the document. This means that your business is slowed down as you have to confirm that the contract has been signed or that electronic signature has been refused. This makes contract negotiations and legalization take much longer than necessary.

There is an unnecessary amount of risk attached to traditional signing processes. The documents may get damaged, lost in transit to parties, or missing amongst a pile of papers. It also poses a serious risk to your business's information security, as you cannot tell who has handled and viewed your contracts once it is out of your hands.

Paper documents are susceptible to damage after signing. They can burn in an office fire, get yellowed, tear, or be damaged by water. There is too much damage risk attached to signed contracts in paper form, and once they are damaged with no other physical or digital copy, they can no longer be used as proof to legally bind the vendor.

As your business grows, your commercial transactions will grow too. This means a corresponding increase in the vendor's contracts your company gets into. You also need copies of the signed contracts that must be kept in your office for easy accessibility. This means stacks of paper files and boxes, a room dedicated to the storage of the contracts, and an employee storing and managing the contracts. With digital signature software, you can erase this problem.
Benefits of Using Digital Signature Software for Your Vendor Contracts
1. Speed and Efficiency
Using digital signature software makes your business processes much faster. You skip the unnecessary and tedious steps that come with traditional paper-based methods. These steps include printing, sending, scanning, and receiving the physical documents.
When using signature software, all you have to do is upload, sign, and send via email to the other parties. This makes the process of formalizing and legalizing your contract management easier and more efficient for you and your vendors.
2. Security
Many of the software that provides digital signature abilities are highly protected and encrypted so that the private and important information in your documents is secure from intruding, unwanted eyes.
Another measure of security for your business is the logging of signed copies on the software so that you can easily trace which documents were signed and whom the signatories were. This high level of security makes your documents more reliable.
3. Document Monitoring
With digital signature software, you can access the real-time advanced reports of the contracts being sent to your vendors for signing. The software creates a trail of who received and who signs the documents to be aware of any actions taken on the document you did not authorize. You can also be made aware of when the parties have appended their signature on the relevant parts.
4. Ease of Use
In this era of post-covid business re-orientation, many companies rely more and more on digital and remote work processes. There is also a growing emphasis on businesses to use quick and convenient processes to make their agreements and contracts easier on their vendors and clients.
Using digital signature apps makes it easier for you as a business owner to get your vendor contracts signed and free up time and energy that your employees would waste on paper-based processes. It optimizes the workflow in your business.
5. Authentication
With digital signature software, you can ensure that the vendors who have signed the contracts are not frauds and are the real, intended person or entity. It does this by requiring verification from the persons who attempt to sign the contract and linking the digital signature to the identity and email of the person.
6. Low Costs
The cost of getting and subscribing to digital signature creator for your business is significantly lower than the cost of repeated purchases of paper, printing ink, courier hires, etc that you would incur with paper-based processes. It is friendlier to the budget of your business, no matter the scale of your operations. Apart from the reduced financial costs, there is also the reduced labour cost, as you only need an employee with basic computer literacy to operate the software and the digital signing process
Are Digital Signatures Legal?
Many business owners ask this very important question concerning incorporating digital signatures in their business and contract processes. It is important to ensure that everything that business owners do is in line with the provisions of the law, and this is no different in the case of digital signatures.
However, as a business owner, you can rest easy because digital signatures are fully legal in the U.S and the U.K. It has the same legal weight and relevance as paper ink signatures. In the United States, digital signatures were legalized by virtue of the Electronic Signatures in Global and National Commerce Act (ESIGN) enacted in 2000.
Most of the states in the U.S have also created their acts or laws for digital signatures. The E.U has a corresponding law legalizing digital signatures, the Electronic Identification and Trust Services (eIDAS), enacted in 2016. Many other countries have passed laws legalizing the use of digital signatures, such as Canada, Australia, etc.
In these countries, the digital identification of the signer is differentiated by different types of authentication certificates, which can be used as legal evidence.
How Digital Signature Software Works for Vendor Contracts?
With how useful digital signatures can be for vendor contracts, knowing how the actual digital signing process works is also important. Here is an example of how a vendor contract is signed and sent from you to your vendors.
Download a digital signature app and register your business on it. Create your contract, upload it from your computer, and verify the PDF document that is generated on your software.

Add your signature to the relevant parts of the contract. Send the signed contract to your vendors by clicking the send or share option and adding the names and email addresses of the vendors.

Your vendors will receive the contract in their email with a link to verify their identity via email or SMS. Upon verification, they can add their digital signatures to the relevant parts of the contract.

After adding their signature to the contract, the vendors will send the contract back to you and be able to download a copy of the agreement for themselves.

You receive the signed copy, and the software registers the signed document, the date you and the vendors signed the contract, and the signees in its system.
This quote by Ravish Kumar, a journalist, and media personality, talks about how digital signatures can verify the identity of those who sign the contracts. "Digital signatures embed a digital fingerprint into the documents which are unique for a user and generated by a cryptographic algorithm."
The easier you make it to sign off on a document, the faster you can process contracts, orders, and other important files. Sign Up 14 Day Trial
Conclusion
Of course, the first step to incorporating digital signature into your contract signing processes is to choose a digital signature software for your business.
There are hundreds of software that provide you with the basic features that you need to start digitally signing your vendor contracts. However, you really need a digital signature app that gives you premium features and efficient service that goes past just getting your documents signed like Sign.cc
This app is a part of the 500apps business suite and has features such as contract templates, signature maker, document management, etc., to provide you with the total package in a digital signature software.
You can access Sign.cc and its amazing features, all for a budget-friendly price that gives you access to 39 other apps in the business suite which can positively impact your business. So try out electronic signature software today and see how much more efficient and productive your business can be.
Discover Why Sign.cc Stands Out
#1
Get digital signatures on documents like sales contracts, employee HR letters, and more
#2
Create components like signature, date, initials on document via drag and drop builder
#3
Enable multi-party signing and share documents to multiple users
#4
Choose from 15+ scenario based pre-designed templates
#5
Upload documents from your local system or cloud providers like Dropbox, Google Drive and 500Box
#6
Track individual signee status for each document
#7
Send documents for signature from your favorite CRM software like CRM.io
#8
Set a hierarchical order for signing documents
#9
Unbelievable pricing - the lowest you will ever find
#10
Everything your business needs - 50 apps, 24/5 support and 99.95% uptime
Join the SaaS Revolution
All-in-One Suite of 50 apps

Unbelievable pricing - ₹999/user

24/5 Chat, Phone and Email Support