Recent Developments About Best Online Signature Maker Software - 2022
Electronic signatures are replacing written signatures. With an online signature maker, you can create less waste, traceable, time-stamped, and secure signs.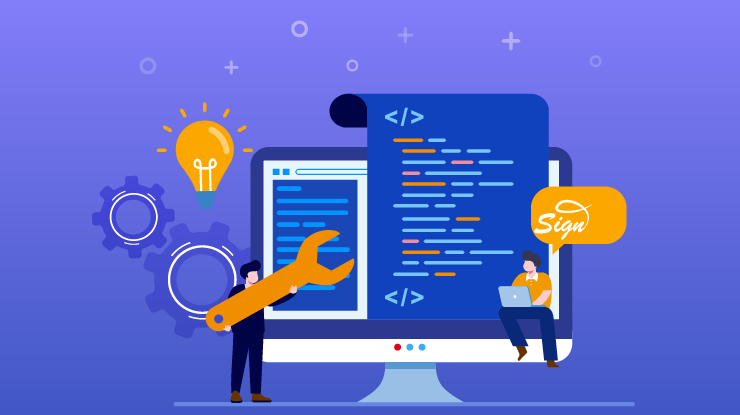 For several millennia, traditional "wet" signatures have been with. However, they are quickly becoming outdated as new technology reshapes the globe. New ways of signing are simpler and easier. eSignatures are the future that citizens and consumers now desirespan.
Simeon Preston, Managing Director at FWD Insurance said, the biggest part of our digital transformation is changing the way we think.
And the fact was that many people were reluctant to transition from physical signatures to electronic signatures. However, the Coronavirus pandemic caused many organizations to push digital initiatives forward at an unprecedented speed. More and more companies are ditching the traditional paper trail in favor of more efficient esignature software. Digital alternatives are also more environmentally friendly, reduce costs, and offer greater security than their paper counterparts. So, it's no wonder online signature maker software are so popular lately.
For many businesses, eSignature software has revolutionized day-to-day processes. Rather than print a legal document, mail it to your signer and wait for them to sign it and send it back, you can send a single email and wait for the reply with your fully signed document. Digital documents are also easy to keep track of.
Similarly, increasing government support is likely to boost the market growth. For instance, in July 2020, the Securities and Exchange Board of India (SEBI), a market regulator in India allowed public listed companies to use electronic signature certifications for submissions that are made to the stock exchanges under certain disclosure norms till December 2020.
What is an Online Signature Maker?
Online signatures are the digital counterparts of the ordinary pen-and-paper signature. You can create them with an eSignature app – or by scanning a paper bearing your signature. They are a legally-accepted way to acquire consent or approval on a digital document.
Electronic signature maker enables you to collect signatures on digitally shared documents, and removes the need to use physical documents to gather signatures.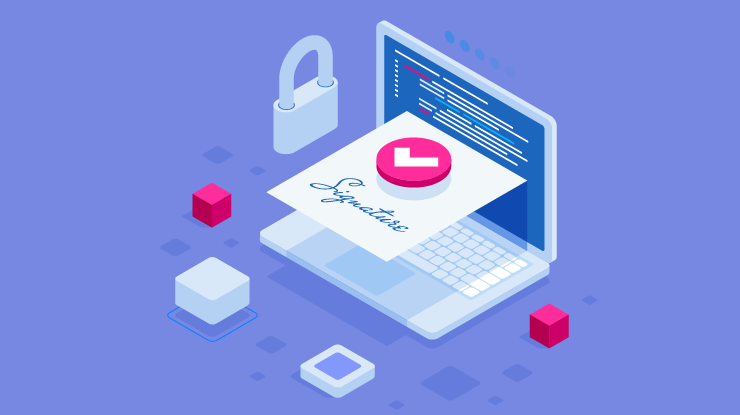 How Vital are eSignatures in this Digitalised World?
Tech-savvy entrepreneurs have started using eSignatures to speed up business transactions and gain competitive advantage.
Earlier, professionals had to go through a long process to obtain signatures. If multiple signatories are involved or the signing entity is not physically present within your geographical location, it would become difficult to secure the confidential information from getting leaked. There were many problems that businesses had to face like delayed deliveries of the important documents, missing signatures, misplaced documents, and the most important of all, time-consuming and manual processes involved with it. Besides that, security was at stake, and the risk of signatures being forged was always there with the traditional method of signing documents.
Fortunately, now business professionals can sign the documents digitally. By using eSignatures, they can send and receive important and confidential documents swiftly with high-end security. These aspects below can clearly explain why the electronic signing method has become a must to implement these days. There are many software for online signatures, however it is advised that customers choose the best online signature creator software out there which will be discussed below.
Authenticity - Ensures that the authorized signatory signs the document.

Security - Keeps the document cryptographically secured so that it cannot be opened or modified without decryption.

Repudiation - The signers of the document in the future cannot deny the fact that they had signed the document.

Notarization - The digitally signed document holds the records of the time and date it was created and modified.
Recent Developments in Online Signature Maker
1. Accelerated Use of Electronic Signature Amid COVID-19 Pandemic
The COVID-19 pandemic has accelerated the adoption of electronic verification and signatures. The increasing online and remote work obligations is compelling the industries to adopt digital technology to continue their business. Governments across the countries are using and promoting eSignatures to reduce paper-based transactions to maintain social distancing norms
2. Rising Preference Towards Digitalization by BFSI Companies to Boost the Market Growth
The adoption of digitalization and automation has made banking, finance services and insurance (BFSI) companies witness remarkable changes in their processes. It has provided huge transparency and efficiency in the payment processes. Processes such as loan sanctioning, investments, among others that required client's physical presence for the signature.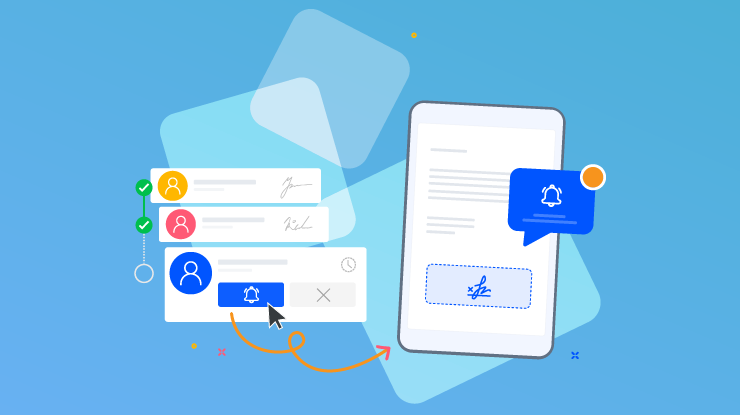 3. Increasing Demand for Better Customer Services
Similarly, the adoption of document signing app in the retail industry is improving its customer and employee satisfaction. The growing trend of e-governance across the countries is likely to drive market growth. In the same vein, healthcare is also steadily adopting digital systems for medical documentation and payment invoices.
4. Regional Insights
Regulations and acts are driving the demand for the implementation of these signatures across the industries in several regions of the world. Also, the significant presence of key providers in the country is likely to boost the market. For instance, the government of India is focusing on providing eSignature facilities and has passed a law under IT 2000 for legalizing eSignature. In China, the government has proposed eSignature Law and is highly promoting digitized signature for documentation.
The Latest Tech Trends in eSignature Software
1. Artificial Intelligence
Artificial Intelligence (AI), if paired with eSignature solutions, can help in eliminating the forgery of documents at a high level. AI has the potential to stop bots that impersonate humans on the internet. Thus, solutions incorporated with AI can help identify the signing authorities and ensure only the intended users are accessing the content.
2. Blockchain
The list of records termed as "blocks" is known as a blockchain. These blocks are interconnected to each other using cryptography. Each block contains an encrypted hash of the previous block, data corresponding to a transaction, and a timestamp. The information that each block contains cannot be altered without changing the other blocks and, thus, leads to tight security. These days, the signature maker software uses blockchain technology to record the modifications in the encrypted documents in the form of timestamps, so that unauthorized access to the content can be identified immediately.
3. Chatbots
The signature maker software can now integrate chatbots that help implement an effortless and secure way to get eSignatures. The virtual assistants can directly exchange documents with customers and associates without switching to any other application. With this technology's help, you can carry out the e-signing process without any interruption and provide extraordinary customer experience.
Best Online Signature Maker
Here are this week's top performers on the best online signature creator software charts:
1. Sign.cc
Developed by 500apps, Sign.cc this is one of the best e-signature software as it allows you to keep your documents in order and manage as needed with its bulk, tag, and status options. With comprehensive reports, it helps boost your revenue by visualizing how many documents were completed, pending, or declined.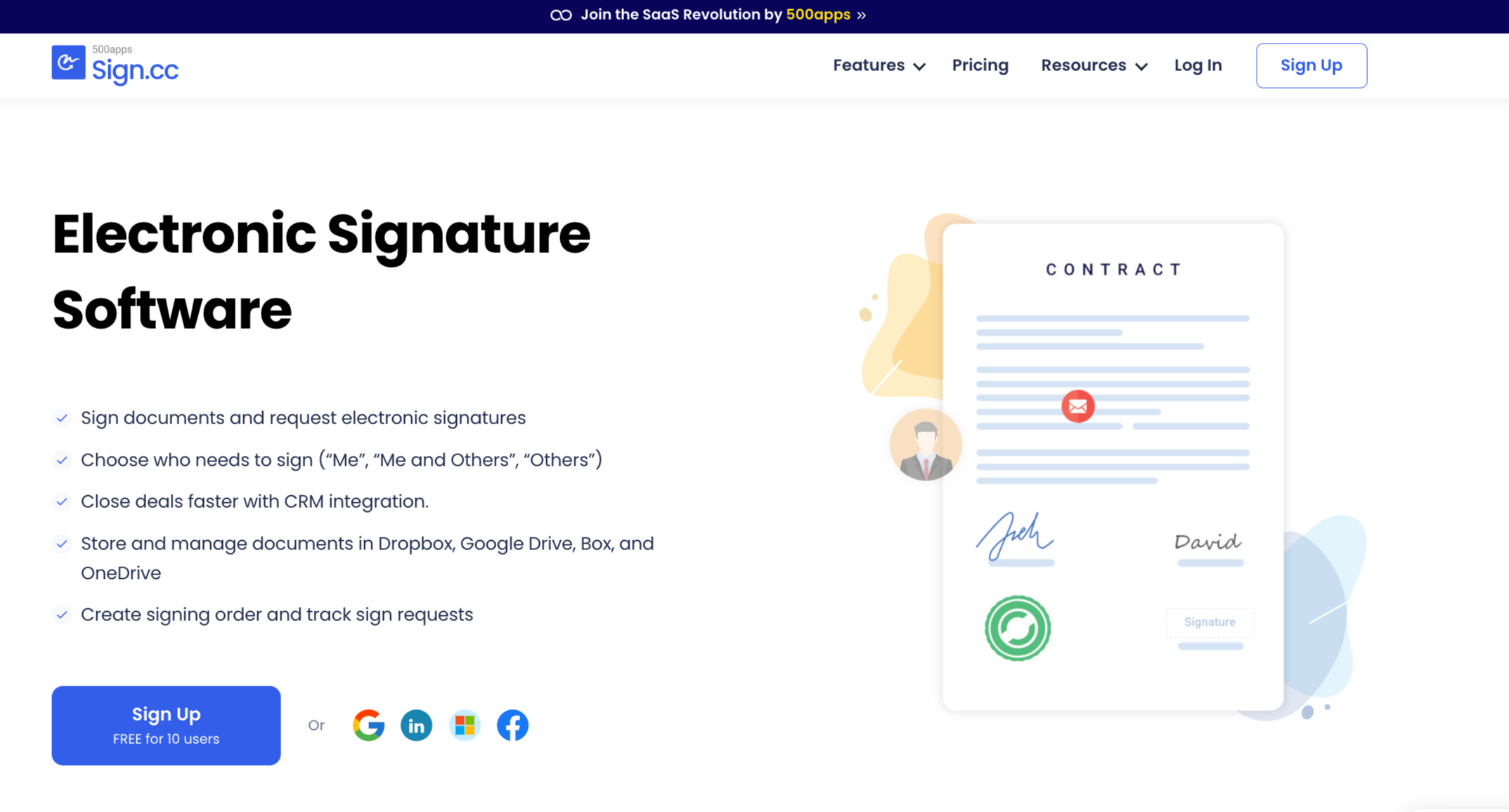 2. Adobe Sign
Adobe sign is one of the best online signature maker software because it is perfect for small businesses that need a simple, straightforward, and secure way to sign documents.
3. DocuSign
DocuSign is one of the best online signature maker software, built to help users send, sign, and manage documents. The platform packs a suite of robust tools including electronic signature, contract lifecycle management, document generation and negotiation, and agreement analytics to enable companies to streamline the agreement process.
Features of Best Online Signature Creator Software
The best online signature creator software must provide these features:
1. Security
ESignature documents contain personal information which makes it essential to protect them. The software safeguards information by allowing you to secure access with proactive protection policies and multi-approved privileges.
2. Privacy
The best eSignature maker software must be able to allow multiple users utilize it simultaneously, and each of them is provided the right to selectively reveal information and perform transactions discreetly.
3. Compliance
ESigned documents need to comply with industry regulations, laws, standards, and policies. If an eSigned document does not comply with industry requirements, it may have legal consequences, and the company will be held responsible for activating it.
4. Audit Trail
This feature is essential for enforceability as it enables users to eSign documents in a reputable and reliable manner.
5. Scalability
The best online signature maker software must be designed to be scalable to meet the needs of multiple industries and businesses. This allows the solution to accept a high number of documents without impacting performance.
Benefits of Using The Best Online Signature Creator Software
These are some of the major benefits using the best online signature creator software: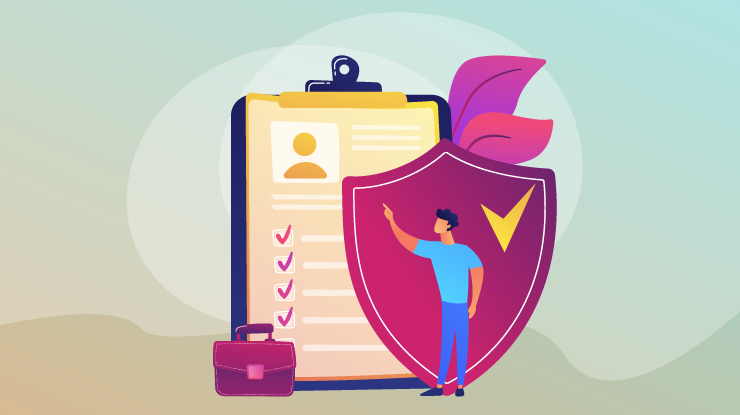 1. Lower Costs
By shifting to a paperless process, you can enjoy plenty of direct savings including ink, paper, shipping, and printer maintenance costs.
2. Improved Customer Relationships
Today, customers do everything online using even mobile devices. Therefore, eSign has become essential for your company to provide them the convenience of being able to sign documents online without needing to download or install anything. This facility enhances your customer relationships by making it easy and fast for them to transact with your firm.
3. Faster Payments
Since documents are eSigned quickly and easily, there is swifter contract turnaround. Plus, it's also simpler to speedily execute contracts that need multiple signers.
4. Enhanced Document Security
Paper documents could easily get lost or stolen from your office cabinet. Plus, they are vulnerable to tampering and alterations. Using the best online signature maker software helps you avoid those risks as you can protect your documents with reliable security and evidence.
Businesses can play a major role integrating top electronic signature solutions throughout the industry. Sign Up 14 Day Trial
Conclusion
Companies that adopt eSignature solutions reduce document handling expenses by a whopping 85% and on average also save 80% on shipping costs when they go paperless, on average. The popularity of eSignatures continues to grow. Globally, the amount of eSignatures is projected to grow 34.7 percent annually.
Much like these statistics, the merits of electronic signature software include far more than the signing process itself. From cutting costs to increase workflow and data security, digitizing documents ranks far superior to traditional pen and paper. We have highlighted the best online signature maker software for the week as well as other helpful information.
Discover Why Sign.cc Stands Out
#1
Get digital signatures on documents like sales contracts, employee HR letters, and more
#2
Create components like signature, date, initials on document via drag and drop builder
#3
Enable multi-party signing and share documents to multiple users
#4
Choose from 15+ scenario based pre-designed templates
#5
Upload documents from your local system or cloud providers like Dropbox, Google Drive and 500Box
#6
Track individual signee status for each document
#7
Send documents for signature from your favorite CRM software like CRM.io
#8
Set a hierarchical order for signing documents
#9
Unbelievable pricing - the lowest you will ever find
#10
Everything your business needs - 50 apps, 24/5 support and 99.95% uptime
Join the SaaS Revolution
All-in-One Suite of 50 apps

Unbelievable pricing - ₹999/user

24/5 Chat, Phone and Email Support