Ocean of Electronic Signature Software: Choose the Best One for You
The electronic signature software, just like every other software, is scattered across the internet. Day by day, new ones with special functions and capabilities are introduced to the market. One needs to therefore be on the lookout for the best eSignature tools that would serve the essential purpose in an organization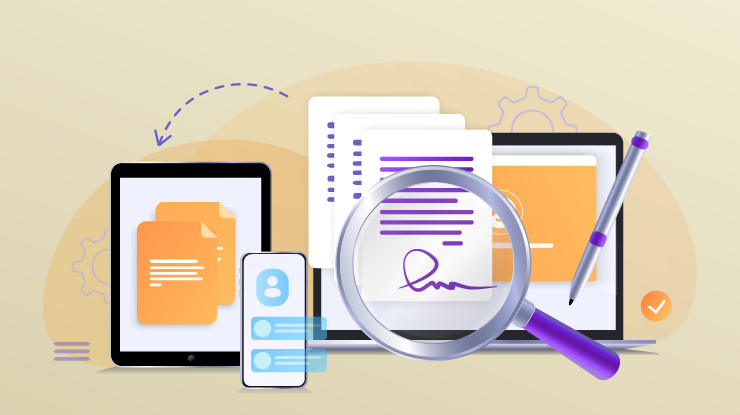 Electronic signatures have made digitization so much easier. Today, you can conveniently share and sign a digital document via electronic signature software. However, in the neverending list of eSignature software, finding the best one with varied capabilities can be a tough choice. It is therefore essential to consider certain factors to find the right electronic signature software that fulfils the organizational requirements.
According to P&S intelligence, "the electronic signature market size is estimated to attain a value of $25,211.3 million in 2030, while the market will advance at a CAGR of 29.2% during 2021–2030". Also, the electronic signature market can be classified into service, software, and hardware, based on its components.
To choose the best eSignature software provider among the numerous ones available out there, the following criteria should be considered:
1. User Experience
When choosing the best electronic signature maker, the signing experience for users should be as easy as possible. Business transactions, contracts, and agreements are sealed virtually from anywhere with any device; it is, therefore, important to ensure that the electronic signature tools to be adopted should offer hassle-free and seamless signing procedures. Whether a desktop or mobile device, the electronic signature tools should be easy to use and designed with a standard layout. There should be no need to zoom in or out to navigate through the electronic signature tools.
Your employees should not find it difficult to use; the instructions should be straightforward and intuitive. It should be designed to enable a positive user experience. In this tweet by Audit Dashboard, it announced that electronic signatures had been incorporated as a result of its intuitive user experience.
2. Integration
When choosing the best from the ocean of electronic signature markets, always ensure that the software integrates other apps used in the organizational activities. For a business organization with several sections and units, it is essential to go for the best in the electronic signature market.
For instance, in an organization that uses apps such as Jobvite, Workday, CRM Software and SmartRecruiter for its existing Applicant Tracking System (ATS) and Human Capital Management (HCM), ensure that the electronic signature tool can be integrated with this app already in place to make it easier for your employees to carry out their day-to-day functions. Also, ensure that the electronic signature software can be integrated with popular applications such as Salesforce, Oracle, and Google. This is very important.
3. Security Standard
Another factor to consider in choosing electronic signature tools is the level of their security.The electronic signature software should meet global security standards. There are Several tools in the electronic signature market that compromise the security of its users. They are mostly from substandard vendors, and for unsuspecting customers, it is hard to detect until serious damage has occurred.
There are over 100 countries that legally accept eSignatures, and they all have stringent security standards. Whatever electronic signature software you are incorporating should meet and exceed both the home country security standard and the global standard. Also, the electronic signature software should be designed to offer support and security resources to you as the customers. The cybersecurity firewall and threat intelligence embedded in the electronic signature tools should be certified by a compliance team. In the case of a loophole, it should be rectified across all the software.
4. Privacy
Privacy of documents and information signed is very important. Business organizations that deal with sensitive information, such as banks, insurance companies, health care institutions, law firms, and a host of others, should ensure that only electronic signature maker that prioritize the privacy of data and information should be embraced. Documents, agreements, and contracts signed using electronic signature software are very important, and keeping this data and information private should be a top priority.
Different countries have their privacy laws for electronic information and communication. For instance, in Canada, The Personal Information Protection and Electronic Documents Act (PIPEDA) was promulgated to ensure individual privacy across all digital platforms by electronic signature tools. There are general data protection regulations and personal data protection regulations with laid down penalties for developers in the electronic signature market that compromise the security of its customers. Data and documents such as health care information, financial transaction details, intelligence communication fall under personal data protection and should maintain the highest level of privacy.
5. Free Trial
Another important factor to consider when choosing apps from the electronic signature market is to go for those electronic signature tools that allow free trials. Business organizations should be wary of electronic signature software that provides a free trial period before subscription. The electronic signature software should allow you to try out their basic features (if not all) and tools for a while to know if they will suit your business purpose and integrate with existing tools.
During the free trial, your employees should try the sender and recipient interface, append their signatures and go through contracts using different devices, forward out various documents in different formats to different destinations, invite software developers to explore the API to know about its custom, general integration, and modification with other tools. The following criteria will enable you to narrow your options to the best and select the electronic signature tools that tick all the boxes, which would be adopted in your organizational activities.
Furthermore, for this article, we have tested several electronic signature tools concerning the criteria explained above, and we have been able to identify the best ones to choose. Also, several criteria such as pricing plan, innovation, mobile experience, and a host of others should be considered. They include;
Ready to streamline project planning process and enhance team productivity with Projectsly? Sign Up 14 Day Trial
Several Electronic Signature Softwares
1. Sign.cc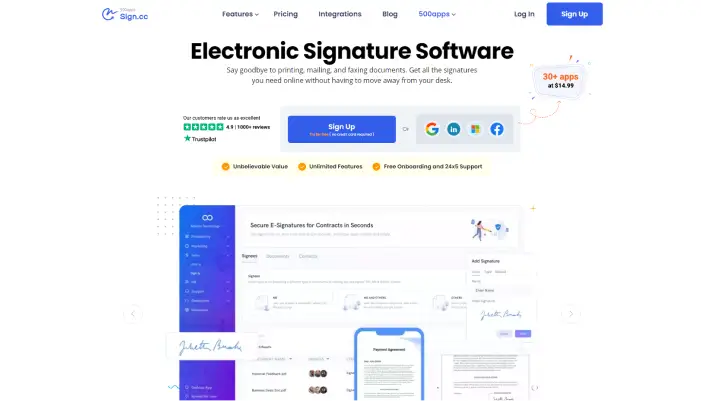 Sign.cc is unarguably the best software in the digital signature market due to its functionality and ease of usage. It allows business organizations to send documents from any location with any device in any format, track the status of your signature request, and set reminders for when it's signed by the other parties involved.
With Sign.cc you can also design a signing custom contract template and use it whenever needed; this saves the time expended in making new signatures, especially when numerous employees in an organization need to append their signature to another document. For a user finding difficulty getting a uniform signature, the software customizes your signature without losing its authenticity. The Sign.cc signature developer protects your signature by 128-bit encryption. With this software, your confidential information is adequately secured. With a yearly subscription of $14.99, you have access to over 37+ apps and functions.
2. Adobe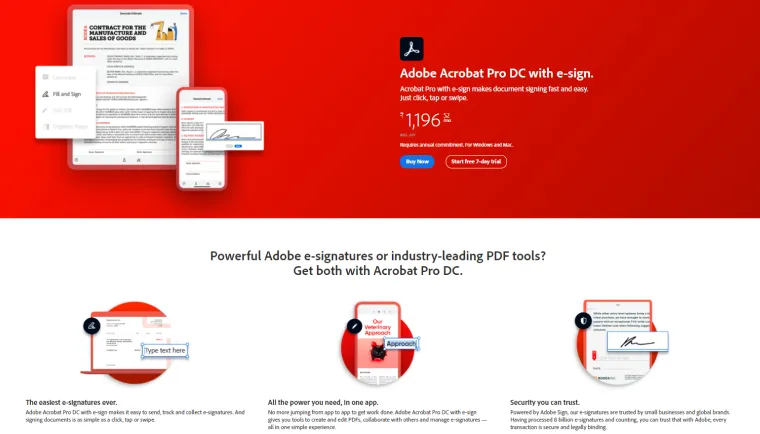 Adobe is a household brand in the software industry. Their electronic signature software is easy to use and reliable without compromising the confidentiality and privacy of your information. The Adobe software allows you to edit PDFs and manage your signatures. It also allows you to make and receive payment via PayPal and Braintree by appending your signatures on the go. The Adobe Acrobat PDF package, Acrobat Pro-DC, and Advanced Acrobat Pro-DC have electronic signature tools embedded in them. Their subscription charges are $9.99, $14.99, and $19.99, respectively. These subscriptions are monthly, and they come with free trials.
3. KeepSolid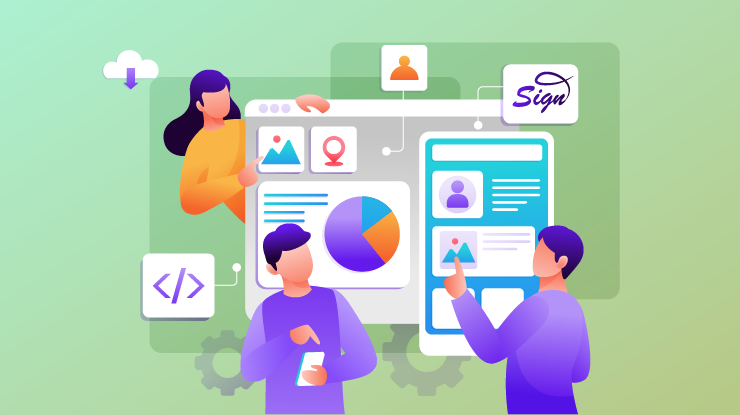 KeepSolid has a unique feature compared to other digital signing software. It supports offline-signing; you can sign your documents without internet access, and once you are connected to the internet, the copy gets sent to its recipient. For business partners in remote areas without a network connection or a poor one, you can go through the document, make necessary corrections, append your signature. As soon as you get to where there is a network connection, it automatically gets sent. Keep solid has another interface such as a video streaming platform, DNS proxy (VPN), and a host of others. The keep solid plans are pretty cheap compared to other software. With $3.99, you have access to a month's plan, $19.99 for a year plan, and $99.99 for a lifetime plan. You can enjoy the free trial before subscribing to any of the plans.
4. DocuSign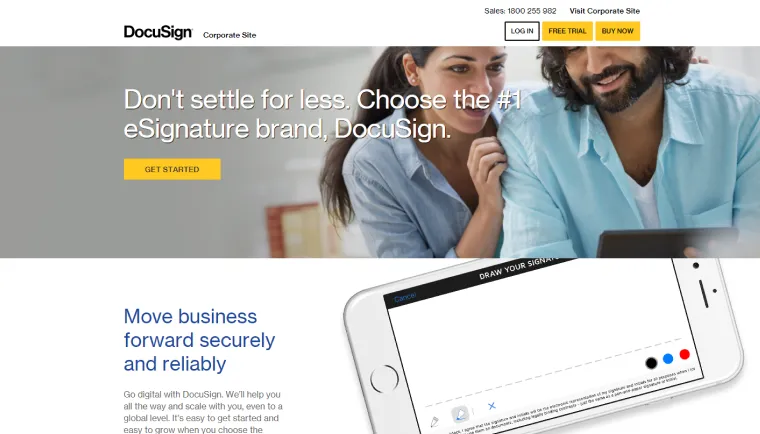 DocuSign is another electronic signature software that is available in over 40 languages. With DocuSign, scanning and sending the scanned document after signing have been integrated into the software. For a business organization using DocuSign, you do not need a separate scanner to scan your documents; it already has an automatic scanner.
DocuSign boasts of over one million subscribers; that is relatively low compared to Sign.cc. With DocuSign, you can automate your entire agreement process and manage the contract life cycle. With its contract analytics tool, you can analyze and negotiate agreements seamlessly. This electronic signature tool enables you to handle personal information such as health records, only accessed when you append your signature. It allows integrations with other software such as Google Suites, Salesforce, Workday, among others. DocuSign has a free trial for 30 days; $10 per month for the personal subscriptions, $20 per month for realtors, $25 per month for a standard subscription, and $40 per month for business pro.
5. HelloSign
HelloSign is also one of the best and reliable software in the electronic signature market. It is designed to allow for integration with applications such as Google mail, Google Drive and Google Docs. It also imports documents from Dropbox, Evernote, and other related software.
HelloSign is available on a web interface and API (Application Programming Interface). When you need someone or your co-employees to append their signature or sign an agreement, add the document in a file type into the HelloSign software, insert the recipient's mail, and create a signature box. It automatically sends the copy and guides the receiver on how to append their signature. This makes it very easy to use.HelloSign has the essential plan for $15, while the standard procedure is $25 every month. It also has a free trial, but you must sign in with your email before accessing the free trial.
Conclusion
As we emphasized earlier, the electronic signature market is likened to an ocean saturated with numerous apps. It is therefore important to consider the criteria highlighted above to get the best electronic signature software tools. For unsuspecting business organizations that are new to the electronic signature market, we have also provided them with the best electronic signature tools to adopt. Of all these applications, Sign.cc is judged to be the best.
Discover Why Sign.cc Stands Out
#1
Get digital signatures on documents like sales contracts, employee HR letters, and more
#2
Create components like signature, date, initials on document via drag and drop builder
#3
Enable multi-party signing and share documents to multiple users
#4
Choose from 15+ scenario based pre-designed templates
#5
Upload documents from your local system or cloud providers like Dropbox, Google Drive and 500Box
#6
Track individual signee status for each document
#7
Send documents for signature from your favorite CRM software like CRM.io
#8
Set a hierarchical order for signing documents
#9
Unbelievable pricing - the lowest you will ever find
#10
Everything your business needs - 50 apps, 24/5 support and 99.95% uptime
Join the SaaS Revolution
All-in-One Suite of 50 apps

Unbelievable pricing - ₹999/user

24/5 Chat, Phone and Email Support