How eSignature Software Secures Sensitive Information?
Electronic signature software is the best application to sign documents and seal agreements. They allow you to embark on transactions from any point of location with your internet-enabled devices.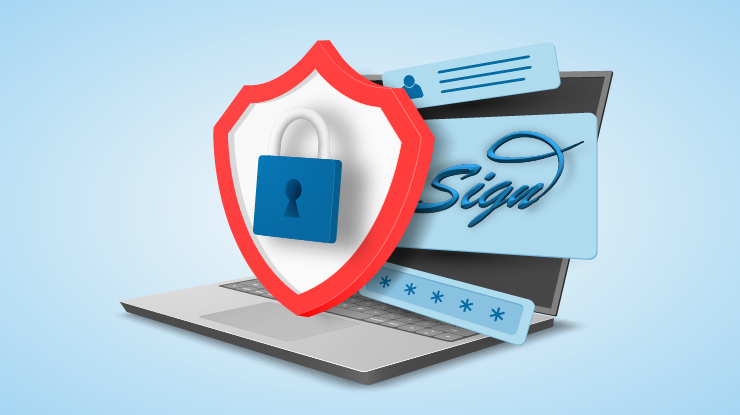 Evan Esar said a "signature always reveals a man's character and sometimes his name.
You, therefore, need a unique signature. Electronic signature software has taken over the conventional paper and pen signature. Contracts, invoices, legal agreements and other paperwork are signed over the internet with designed software for those purposes.
An electronic signature is simply the digital version of a regular signature. Signatures are stored on clouds and other storage devices, which can be retrieved by authorized users when needed. Sign.cc is an excellent example of eSignature maker.
How eSignature Software Helps in Securing Sensitive Information?
Individual, business organizations and government agencies are processing their non-disclosure agreements, bank documents, business contracts and school forms over the internet using the eSignature software. However, in this technology-driven era, providing high-level security and confidentiality to information and documents is becoming a significant threat that needs to be tackled squarely.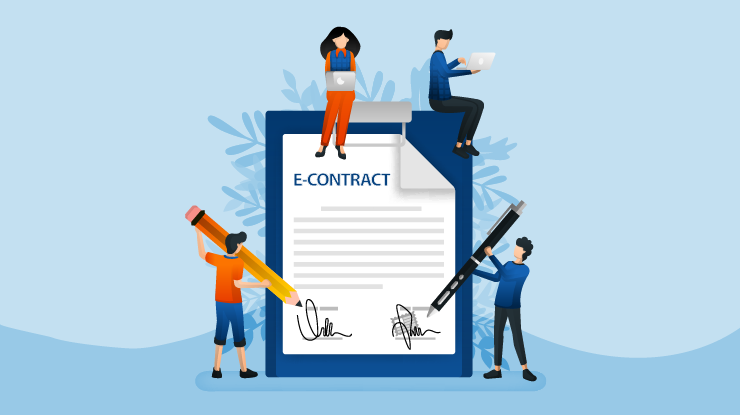 eSignature software now has several security tools and mechanisms incorporated into them to help in securing sensitive information. End-to-end security is provided by sophisticated digital document storage technology in storing sensitive business documents on a cloud platform. Authentication processes such as multiple passwords, fingerprint scanning, face identification and security questions have been incorporated into this eSignature software to improve security and guarantee the confidentiality of information and documents.
Also, electronic signature software allows businesses to keep track of document security and provides real-time updates on signature status. The software has been designed to monitor the number of people who have viewed the document, authorized and those who should not have access to it. It also shows how many recipients have signed the document and how many spaces have not been signed. You can then send reminder emails to those recipients who are yet to sign the document.
In addition, financial institutions such as banks, insurance companies and the likes have a sophisticated security firewall ranging from password encryption to access/passcode, which keeps unauthorized users from accessing confidential information and documents. Once you cannot provide the password or answer the security questions, you can not append your signature or check others' signatures.
There are several digital signing software. To secure your sensitive information, you need to go for the trusted and reliable ones without compromising their ease of usage, functionality and other essential features. The following eSignature software is suitable for securing confidential information ;
1. Sign.cc
Sign.cc is unarguably the best signature software due to its functionality and ease of usage. It allows users to send documents from any location with any device in any format, track the status of your signature request and set reminders for when it's signed by the other parties involved.
It also allows you to design a signing template and use it whenever there's a need for it. For a user finding difficulty getting a uniform signature, the software customizes your electronic signature without losing its authenticity.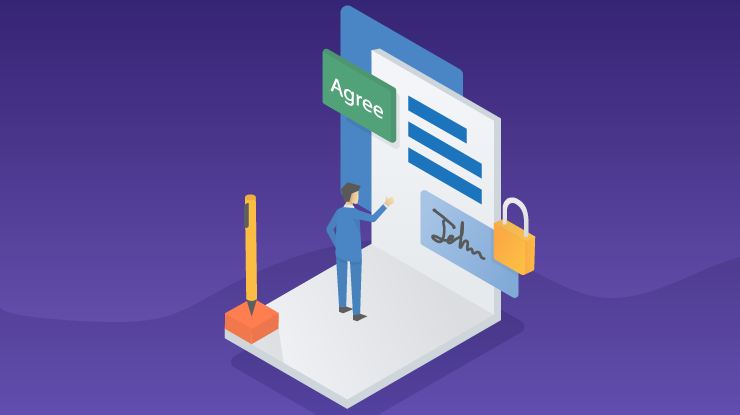 The Sign.cc signature maker protects your signature by 128-bit encryption. With this software, your confidential information is adequately secured. With a yearly subscription of $14.99, you have access to 39 apps and functions.
The world has turned into a global village; business transactions, agreements and numerous projects are executed daily across the internet. Sign Up 14 Day Trial
2. Adobe Sign
Adobe is a household brand in the software industry. Their eSignature software is easy to use and reliable without compromising the confidentiality of your information. The adobe sign software allows you to edit PDFs and manage signatures. It also allows you to make and receive payment via PayPal and Braintree by appending your signatures on the go.
The adobe acrobat PDF package, acrobat pro-DC and advanced acrobat pro-DC have the eSignature tools embedded in them. Their subscription charges are $9.99, $14.99 and $19.99, respectively. These subscriptions are monthly, and they come with free trials.
3. DocuSign
DocuSign is another electronic signature software that is available in over 40 languages. With DocuSign, scanning and sending the scanned document after signing have been integrated into the software.
DocuSign boasts of over one million subscribers; that is relatively low compared to Sign.cc. With DocuSign, you can automate your entire agreement process and manage the contract life cycle. With its contract analytics tool, you can analyze and negotiate agreements seamlessly. With DocuSign, you can handle personal health information, which can only be accessed when you append your signature.
It allows integrations with other software such as Google suites, Salesforce, Workday, among others. DocuSign has a free trial for 30 days; $10 per month for the personal subscriptions, $20 per month for realtors, $25 per month for a standard subscription and $40 per month for business pro.
4. HelloSign
HelloSign is also a good and reliable digital signature software. It is designed to allow for integration with applications such as Google mail, Google Drive and Google Docs. It also imports documents from Dropbox, Evernote and other related software.
HelloSign is available on a web interface and API (Application Programming Interface), and it is easy to use. When you need someone to append their signature or sign an agreement, add the document in a file type into the HelloSign software, enter the mail of the recipient and insert a signature box. It automatically sends the copy and guides the receiver on how to append their signature.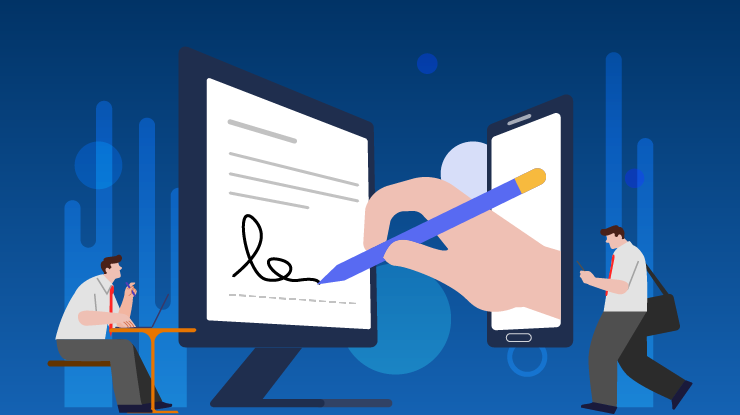 HelloSign has the essential plan for $15, while the standard procedure is $25 every month. It also has a free trial, but you must sign in with your email before accessing the free trial.
5. KeepSolid
KeepSolid has a unique feature compared to other digital electronic software. It supports offline-signing; you can sign your documents without internet access, and once you're connected to the internet, the copy gets sent to its recipient. Keep solid has another interface such as a video streaming platform, DNS proxy (VPN), and a host of others.
The keep solid plans are pretty cheap compared to other software. With $3.99, you have access to a month's plan, $19.99 for a year plan, and $99.99 for a lifetime plan. You can enjoy the free trial before subscribing to any of the plans.
Of all these applications, Sign.cc is judged to be the best in securing confidential information. Its security firewall is solid and reliable for any business or transaction.
Some Essential Touchpoints to Consider
It is essential to know that electronic signature software has numerous advantages and impacts on individual organizations and businesses. They include:
1. Security and Confidentiality
The foremost advantage of digital signature software is security. eSignatures are more secure than hand-written signatures. It is practically impossible to forge eSignatures.
Day by day, fraudsters are coming up with new ways to defraud unsuspecting individuals, mainly by diverting contract and agreement processes and forging signatures. With eSignature software, only those involved in the agreement process know when it is their turn to append their signature; this way, confidentiality is guaranteed. Also, you can track the process and be sure no party is compromising the process of trying to outsmart others.
Software such as Sign.Cc have their documents secured with 128-bit encryption, this way, it is tough to break through the security firewall and have access as an unauthorized person.
2. Speed and Time-Saving
With electronic signature, you eliminate the process of printing, sending, receiving, scanning and resending documents with eSignature software such as Sign.Cc, with just a few clicks, all the above processes have been completed and can be tracked using in-built time tracking software.
The process involved in physical signing and agreement is always long and time-consuming. You have to print the documents, append signatures, scan those documents, and forward them to other recipients. Sometimes, one or two parties to the agreement may be unavailable; you will have to exercise patience for them to go through the contract and append their signatures too.
It is essential to know that electronic signature software has numerous advantages and impacts on individual organizations and businesses. They include:
3. Legitimacy and Authenticity
Document signing app over the internet are authentic and legit. They are as legal as those signed with paper and pen. You do not have to worry about signing the wrong document or other discrepancies that characterizes the pen and paper signing.
There's no risk of signing fake documents or mixing up during transportation from one desk to another. The paper gets delivered directly, in its original form, to the recipient and back to the sender. This way, all parties involved are resting assured that the agreement is genuine and authentic.
4. Storage and Space
eSignature software does not require physical storage; they are processed over the internet and stored in clouds. You do not have to worry about space to keep your documents or folders.
Physical storage facilities such as shelves, stores and cabinets occupy space and are always hard to retrieve. Most offices find it hard to recover contracts and agreements from tons of documents that have been processed over time and piled together.
As a result, documents and files are destroyed or even tampered with as there is little or no security in those spaces where they are kept.
With digital signature software, the primary storage devices or cloud storage has enough space to store these documents and can be retrieved when there is a need for them.
5. Versatility
With a digital signature, you can sign your document anywhere with any device if you are connected to the internet. In times of emergency or urgency, you log into your device and complete your transaction.
Electronic signature software enables you to go through documents and sign them from anywhere in the world. From the comfort of your home, while on vacation, in the middle of a meeting, as long as you are connected to the internet, you can append your signature and strike that deal.
Conclusion
The world has turned into a global village; business transactions, agreements and numerous projects are executed daily across the internet. With electronic signature software, the parties involved do not need a physical meeting to append their signature and give it legal backing. This electronic signature software has been developed to perform these functions.
Virtually all organizational activities and processes have now been digitized. At the peak of the coronavirus pandemic, many professionals were working from home; contracts were signed, documents were sent, and meetings were held over the internet. With the use of software such as a Sign.cc and other software developed by 500apps, you rest assured that your organizational activities have been automated and easy to embark on.
Abdul Kalam, in his famous quote, said, " success is when your signature becomes an autograph." It is pertinent to know that Sign.cc can sign both signatures and autographs.
Discover Why Sign.cc Stands Out
#1
Get digital signatures on documents like sales contracts, employee HR letters, and more
#2
Create components like signature, date, initials on document via drag and drop builder
#3
Enable multi-party signing and share documents to multiple users
#4
Choose from 15+ scenario based pre-designed templates
#5
Upload documents from your local system or cloud providers like Dropbox, Google Drive and 500Box
#6
Track individual signee status for each document
#7
Send documents for signature from your favorite CRM software like CRM.io
#8
Set a hierarchical order for signing documents
#9
Unbelievable pricing - the lowest you will ever find
#10
Everything your business needs - 50 apps, 24/5 support and 99.95% uptime
Join the SaaS Revolution
All-in-One Suite of 50 apps

Unbelievable pricing - ₹999/user

24/5 Chat, Phone and Email Support