How to Use Electronic Signature Online?
Electronic signatures are an efficient way of signing documents, contracts, and other agreements online. They benefit the users in several ways and allow them to sign from any device conveniently. Online Electronic Signature tools benefit businesses by allowing them to optimize their internal and external workflow effectively.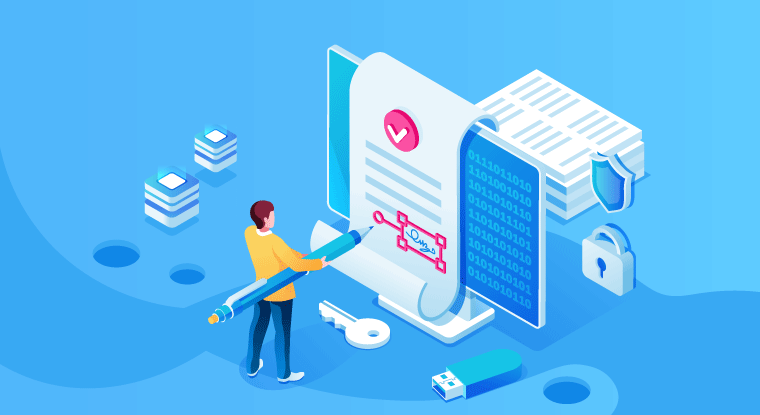 What is Electronic Signature Online?
A person uses an electronic signature (also known as an eSignature) to sign and validate an online contract or record. Electronic signatures are a legal alternative to handwritten signatures. eSignature online allow signees to write their name, upload a picture of their written signature, or create/draw a signature on their choice of device. Electronic signature tools verify the signature used on the document by electronically generating unique digital IDs. By implementing electronic signature online platforms, brands are providing a better user-friendly service to their clients.
Features of Electronic Signature
There are highly efficient features of Online Electronic Signatures that can benefit a user personally and professionally. Listed below are a few of such features.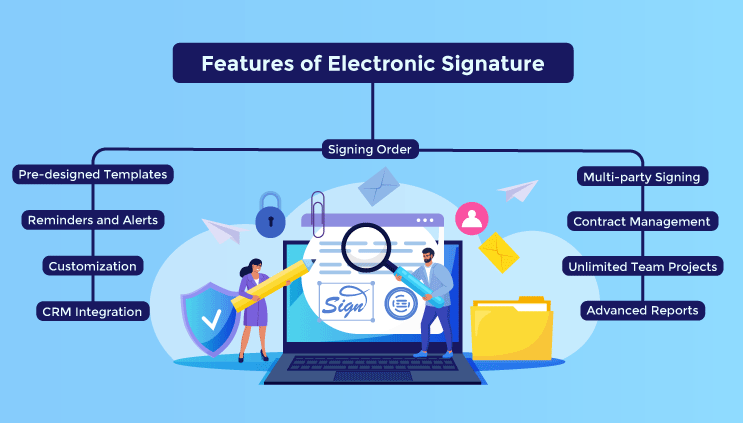 1. CRM Integration
The CRM integration feature of electronic signature softwares allows you to arrange all of your documents in CRM and create rules for obtaining signatures on professional documents. Merging data, tracking progress, and importing documents from the cloud are all included in this functionality. The CRM allows you to track status in the funnel view, manage document signatories, and generate reports. CRM connectivity with a wide range of corporate solutions enables you to import proposals, quotations, sales documents, contracts, etc.
2. Customization
Customization is integral to many electronic signature software, making document creation easier. Some key customization features include sketching unique signatures, uploading them, and utilizing initials with handwritten fonts to create and modify electronic signatures. Customization allows you to meet the client specifications, change the shape and proportions of the features, and sort components that are accessible.
3. Reminders and Alerts
The email reminders feature ensures that documents are signed on time by sending signers email reminders and alerts so that they do not overlook the documents. Several electronic signature maker offer email personalization and tracking functionality and send out quick notifications to remind signers of the tasks and signatures that must be completed and delivered on time.
4. Pre-designed Templates
Contract creation is easier and faster using pre-designed templates. Choosing a template and customizing it with your changes, such as terms and conditions, before saving it as a DocX or PDF document can be practical in corporate scenarios. Documents like Non-Disclosure Agreement, Sales Agreement, Service Contract, and Sales Quotation are common examples of pre-designed templates that companies frequently use to reach an agreement with another company.
5. Signing Order
Before sending a document to be signed, the signing order functionality is used to determine the signing order. This function can assist in obtaining signing orders for professional documents so that eSignatures can be completed quickly. Authentication, a customized signing workflow, and setting up reminders are all included in this feature.
6. Multi-party Signing
The multi-party signing feature sends numerous signature requests to different authorized users. Multi-party signing unifies the firm's data environment while keeping a distinct business workflow. Authentication and real-time preview are part of the feature.
7. Contract Management
A contract outlines the rights and duties of each participant. Contract management, also known as contract lifecycle management (CLM) or contract administration, entails organizing, auditing, and legal reviewing electronic signature contracts and stakeholder negotiation. Workflow templates and immediate access are a part of this functionality.
8. Unlimited Team Projects
Multiple signature requests can be initiated and assigned to numerous people across teams using the limitless team project functionality. Multi-party cooperation, customized signature workflow, speedier answers, and cloud importing and exporting are all included in this feature.
9. Advanced Reports
Advanced Reports automates the creation of stats and reports. Every report segments into several updates, each focusing on a different interpretation of the data. Advanced reports can provide you with a better understanding of your document workflows. It aids in analyzing critical workflow parameters such as order forms received, contracts signed, and invoices paid. You may view complex data with widgets and succinct graphs, as well as track any changes with comprehensive reports.
Electronic signatures save time and decrease expenditure as they do not involve any paper. Sign Up 14 Day Trial
Steps to Use Electronic Signature Online
Step 1
Download a suitable online tool that is required to create an electronic signature. Depending on the design and functionality, some electronic signature softwares give trial versions, while others need one-time or recurring payments.
Step 2
Using high-end software, upload your eSignature online or draw it on the screen using touch screen devices like smartphones or a mouse for desktops. Uploading can be as simple as photographing the handwritten signature and transferring it to your smartphone for eSigning purposes.
Advantages of Using Electronic Signature Online
There are five advantages of using an Online Electronic Signature.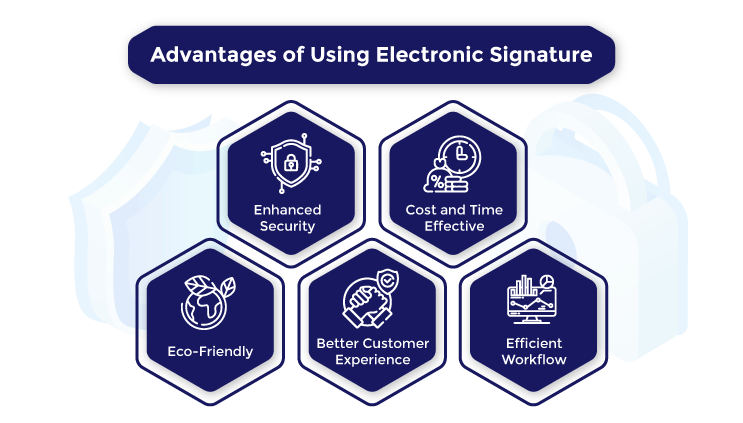 i) Enhanced Security
Using Online tools for electronic document signing allows you to have improved security on documents mailed across platforms for signing.
ii) Cost and Time Effective
Electronic signatures save time and decrease expenditure as they do not involve any paper, allowing companies to cut courier or printing services costs.
iii) Eco-Friendly
A document electronically signed is also processed electronically. The document does not need printing and prevents the usage of paper. This reduces the number of trees cut down to produce paper, thus benefiting the environment.
iv) Better Customer Experience
Collecting signatures and approvals on several documents without printing a single page can speed up the process. Clients may sign quickly and easily from any location using any device, ensuring satisfaction.
v) Efficient Workflow
A business can easily see who has opened, signed, or approved the document and who is causing delays. Without the physical paper, you will have a complete paper trail of who accessed the document and when. Users are accustomed to the eSignature experience and prefer the simplicity of signing a document immediately from their devices, regardless of who their clients are or where they are situated. It allows you to boost collaboration; and keep projects going, collect permissions and signatures from many parties in whatever order you like.
Summing It Up
If you want to produce electronic signature software, you can do so through various methods. All you have to do is choose which online electronic signature program to utilize. With eSignatures, you can streamline your company's operations and get contracts signed faster. Furthermore, distance will no longer impede important agreements delivery on time. These web solutions will make your company efficient and help your business grow exponentially.
Sign.cc by 500apps is an online Electronic Signature application that allows users to sign documents in various formats. It is one of the best due to its ease of use, superior functionality, and versatility. Sign.cc has made doing business easy, faster, and more secure. Electronic signature software makes it easier for a small or large team to work together. Sign.cc is a part of a bundle of 39+ apps of 500apps infinity suite to support all essential tasks in your business.
Discover Why Sign.cc Stands Out
#1
Get digital signatures on documents like sales contracts, employee HR letters, and more
#2
Create components like signature, date, initials on document via drag and drop builder
#3
Enable multi-party signing and share documents to multiple users
#4
Choose from 15+ scenario based pre-designed templates
#5
Upload documents from your local system or cloud providers like Dropbox, Google Drive and 500Box
#6
Track individual signee status for each document
#7
Send documents for signature from your favorite CRM software like CRM.io
#8
Set a hierarchical order for signing documents
#9
Unbelievable pricing - the lowest you will ever find
#10
Everything your business needs - 50 apps, 24/5 support and 99.95% uptime
Join the SaaS Revolution
All-in-One Suite of 50 apps

Unbelievable pricing - ₹999/user

24/5 Chat, Phone and Email Support