Why Government Should Adapt Digital Signing Software?
Digital signatures are now used by over 1,300 federal, state, and municipal government entities in all 50 states to complete electronic forms, applications, and correspondence.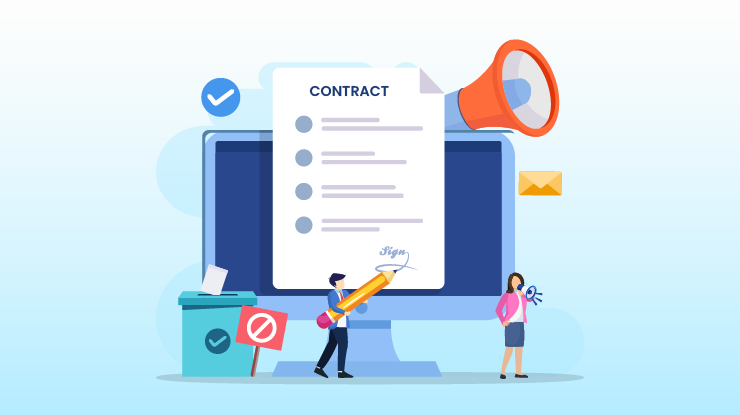 Digital signatures were adopted as the foundation for government entities to investigate a more digital citizen experience. Digital signature technology has also aided agencies in scaling to meet rising demand, operating more efficiently, and reducing hard expenditures such as paper, ink, and mail.
Digital signatures are exactly what they sound like: signatures that you sign using your computer or mobile device electronically. They can be used to approve anything from invoices and purchases to contracts and government documents.
What to Look for in an Digital Signing Software for Government Agencies
When your government agency selects an digital signing software, keep the following in mind:
A dependable vendor with a successful track record
Choose a solid platform that is built for enterprise-level needs, invests in digital transformation, and caters to the needs of mobile citizens.
A straightforward solution that may be applied right away
Choose a simple solution to adopt because it will be more useful to your company.
A cost-effective solution that interfaces with your existing applications
It's possible that additional payments or code will be necessary. Some integrated solutions might not be right for everyone. When in doubt, simpler is always preferable.
A wide range of legal difficulties and regulations are addressed
Look for a seller who can aid you with legal matters. Compliance necessitates a full knowledge of the laws.
A reputable security vendor with a proven track record
Your solution should keep your data and documents safe wherever they move.
Why Government Should Adapt Digital Signing Software
1. Legacy Digital Signing Softwares are Associated with Increasing Uncertainty and Costs
Adoption is uncertain when a state or local government makes a form available online for the first time since people can no longer physically attend to a government field office to fill out paperwork manually owing to pandemic mitigation efforts. Officials from the government have no idea whether 50,000, 100,000, or more individuals will utilize the eSignature maker that the government offers as part of its digital offering.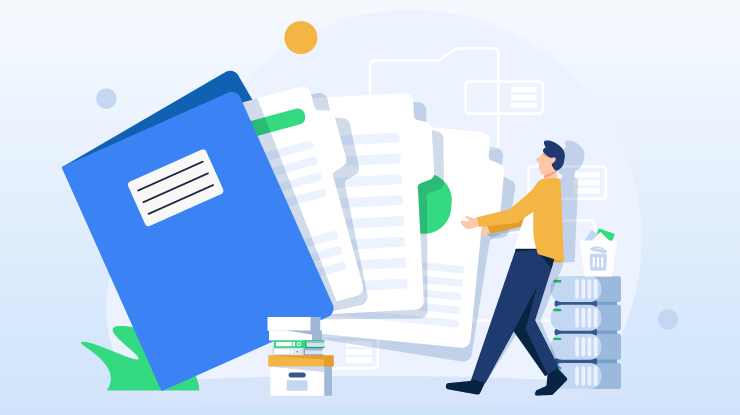 This is concerning for a government because many standalone digital signature products in the market are now priced on a "per transaction" basis. In this aspect, legacy signature systems are out of date, and they can stifle the adoption of new digital processes at a time when delivering services to constituents via digital platforms has never been more important.
2. Standalone Digital Signing Software Commoditization
Although the value of digital signature is obvious, the government is only now realising what industry has known for a long time: standalone, older digital signatures have essentially become commoditized. Whereas there was formerly a sizable market for standalone document signing app, the changing needs of government clients and the availability of new government digital transformation solutions.
Governments are increasingly asking why they should have to pay each transaction or integrate numerous vendor solutions in order to have a complete workflow automation platform with digital signature. Why should the government pay for digital signing software separately or each transaction when the capacity is already built into native solutions in comprehensive automation platforms?
As the use of digital transactions in government grows, the current pricing model for digital signatures is no longer viable. If a government is stuck paying for digital signatures every transaction, the prices could skyrocket if a larger-than-expected number of individuals utilize the digital government form, causing a big budgeting problem.
Furthermore, by combining two or three distinct products to form a complete workflow automation solution, an agency or department risks being stymied by a mediocre workflow product and burdened by several vendor contracts to handle.
3. The Times' "Sign"
The government now expects the same functionality and price mechanisms as are now used in the commercial sector. Why would the government give anything different if individuals are already accustomed to creative and simple workflows, forms, and online signature experiences?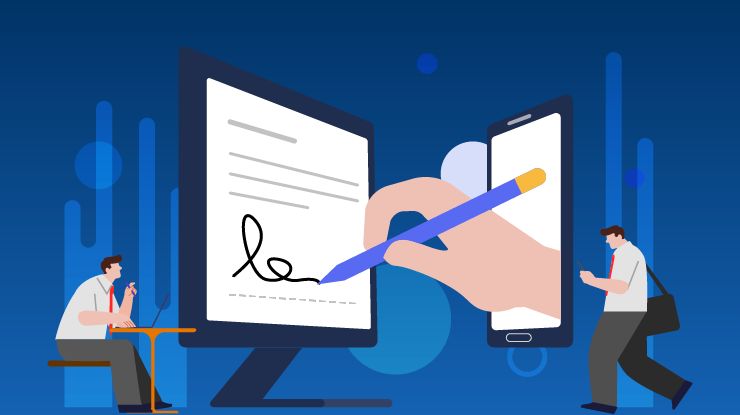 Complex, exorbitantly long time-to-value implementations are basically obsolete. The time it takes for governments to deploy innovative solutions is no longer measured in months or years. They have weeks, if not days, to complete it. Furthermore, every tax dollar spent must generate an immediate return on investment. The government has begun to employ cloud-based, SaaS solutions for processes, forms, and e-signatures.
4. With an Digital Signing Software, You Can Fulfil Your Digital Destiny
To completely modernise government services, it's time to get rid of the final remaining bottlenecks in your workflow and go full throttle with digital signatures. Nobody likes to deal with cumbersome paper-based forms these days. And everyone expects a fantastic experience across all platforms. Every encounter and touchpoint has an impact on your capacity to complete your mission effectively and efficiently. You'll also accomplish agency goals and comply with legislative obligations driving digital transformation if you exceed expectations by delivering consumers exactly what they want and need when they need it. By incorporating digital signatures into your process, you'll be able to deliver government services faster and more easily to everyone. It entails signing processes that are quick, fluid, and streamlined, delighting citizens and businesses alike. Digital signatures were adopted as the foundation for government entities to investigate a more digital citizen experience. Sign Up 14 Day Trial
Are Digital Signatures Legally Binding?
Your legal signature is required on government forms. Is it still legally binding if you provide a government signature with a click of a button rather than an ink pen? Yes, it is correct.
Digital signatures are now as legally binding as physical signatures according to the E-Sign Law of 2000. An digital signature is a possible solution to sign documents from any device if you're seeking for an easier approach to authorise government forms.
Digital Government Signatures Come in a Variety of Forms
The E-Sign Act is vague about what constitutes an digital signature. It simply has to be something specific to the user. The following are some of the commonly used digital government signatures:
Name typed out
PIN or password that is unique
Biometrics
A voiceprint, a sign, or a sound
Handwritten signature that has been digitised
Encryption technology is used to create electronic signature.
Some digital signatures are considered to be more secure than others. An encrypted digital signature, for example, is far more secure than your whole name printed in a curly font. Depending on the purpose of the government form, you may wish to utilise a higher-security eSignature online option.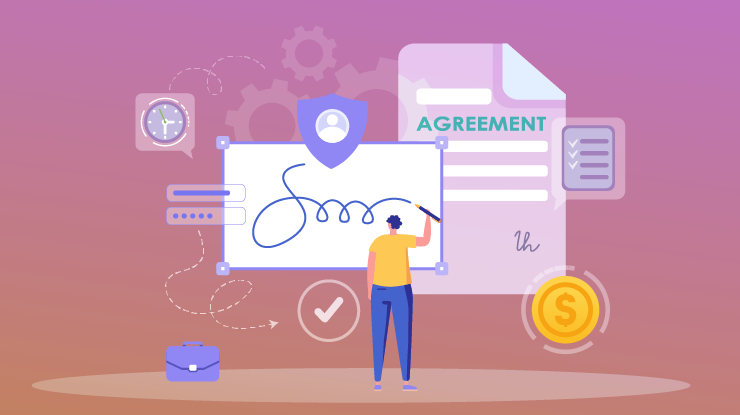 Conclusion
The government is moving faster than ever to provide constituents with digital services. Using out-of-date, legacy solutions does not fit within the new government digital transformation paradigm. An electronic signature software software Sing.cc is part of a new wave of cloud-based, innovative government solutions that are reinventing what is possible today.
Discover Why Sign.cc Stands Out
#1
Get digital signatures on documents like sales contracts, employee HR letters, and more
#2
Create components like signature, date, initials on document via drag and drop builder
#3
Enable multi-party signing and share documents to multiple users
#4
Choose from 15+ scenario based pre-designed templates
#5
Upload documents from your local system or cloud providers like Dropbox, Google Drive and 500Box
#6
Track individual signee status for each document
#7
Send documents for signature from your favorite CRM software like CRM.io
#8
Set a hierarchical order for signing documents
#9
Unbelievable pricing - the lowest you will ever find
#10
Everything your business needs - 50 apps, 24/5 support and 99.95% uptime
Join the SaaS Revolution
All-in-One Suite of 50 apps

Unbelievable pricing - ₹999/user

24/5 Chat, Phone and Email Support