8 Best Digital Signature Software in 2022
A digital signature, a type of electronic signature, is a mathematical procedure commonly used to confirm the validity and integrity of communication like an email, a credit card transaction, or a digital document. Digital signatures generate a unique virtual fingerprint for a person and are used to identify users and safeguard information in digital messages or documents.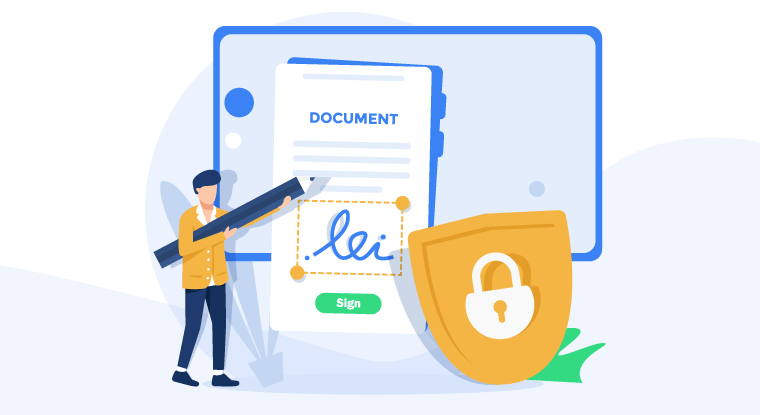 A digital signature software is required to create a digital signature. Whether you need to manually sign a PDF or a complete solution that allows your customers or clients to sign electronically, digital signature software can meet all your demands.
The top digital signing apps automate and streamline your signing procedures while improving customer service and document management. Continue reading to discover more about the eight best digital signature software that will allow you to sign papers and get back to work rapidly.
How do you create a digital signature?
Step 1
A digital signature online is created using hash algorithms or a combination of methods such as the Digital Signature Algorithm (DSA) and RSA (an algorithm named after its inventors, Ronald Rivest, Adi Shamir & Leonard Adleman), which employ public and private key encryptions.
Step 2
The sender signs the message or document with the private key, which creates a digital fingerprint to transfer the data. It's worth noting that all of the tools used to digitally sign a document are numerical. Crypto-algorithms are used in digital signature solutions to transform the document to be signed and the private key into a new set of encrypted characters.
Step 3
When a signed document is validated with the public key, the individual receiving the document knows who authored it and whether it has been altered since it was digitally signed. The decryption procedure returns the original hashed document, which can be compared to the encrypted hash to determine the document's validity and digital signature.
Step 4
DSC, or Digital Signature Certificate, is given to validate the signer's identity and the digital signature. DSC is a secure digital public key that decrypts and authenticates the holder's identity.
Advantages of Digital Signature Software
Here are four primary advantages of a digital signature software: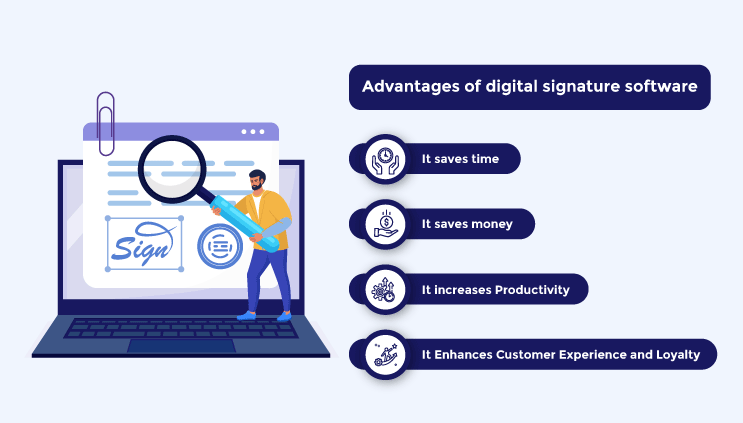 1. It Saves Time
Saving time is one of the most obvious benefits of electronic signature solutions. Instead of arranging in-person document signatures or back-and-forth postal delivery, you may transmit an electronic link that speeds up document turnaround time in the blink of an eye.
Furthermore, when paper papers are lost, the signing procedure must be restarted, raising the risk of legal culpability. A digital signature can be electronically added to a contract or proposal and returned in seconds. This allows your company more flexibility in project completion forecasts.
2. It Saves Money
Saving time and money are inextricably linked. Since any successful organization wants to decrease expenses, automating operations is a simple approach to save money while increasing ROI. Furthermore, reducing printing, packing, and shipping expenses results in significant savings that benefit your organization.
3. It Increases Productivity
A digital signature technology lets your company reduce duties that are tedious and time-consuming to complete offline. Thus, employee productivity and happiness skyrocket, allowing them to use their time to focus on challenging projects rather than regular, repetitive ones.
4. It Enhances Customer Experience and Loyalty
Digital signature provides real-time access to papers, accelerating transactions without printing or scanning. This ease of use makes customers happy, and happy consumers are loyal customers who continue to support and promote your company.
8 Best Digital Signature Software in 2022
Here are 8 of the best digital signature software in the market.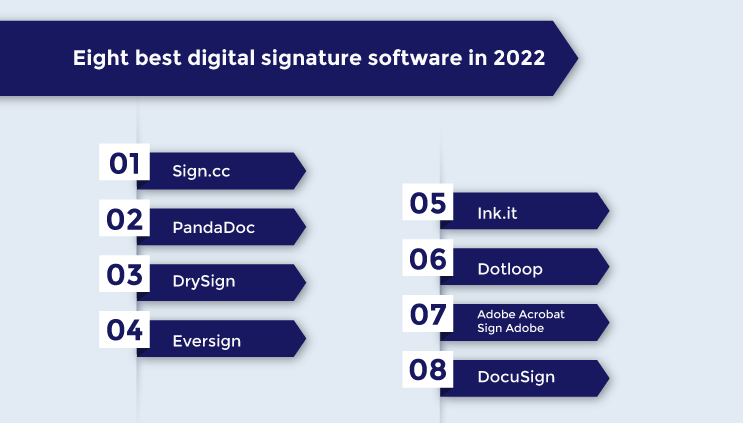 1. Sign.cc
Sign.cc by 500apps enables you to sign agreements and other papers quickly and effectively. It helps enhance your income by counting how many papers are signed, pending, or denied via comprehensive reports. You may use the bulk, tag, and status options to organize your documents and manage them as needed.
Digital signatures provide real-time access to papers, accelerating transactions without printing or scanning. Sign Up 14 Day Trial
Price: Sign.cc is free for ten users and $14.99 per month otherwise
2. PandaDoc
Every PandaDoc subscription includes limitless online signatures and a slew of other sophisticated document features, including a drag-and-drop document designer, out-of-the-box CRM connectors, and extensive document analytics. PandaDocs electronic signatures are legally binding and do not require specific gear or software when signing papers.
Price: PandaDoc offers four plans - Free
Essential ($19/month)
Business ($49/month)
Enterprise (contact PandaDoc)
Each of the paid plans has a 14-day free trial.
3. DrySign
DrySign is a smart, simple electronic signature solution that is location-independent and intended to allow people to sign securely and share documents on any internet-connected device. DrySign, with its straightforward dashboard, simple document tracking, and digital auto-archival, enables remote signature without the need to download any extra software. Email reminders, priority and bulk signing, two-factor authentication, and some more features of the DrySign app.
Price: DrySign offers 4 plans - Free
Individual ($7/month)
Professional ($14/month)
Premium (contact DrySign).
4. Eversign
Eversign assists both small and large enterprises in making digital transitions and guides them through every step of the way. While many businesses are hesitant to manage and handle sensitive data such as contracts and business agreements in the cloud, Eversign is committed to developing a highly secure and well-monitored digital signature platform. This solution provides simple functionality while being cost-effective for all enterprises.
Price: Eversign offers four plans - Free
Basic ($9.99/month)
Professional ($39.99/month)
Professional Plus ($79.99/month).
5. Ink.it
Ink. is an e-signature workflow system that allows papers to be signed electronically, quickly, easily, and securely. Ink.it offers legally recognized electronic signatures that are safeguarded by SHA-256. The digital signature software enables organizations to streamline documentation and become paperless, all while cutting onboarding costs and shortening response time.
6. Dotloop
Dotloop is more than just a digital signature app. It enables agents, teams, and brokers to generate, amend, distribute, eSign, and save compliance documents.
Price: Dotloop offers a different plan for Agents ($31.99/month), Teams (contact Dotloop), and Brokers (contact Dotloop).
7. AdobeSign
Adobe Sign allows users to utilize trustworthy, legal electronic signatures to send, sign, approve, and manage documents.
Price: Adobe offers a 7-day free trial, after which the software costs rupees 1196.53 per month.
8. DocuSign
DocuSign is revolutionizing how business is done by enabling everyone to transact with trust and confidence anytime, anywhere, and on any device.
Price: Personal ($10/month)
Realtors ($20/month)
Standard ($25/month)
Buisness Pro ($40/month).
Summing It Up
Electronic signature software is concerned with security and authenticity. A certifying authority approves and regulates each digital signature's digital certificate. eSignature online also feature tamper evidence seals that make tampering very difficult. Therefore, you can always rely on digital signature software to safeguard your papers and streamline your business procedures.
If you haven't already subscribed to a digital signature software, we highly recommend getting Sign.cc right away. On the software, you can use pre-built templates or customize your own. You can even create sign orders and track sign requests. In addition, 500apps offers 39 software for a low price of $14.99, all of which can help you streamline your workflow. All these features make Sign.cc one of the best digital signature software on the market.
Discover Why Sign.cc Stands Out
#1
Get digital signatures on documents like sales contracts, employee HR letters, and more
#2
Create components like signature, date, initials on document via drag and drop builder
#3
Enable multi-party signing and share documents to multiple users
#4
Choose from 15+ scenario based pre-designed templates
#5
Upload documents from your local system or cloud providers like Dropbox, Google Drive and 500Box
#6
Track individual signee status for each document
#7
Send documents for signature from your favorite CRM software like CRM.io
#8
Set a hierarchical order for signing documents
#9
Unbelievable pricing - the lowest you will ever find
#10
Everything your business needs - 50 apps, 24/5 support and 99.95% uptime
Join the SaaS Revolution
All-in-One Suite of 50 apps

Unbelievable pricing - ₹999/user

24/5 Chat, Phone and Email Support