Top 5 Best Digital Signature Creator Tools
Digital Signature Tools are a reliable way for verifying a signature and certifying the documents. These tools are similar to fingerprints; they generate a unique identity to check the validity of the signature and enhance security.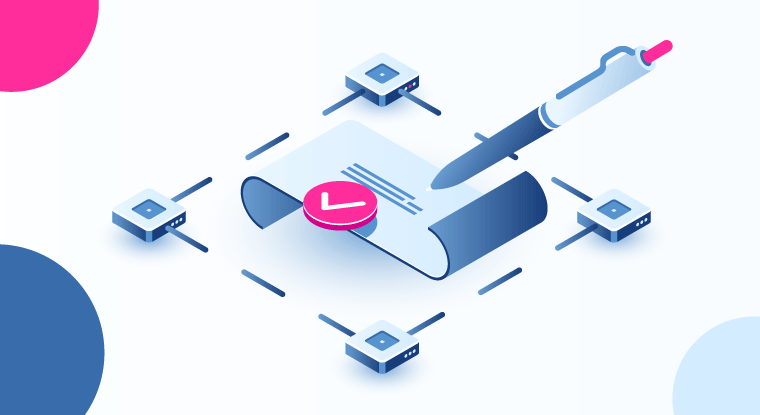 What is Digital Signature Creator?
The Digital Signature Creator software uses cryptography to capture secure signatures. A digital signature is a mathematical technique of certifying a document's, message's, or software's integrity and validity. Digital signature technologies verify the signer's identity and speed up the signing process.
Digital documents, transactions, and messages can benefit from digital signatures as proof of ownership, identity, and status. It is a digital form of a written signature. A digital signature online helps prevent tampering and impersonation in digital communications. Digital signatures, like traditional handwritten signatures, are considered legally binding in many nations.
Benefits of Digital Signature
Listed below are six key benefits of the Digital Signature Creator tool.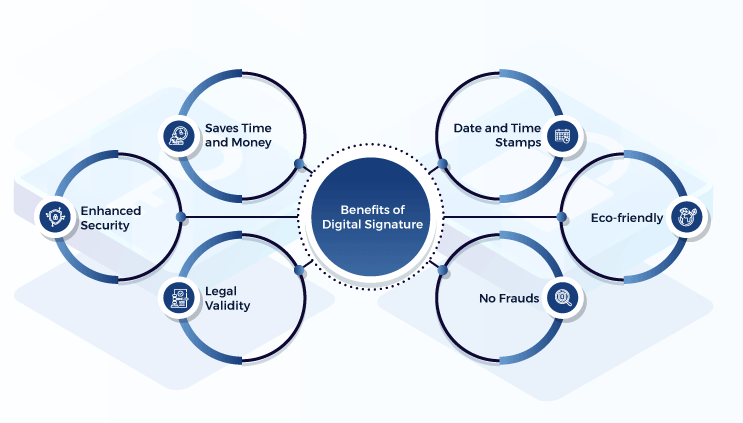 1. Saves Time and Money
Digital signature creator Tools allow easier and faster payments while saving time and cutting the cost of all paperwork.
2. Enhanced Security
Digital signing software is encrypted, offering enhanced security and protecting the documents from being tampered with or misused.
3. Legal Validity
The legal validity of a digital signature certificate is secured by ensuring that the eSignature is verified. It should be able to withstand any court of law.
4. Date and Time Stamps
Time stamping and the ability to monitor and archive documents increase compliance and auditing.
5. Eco-friendly
Digital Signatures allow for no paperwork to be involved. Hence, it can be considered an environment-friendly alternative to traditional handwritten signatures.
6. No Frauds
They are the best tool for verifying document validity, and the unique digital identity promotes the removal of frauds.
Steps to Create Digital Signature
Using a Digital Signature Creator tool allows you to understand and follow all the steps of creating a digital signature. Listed below are five simple steps to guide you through the process.
Step 1:
Choose the best Digital Signature Creator Software online that suits your needs.
Step 2:
Create the document you want the digital signature on.
Step 3:
Upload and send the document for signature request.
Step 4:
Receive the document with a verified digital signature of the required signer.
Step 5:
Finalize the document with all the necessary digital signatures.
5 Best Digital Signature Tools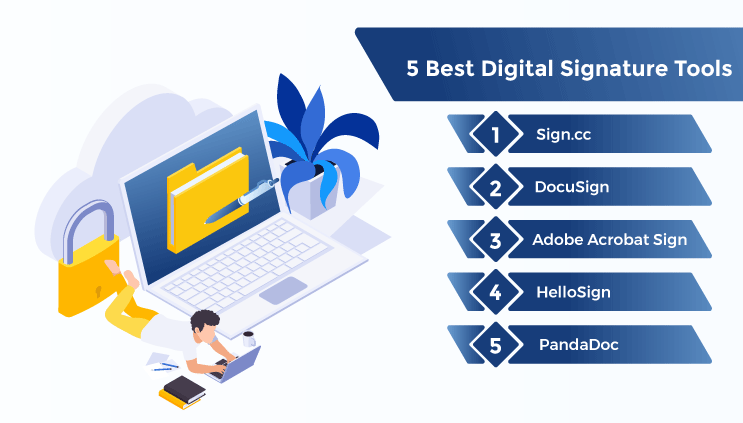 Listed below are the top 5 best Digital Signature Creator tools.
1. Sign.cc
Sign.cc by 500apps is a electronic signature software that allows users to quickly and conveniently sign agreements and other documents. The app's bulk, tag, and status options can help organize and manage the documents. Sign.cc helps to simplify workflow within a small or large group. The reminder tool reminds recipients to read and sign the document. Regardless of your device or operating system, you can install Sign.cc and upload your signature from the comfort and privacy of your home or workplace. This tool includes features like access controls and permissions, audit trail, authentication, customized templates, document analytics, mobile signature capture, multi-party signing, reminders, and task progress tracking. Sign.cc offers a free trial and is a part of a bundle of 39+ apps for $14.99/month.
Using a Digital Signature Creator tool allows you to understand and follow all the steps of creating a digital signature. Sign Up 14 Day Trial
2. DocuSign
DocuSign is a widely used Digital Signature Creator tool. It is easy to use and includes all capabilities that most people require in an eSignature tool. The features include audit trail, authentication, customized templates, document analytics, mobile signature, multi-party signing, reminders, and task progress tracking. This software enables businesses of all sizes, industries, and locations, to digitalize all agreements and documents. DocuSign offers a free trial with the full version starting from $10/month to $40/month.
3. Adobe Acrobat Sign
Adobe Acrobat Sign is an e-signature method that integrates the power of Adobe Acrobat with the ease and security of electronic signatures. A single Adobe platform can allow you to create signatures as well as manage and track documents. Customers and employees can sign documents from anywhere using any device or browser. This Digital Signature Creator tool is known for its comprehensive third-party tool interfaces (Microsoft, Salesforce, and others). Adobe Sign is compatible with both digital and electronic signatures. It offers a free trial with the standard version for $12.99/month and the pro version for $14.99.
3. HelloSign
HelloSign is a digital signature platform that lets businesses of all sizes streamline and sign their most important documents. HelloSign is the easiest way for businesses of all sizes to send, receive, and manage legally binding signatures. HelloSign takes a fresh approach, focusing on customization and customer service. It comes with a powerful API for integration and customizable brand signing options for your documents. This software complies with all international e-signature legislation and offers several modifications. It has a free trial with full version pricing ranging from $15/month to $30/month.
4. PandaDoc
PandaDoc is known for its user-friendly interface and ease of use. The company's e-Signature service is part of a broader document management system that includes drag-and-drop form integration, automated workflows, and audit histories. The interfaces offered include CRM, payment, and file storage programs. PandaDoc works with a few different payment processors. It assists you in streamlining operations and increasing efficiency across the field. PandaDoc is a comprehensive contract and document management system that includes an eSignature function. It offers a free version and premium versions ranging from $19/month to $59/month.
Summing It Up
Financial transactions, signatures, legal contracts, letters, correspondence, and other documents require signatures as identifications. In many companies, paperwork is a collaborative effort. People can use Digital Signature Creator tools to add unique signatures to a digital document. Multiple people can sign papers from different locations using cloud-based software.
Sign.cc is an electronic signature software created by 500apps that allows users to sign documents in various formats. It is one of the best Digital Signature Creator tools as it offers ease of use, superior functionality, and versatility. Sign.cc makes it easier for a small or large team to work together. It enables signatories to make unique signatures and sign documents using pre-built templates such as NDAs, Sales Agreements, and Service Contracts. We recommend Sign.cc to make your personal and business interactions easier, secure, and faster.
Discover Why Sign.cc Stands Out
#1
Get digital signatures on documents like sales contracts, employee HR letters, and more
#2
Create components like signature, date, initials on document via drag and drop builder
#3
Enable multi-party signing and share documents to multiple users
#4
Choose from 15+ scenario based pre-designed templates
#5
Upload documents from your local system or cloud providers like Dropbox, Google Drive and 500Box
#6
Track individual signee status for each document
#7
Send documents for signature from your favorite CRM software like CRM.io
#8
Set a hierarchical order for signing documents
#9
Unbelievable pricing - the lowest you will ever find
#10
Everything your business needs - 50 apps, 24/5 support and 99.95% uptime
Join the SaaS Revolution
All-in-One Suite of 50 apps

Unbelievable pricing - ₹999/user

24/5 Chat, Phone and Email Support